Empowerment is Personal and Political at Mercy College
Despite over 30 mph winds, rain, and snow from a nor'easter hitting the upper East Coast, Mercy College hosted Pathways to Power: The Journey of Women to Empowerment. The conference was about how women, especially from non-traditional backgrounds, could raise their voices and be empowered in their daily lives, the workplace, and political sphere.
The conference planning committee consisted of over a dozen members, including, Dr. Karol Dean who serves as Dean of School of Behavioral Sciences. Dean described the core of the conference as providing a space for women, especially women of color, lower-income households, and non-traditional age students to get the tools they need to be empowered. "We thought for these women there might be a different path to power than for some other people… so the idea was we tried to talking to experts about what's the path to power," for them and how they can they can walk it, said Dean. Marla Moulton, the coordinator for the School of Social and Behavioral Sciences, added that Dean, "felt women should be empowered and felt recognized."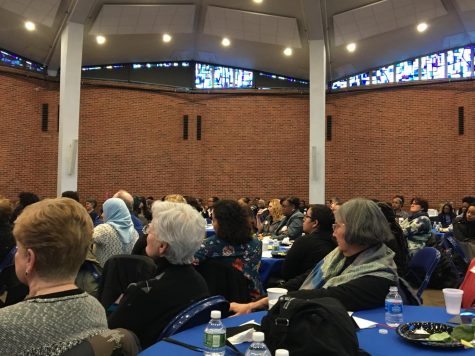 Originally from the Caribbean, Moulton grew up in a culture where females were taught to be seen and not heard. It was after moving to the U.S. and entering her adult years that her views changed about the culture and system she had been brought up. "If I believe in something I have to speak up. I have to say what it is. because if I don't my voice will not be heard. I don't have a choice, but to speak up."
Almost a dozen women made their voices heard in leading different parts of the conference divided between a panel of leaders in their professions and activism sessions, three out of four sessions led by students.
Liz Barbecho, a junior double majoring in History and Psychology, was one of the students who led a session on the wage gap.
"I feel like this conference gave us the opportunity for many of us to speak about our problems. How we feel about the issues that may affect us in the future," she said a couple days after the conference.
A former student of Macleod's Global Women's Suffrage Course, she was approached, along with her fellow students, by Macleod about topic ideas for the conference.
Her group of Arielle Knapp, Danielle Juste, and herself decided to focus on issues that contribute to inequality in the workplace.
"We realized that all of us are going to be affected," Barbecho said of her group of future teachers. Barbecho mentioned maternity leave and the wage gap as areas that could affect them when they enter into their professional careers. Additionally, she recognizes it is not only inequality in the workplace for women, but people of color too.
She has noticed a difference in a way customers treat her versus her white co-workers in the predominantly white neighborhood she works in.
"They treat me like garbage sometimes cause they feel like they have the right to discriminate against me," she expressed.
The wage gap became the topic of Knapp's, Juste's, and Barbecho's session, but with a focus on how it affects women of different races.
A report released this month by, the Institute for Women's Policy Research (IWPR) found women earned median weekly earnings of $770 in comparison to $941 for men. While the report found across the board, women earn less than men of all races, as Barbecho notes, it is Black and Hispanic women who are the most affected. Both the report by the IWPR and a 2016 Pew Research study found Asian men and women made more than their White co-workers.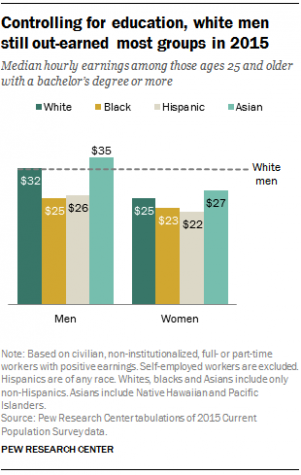 The Pew Research study detailed how the wage gap has narrowed to a lesser degree for Black and Hispanic women than White and Asian women. In 1980, white women went from making 60 cents for every dollar a white man does to 80 cents, with Asian women higher at 87 cents. However in the same span of time, Black women only went from 56 to 65 cents and Hispanic women 53 to 58 cents.
The wage gap between men and women has been a consistent workplace and political issue raised into recent years. Hillary Clinton repeatedly named equal pay for equal work as a priority of hers during her 2016 Presidential campaign.
Empowerment in politics and on the campaign trail was a topic of the panel and focus of a session led by Patti Russo, the Executive Director for the Women's Campaign School (WCS) at Yale.
"I just remember thinking I want this to be my life," Russo recalled feeling after she had first became involved in her local Democratic Party at 17 years old.
The over twenty-five year veteran of local to national campaigns began her "Making the Decision to Run" session by making it clear running for office means 60-plus hour weeks and a need to enjoy constantly meeting new people and engaging with them, before addressing one of the factors that causes women to hesitate running for office, "Women never feel as if they are qualified enough. They just don't."
A study by professors from American University and Marymount College sponsored by Politico found only 57 percent of women sampled considered themselves qualified or above qualified, in comparison to 73 percent of men. Russo explained what she and the WCS do is to help those enrolled shift their impression they are not qualified into confidence to articulate their qualifications.
"If you have seven years of a specific area of expertise, guess what. You're qualified," she said.
The questioning of qualifications is named by the study as one of the seven main barriers to women running for office. A topic that has been brought up with the record number of women and first time candidates. Russo believes the training the WCS offers is crucial towards the goal that, "men and women are trained so they know what they will be up against," if they decide to run for office.
"She is the one that still inspires me to this day," Russo said about former New York Representative Bella Abzug, who continues to influence her since she was an intern for Abzug as a student at George Washington University. In between, conference attendees approached her to say they enjoyed her insight, taking papers advertising the campaign school's five day summer session.
Jean Brewster, a consultant for entrepreneurs and early stage companies, is considering attending the summer session. Though she believed it was important she and other women were encouraged to run, she was equally happy Russo made clear what running for office entails and "helped put things [into] perspective: is this something you really, really, want to pursue?"
A future race she is considering throwing her hat into one day is a run for Congress. Her motivation for office, right now, a concern that there is lack of a "succession plan" for how younger generations serve in public office.
"I think there is an opportunity for younger people to get involved in politics."
A sentiment Diana Juettner, a professor and councilwoman for Greenburgh, New York echoed by explaining how she tries to empower her students to be involved as voters and constituents of elected officials.
"What do you want to see the government do for you? You need to go out and vote, and make those elected officials, such as myself, aware of your needs and wants."
Another speak mentioned voting was the most important of all civic duties.
"If you are not doing that, then everything else you're doing is a waste of time," said Joy Reid, journalist and host of AM Joy on MSNBC. "Women are 51 percent of the population and 22 percent of the Senate, and that actually makes no sense. Women are not even close to our rightful representation in the country and policy would be so different if we were."
She also addressed her own personal struggles.
"Listen, I was a nerd. I was always having to be confident," Reid told of her years struggling against bullying. "I remember as a kid I would just lean into whatever it was people were bullying me for," which the voracious reader did by walking around with the book War & Peace.
A public school girl who worked her way through college doing temp administrative work, she learned to never doubt her qualifications. She joked women need to think more like a man. "They don't think twice about whether or not they're qualified enough," she explained her belief women and people need to build self-confidence backed by competence in life and in professions.
She advocates women need to do it for themselves and the companies they apply to. "Without our voices everything will stagnate," she expressed, but notes that for more systemic issues it requires coalitions, "in order to succeed for all of us, because it doesn't work when we don't."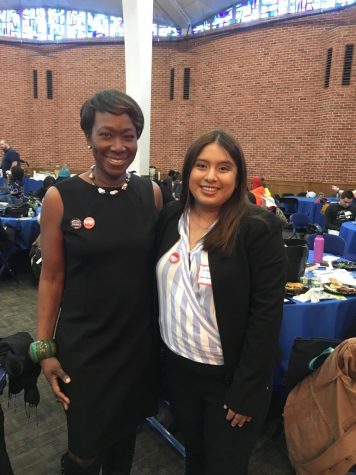 Her keynote speech focused on how the current political climate presents both a challenge women have not seen in over 50 years, and an opportunity for women to come together on issues of mutual empowerment.
Barbecho, who introduced Reid to the audience, believes a partnership of generations is another way for women to build coalitions.
"The older generations and new millennials can come together and make a difference. This conference proved it," she expressed after mentioning her desire to be a high school teacher.
She attributes a teacher she had in middle school with changing her life by making her fall in love with history and letting his students know it was, "okay to be who [they] are."
Barbecho feels she can achieve the same effect in high school because it is generally the time students start to choose what they want to do in the future as adults.
The support of a younger generations are not solely on the shoulders with Barbecho. Juettner offered networking as a way how college-age students can be assisted by those in their generation and above. Juettner finished, "I've been helped and I am happy to help those who need help now."
Leave a Comment
About the Contributor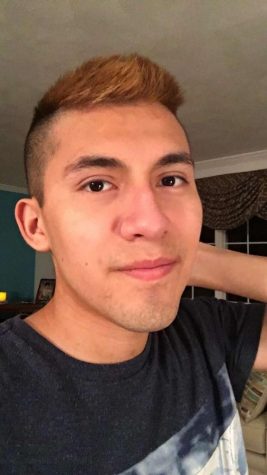 Matt Reich, Former Associate Editor
Matt Reich is a guy constantly on the go who can't let a minute go unused. Born in a city in Texas, raised in rural Connecticut, and now he's trying to...