META Club Returns After Brief Hiatus
After a brief hiatus, the META Club has finally returned this semester. META is a club that involves technology and is about teaching people how to use different types of technology including things such as 3-D printing, arduino codes, how to use different types of sensors as well as many other aspects of technology.
AJ Tignonsini, who is a junior at Mercy College and is a Design and Animation major, has been in the club since his second semester at Mercy and has taken over the role as the club president since Abdou Nyan, who was the previous president of the club graduated last semester. AJ formerly held the position of club secretary but since he has taken over as the president he has been working on various ways to make the club better and help increase the number of club members.
One of the issues that he is focused on now that he is the new president is trying make sure that the club has more frequent meetings than in the past.
"I took over as president starting this semester and am looking to have the club meet more often after going on a long hiatus. I know that other clubs like the video game are really on top of things and have meetings every week and I want us to at least get to the point where we are meeting every two weeks primarily on Thursdays."
One of the reasons why the META Club didn't have many members in the past, he says, was because of a lack of consistency with having meetings, but A.J. is looking to change that and hopes that by having meetings more often it will result in an increase in club members.
In the past, META would meet in the library in an area that was small and wasn't able to have the space to work on as many projects. AJ has been able to relocate the club to the health science room where they are able to have more space to allow for more members and have the resources to work on bigger projects.
AJ has also made it a priority that he wants to have club members who may have experience in certain areas of technology try to teach other club members how to use that piece of technology.
"I want students to be able teach each other some of the things that they know to others so that they can get a learning experience. So for someone like Eric, who is a Radio and Television Production Major, he could teach others how to operate TV cameras and show the different types of functions they have."
One of the skills that AJ has previously learned in the META Club is how to use an Arduino. Arduino is something that is similar to a mini computer and functions by putting the code into the Arduino board and the purpose of the code is to have it perform certain functions similar to a mother board.
After collaborating with the former president of META, as well as taking a crash course, one of the workshops that A.J. has planned to have is to teach everyone how to use an arduino board.
"What I'm going to teach club members is how to connect an Arduino board to a sensor so that the Arduino can tell the sensor how close or how far away an object is. Based on the number, that will give the indication whether or not the object is close to the sensor or far away from the sensor. The lower the number, the closer the object is to the sensor."
Arduino boards aren't something that AJ had strong background knowledge in before joining META, but now is going to be leading a workshop teaching others how they function.
"I want to be able to teach skills that I have learned from the club in the past or skills that I've learned in my free time to people in the club so that everyone can feel like they are getting something out of it."
Other areas of technology that the META club touches on when it comes to coding is python codes. With a Python Code, by using a Raspberry Pi it allows you to connect a project to the real world. Similar to a Magic 8 ball, it functions as a random generator that will answer questions in the form of "yes" or "no" when the code is ran through the generator.
"Our META club gives students hands-on opportunities to experiment with various maker technologies in a fun way. Last year, we saw members sharing their own knowledge with each other, getting other students excited about the potential of working with 3D printing, electronics and physical computing," said faculty advisor, Prof. Woody Sullender.
Many members in META like the direction that the club is going in and are looking to get an expanded knowledge in technology.
META is also becoming a club that is more hands-on and can let students show their creativity in certain areas like 3-D printing. 3-D printing lets students show their artistic creativity in a way different from drawings or paintings.
Eric Skrapits, who is in the META club for the first time, has been fascinated and intrigued by the different aspects of technology that he has learned about in the club.
"We recently had a workshop where we learned about circuit boards which I thought was very interesting. It wasn't something that I was familiar with going into the workshop, but I definitely have a better understanding on how they work now."
Eric, who is a Media Studies major, is looking forward to showing club members how to operate television cameras in a future workshop.
The META club is an opportunity for anyone who is interested technology to learn how to make projects using simple codes and sensors. Students don't have to have any technological background to join the club. Regardless of what your major is, META is welcoming to anyone who is interested as it is actively looking for more members to join.
Leave a Comment
About the Contributor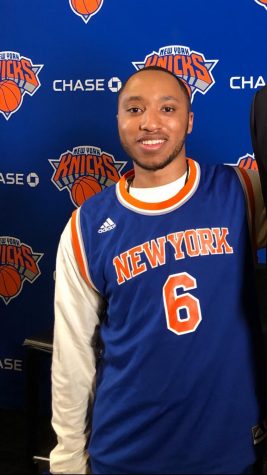 Ellis Joshua, Impact Staff
Ellis is a Senior Media Studies major who is looking to become either a sports writer or sports broadcaster after he graduates. He has a passion for writing...