The Madresita Project: Knitting for a Cause
Yarns are spread out on the table next to a handful of needles and hooks waiting to be used by the students. Christal Luna is taping a sign outside of the classroom that reads This way to the knitting class, while her mother sets up the table for when the students arrive. This is the third week the knitting classes are being held.
Since Sept. 19, Christal and her mother, Susana, have hosted classes every two weeks at Mercy College to teach students how to knit. Susana came up with the idea of creating a project in which people can learn how to make scarves and hats and give the items to patients in Lenox Hospital as part of The Madresita Project. Susana was inspired to create this project after her mother, Blanca Obando, passed away after her battle with pancreatic cancer.
But it was Christal's idea to bring the attention of the project to the college. Her idea of expanding the project in school was not only to get volunteers, but also to expose people to the project. It was also a way for people to connect with each other through an act of kindness.
"The students are excited and enthusiastic. They make it themselves but most importantly they want to give. The act of giving makes them happy," Christal explained.
Christal is majoring in Vet Tech and is working as a student worker in the vet tech office. She volunteers at the Wild Bird Fund and is part of the rescue volunteer patrol team for the Cold Stunned Turtles; a new program with the Riverhead Foundation. She is also the president of the Future Veterinary Professional Club and runs the Instagram page for the Vet Tech program. With all that on her plate, she is a full-time student at Mercy College who constantly helps her mom with the project and visits the hospital to deliver the hats and scarves.
The project was founded in 2014. Susana called her mother Madresita, therefore deciding to name the project that way. She works as a receptionist in Lenox Hospital in the radiation department since October 2013. It is in that hospital that Susana and her daughter wanted to start making a difference. Susana not only comes to school to teach the students how to knit but she also teaches her co-workers and the employees in the hospital weekly to do the same.
With all the volunteers through the students, friends and colleagues, The Madresita Project makes about five to six hats a week and in every month they give what they created to the patients. Not only do they limit themselves to making hats and scarves but also blankets and sweaters.
The handmade items are individually placed in a see-through bag with a logo sticker attached to it and a letter inside. The Madresita Project logo is a heart shaped red orange design with the bold words Madresita in the middle followed by Hats with Love. In the bottom of the heart it says Because We Care. The design was thought of by Susana's supervisor's son, and the sticker placed on every bag is made by Susana's husband.
"It's a small community but together we can expand it," Susana mentioned.
On October, which is breast cancer month, the volunteers made 16 pink hats and scarves for the patients. Christal and her mom went to the monogram department to hand the pink scarves and hats to the patients themselves.
Christal and Susana go as far as to not accept monetary donations but only ask for volunteers to help them make items for their cause. Only three faithful students show up at every meeting, a small amount for a big cause. Nevertheless, The Madresita Project welcomes six extra hands.
One student is a fast learner and has already finished making her first scarf. Ashley Davis is a junior majoring in Vet Tech and has already learned how to crochet and knit since joining The Madresita Project. It makes Davis feel humbled and put into perspective the hard work it takes to knit and create an item. Davis proudly puts aside the red scarf she has made and moves on to creating a ruffle scarf.
"I kept making a lot of errors but seeing the final product made me feel good," Davis said.
Davis learned about the project while waiting for her class to start in the room that the knitting classes were being held in. She became very interested in learning how to knit and soon participated in making scarves for the patients.
Davis is in the same program as Christal, and has seen her in many of her classes before but it wasn't until joining the project, that she started to get to know her fellow classmate.
"They are incredibly nice and encouraging," Davis said about Christal and Susana.
She expressed her enthusiasm to be part of a project that helps people as well as the joy it brings her to be able to give someone in the hospital something that she made.
"I'm glad they did it because the story behind the project comes to show that there are people who care and have gone through the same thing," Davis shared.
The terrible news of Susana's mother diagnosis came after many of her symptoms were overlooked by doctors in Elmhurst Hospital, Susan says. Obando constantly complained of pain and was simply given pain medication but never an analysis to see what was really causing the pain. Getting tired of being prescribed pain medicine, Obando went to another doctor for a check up and was given a sonogram test. That's when they found out that she had pancreatic cancer.
By the time it was discovered what caused the pain, it was already too late. Susana was called in to be informed of the terrible news. It took a month or two to wait for a specialized doctor but the wait kept making it worse. Susana took her mother to North Shore Hospital where Obando went straight to the emergency room.When it was time to do surgery, they noticed that it had spread through her liver and so she went under an exploratory surgery.
Although Susana was a knitting pro, her mother didn't know how to hold a needle and was fascinated by Susana's knitting creation. Susana started knitting about 10 years ago, she started knitting as a way to keep herself busy. She has always had a passion for creating a piece of clothing items with yarn and had always made them for family and friends. She made several of Christal dresses for class pictures or sweaters for winter.
While her mother was in the hospital, Susana would knit her sweaters and gloves. It was a real passion and talent of hers and her mother enjoyed watching her do so. Susana was completely heartbroken and depressed after her mother had passed away that she stopped knitting all together. It took Susana over a year to start knitting again.
"One night I thought to myself if there something I can do for the patients to help them through their treatment, this is how," Susana said.
Obando was also given a knitted hat from the nurses in North Shore Hospital while going through treatment. Given that the nurses helped her mother feel loved in her final days, Susana decided to show the same love to the patients at the hospital she is working in.
"Sometimes it's not just giving medication, it's also about giving a personal touch. My mother had that personal touch and I wanted to give it to the patients," Susana said.
It was then that the project was created. But Susana was struggling to find people to help her and coping with the death of her mother at the same time. Christal witnessed her mom drowning in the project because of the lack of volunteers and not enough hands to help knit hats and scarves for the patients which meant that it was Susana, who was doing all the work.
Christal was a sophomore in John Bowne High School when she came up with idea to get the students in school involved. Seeing that her mom wasn't doing so good, Christal took action and spoke to the knitting club in her high school to see if they can help her mother gain more volunteers. Luckily, the students were on board.
"It was important to me to give my mother support because I knew she needed it although she didn't open up to me at the time," Christal said.
After the death of her grandmother in 2012, Christal wasn't healthy. During her grandma's treatment, young Christal didn't know why her family were constantly going to hospitals and didn't grasp the situation. It wasn't until after her grandmother's death that she was told by her mother what exactly occurred. During the time of grief, Christal had to be strong for her heartbroken mother.
"I saw how my mom was and I told myself she cannot see me cry. I held everything inside and would comfort her," Christal mentioned.
She felt that she didn't have enough closure when her grandmother passed away and was a mess trying to keep her emotions inside of her. With the help of the project, she managed to get that closure she lacked before.
"It makes it easier to know that even though my grandma isn't physically here, she is still helping us do this for people and helping them feel happy," Christal said.
It wasn't until she started helping her mom advertise the project and be more involved, that she felt better and "made her soul feel happy."
Susana was a bit surprised of her daughter's quick thinking and for getting students to help volunteer for the project. She was also very shocked to find out that so many young people cared enough to help her with the project
"I am very proud of my daughter. Although she was young, she understood what I was going through and understood the importance of what the project meant to me," Susana shared.
Christal was a freshman when her grandmother passed away but remembers vividly of her mother and her grandmother bonding over their love of arts and crafts.
"I was always on the side looking at them while they spoke about the love of knitting and seeing my mother create something for my grandma," Christal shared.
For Christal, going to hospitals and seeing patients is tough. It reminds her of the many times she was in the hospital visiting her grandma. Knitting has helped Christal relax and feel closer to her grandmother and the project dedicated to her.
"I'm always reminded that she's with me. When I meet a certain patient and they tell me their story, it makes me relate to them and reminds me of her," Christal shared.
Christal's remembers her kind grandmother sitting down with her and making little dolls out of hand towels. Her grandmother's idea was to make a bunch of them to give to the kids in Ecuador who had little to none toys to play with. But one of the dolls reminds special to her.
"She made me one that I still have," Christal said with a smile on her face.
She recalls another time in which they used paint to make an angel on a fabric and deliver it to a church in Ecuador.
"My memories of her are happy ones," Christal shared.
The project has brought the mother and daughter duo closer than ever, it was Susana who taught Christal how to knit after the passing of Obando. Christal has made over 25 hats and about 50 scarves since the start of the project.
Many of their friends have donated yarn to the project, especially Susana's friend, Marilyn who buys tons of yarn for the project and creates hundreds of hats and scarves for the patients.
Patients who received the items are so touched by the kindness, that they have tried to donate to the cause as well but Susana declines their offer right way.
"They ask me if they can give donations and I say no. I tell them that we only want to see them smile and to know that someone is thinking of them," Susana shared.
Surprised when they received their homemade gift, the patients shed tears of joy. Feeling appreciated and loved truly helps them cope with the terrible situation they are in.
" They can't believe it. They cry because they are surprised someone would do that for them. The purpose of the project is to let them know there are people who care and want them to feel better," Susana said.
Knitting brings joy and smiles to patients going through tough times, but it also helps the students feel relaxed after many hours of taking stressful classes. Davis quickly studies for her classes so she can focus on knitting scarves.
"Knitting gives the students something to do that's not electronic while doing something good during the process which helps them relax," Christal shared.
Not only does Christal want the students to help the project by creating more knitted and crochet items for patients, but she also wants to give them the opportunity to learn a new skill. Davis believes that her knitting skills can also be beneficial for her in the long run since she can teach her family how to knit and have an activity to bond over and share. Davis hopes to be able to make a blanket for next year and learn how to make a hat.
Christal is planning on having the students deliver their handmade items to the patients around Thanksgiving or Christmas time.
"I want to bring the students to hand the materials to the patience themselves since they made it and they can see the patients reaction."

Davis looks forward to meeting the patients and handing her creation herself to them but nevertheless it makes her happy to be able to create something for them even if she doesn't get the chance to see their reaction.
"Whether I see the patients personally or not, I know that they are getting it and it gives me the satisfaction to know that it makes them happy," Davis said.
Christal and Susana are hoping to make more creations and to deliver it to patients not only Lenox Hospital but other hospitals around their area. They know that they have to start small before making their cause big but they are hopeful and passionate that they will be able to help as much people as they can.
"My hope for the future is to expand the project and cover more hospitals. Get the word out to get more knitted items donated and for more volunteers to knit," Christal shared.
As the three students sit down in a chair getting ready to start knitting, Susana reminds them to make sure to create a scarf or hat that they would be proud to give someone they love and something that they would wear. Susana hopes to be able to get more volunteers to join.
"I want people to think of other people and to help this project continue."
To get involved with The Madresita Project, please visit their Instagram and Facebook page.
Leave a Comment
About the Contributor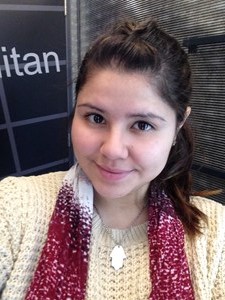 Andrea Loaiza, Staff Writer
The name is Loaiza, Andrea Loaiza. She is currently a junior in Mercy College on her way to getting her bachelors in Media and Journalism. She...