Dressing Disabled
Mindy Scheier has been a fashion designer for over 20 years. She is married with three children. For most this would be the dream, a healthy career and a mostly healthy family. Her middle child, Oliver, has a form of Muscular Dystrophy. Scheier and her husband did what most parents do. They told him he was just like everyone else. Except very day tasks for a healthy child were impossible for Oliver.
"The simple act of dressing yourself… was a nightmare for him," said Scheier at a TEDTalk in 2017 in Amsterdam.
Muscular dystrophy is a disease that causes loss of muscle mass and weakness. The most common form of muscular dystrophy in children are Duchenne Muscular Dystrophy, or DMD, which is mostly found in boys. One in every 7,700 boys from age 5 to 24 across the world. Myotonic dystrophy type 1, or MD1, affects 1 in 8,000 worldwide. In America every year between 400 and 600 boys are born with the disease every year. those who suffer from muscular dystrophy begin to suffer respiratory problems by their mid to late teens. There is currently no cure for muscular dystrophy, but there are treatments to reduce and prevent joint and spine problems that plague those effected by muscular dystrophy.
While in the third grade, Oliver asked his mother if he too could wear jeans to school like the other kids. With normal jeans, Oliver would be unable to go to the bathroom in them without help. Something his mother couldn't do.
"There was no way I was telling my eight-year-old that he couldn't wear what he wanted to wear."
Scheier spent that evening working with Oliver's clothes, so that he could go to school the next day in jeans. It was her first time working in adaptive clothing. Adaptive clothing is clothes made for those with disabilities and others who struggle getting dressed. Before Sheier was involved, the clothing out there for the disabled was less then appealing.
"It was very medicinal and very functional but not stylish and that is a huge problem."
In 2015, there were nearly 40 million Americans with disabilities. About 50% of Americans over the age of 75 are disabled. The group most effected by disability is Native Americans and Alaskan Natives with almost 18% being disabled. Over half of those disabled in 2015 had trouble walking and climbing stairs. West Virginia has the highest percentage of disabled residents with almost 20 percent of the population being disabled.
In 2013, she launched Runway of Dreams. The organization's goal is to connect people with disabilities to the world of fashion. Runway of Dreams main goals are for inclusion of those with disabilities into the fashion world.
"I went to schools. I went to facilities. I went to hospitals. I literally chased down people on the street who were in wheelchairs," Scheier said when talking about her research into adaptive clothing.
Runway of Dreams has teamed with Tommy Hilfiger to become one of the first adaptive clothing lines that is fashion forward. Soon another began joining in with their own lines. Brands like Target, the second largest department store chain in the nation, began carrying its own brand of adaptive clothing, Cat & Jack.
Mercy hosted an event where the TEDTalk was shown and a discussion afterward. Dr. Ilene Rothschild, an Associate Professor for the School of Education; Molly McCabe, the Director of the Office of ACCESSibility; and Alyssa Seidel, an Accessibility Specialist, hosted the event. While the school only hosts one TEDtalk per semester, this topic by Mindy Scheier was special to each of the.
"I have a brother with Cerebal Palsy… It touches me a lot," Rothschild said while talking about the adaptive clothing line.
The idea of those with disabilities being disenfranchised with clothing options. While the Office of ACCESSibility is usually frequented by students who need to use it, all students could learn from a talk like this one. TED (Technology, Entertainment and Design) is a non-profit organization founded in 1984. Since then there have been almost 3,000 TEDTalks. Teachers, like Rothschild, are using them in the class room to help inform students. She is happy to help spread awareness of the talks to fellow teachers.
"Most younger people do, my contemporaries don't know what they are," she said when speaking of her experiences sharing TEDTalks.
The Office of ACCESSibility is used to accommodate and support students with disabilities. ACCESSibility stands for Accommodations, Collaboration, Consultation and Educational Support Services. Almost every school has an Office of Accessibility, not all have the acronym. The goals of the Office of ACCESSibility and events like this one are to bring inclusion on campus.
"I think being included isn't a privilege it is a right… We all have something to Offer," said Alyssa Seidel, who speaks from experience with a special needs brother.
When seeing what the fashion industry was like before Runway of Dreams, it is hard to see how people with disabilities were over looked by the industry. Before 2013, adaptive clothing was difficult for children to wear due to how it looked. Mindy Scheier saw an opening in the industry that opened the eyes of a lot of people both inside and out of the industry.
"It doesn't have to be like that," said McCabe, who has been the Director of the Office of ACCESSibility since Sept. 2017.
"The reason it is like that (is) because our clothing isn't accessible."
Scheier and Runway of Dreams are opening up doors and discussions on inclusion in America. The changing landscape in the country is always evolving and trying to keep inclusion at the forefront. Now, with adaptive clothing becoming the norm more people can feel included.
Rothschild added, "This mom's passion and devotion made a difference in the world."
Leave a Comment
About the Contributor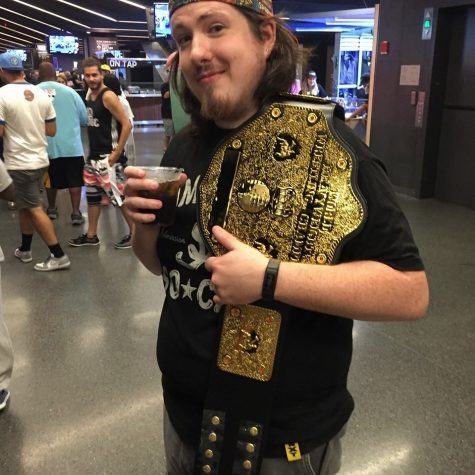 Stephen Lyons, Former Associate Editor
Stephen Lyons is mostly found on chairs and couches in front of a Television. When he isn't wasting his life with Xbox games or TV series, he likes to...