Rebirth: From Dropout to Mercy Professor
Trevor Creighton's Success Story
There is a plethora of professors at Mercy College, each with many different and unique backgrounds. But Trevor Creighton may stand on his own.
Creighton is a first-year professor at Mercy College. Creighton's story is unique, and his many different life experiences have helped him get to where he is today.
Creighton is originally from Carrickfergus, Northern Ireland, which is located 11 miles from Belfast. Creighton recalls that he was not a particularly good student in his teenage years. "I had horrible grades and I actually dropped out of school at the age of 16," said Creighton. "At the time I never really thought I would ever go back to school."
After dropping out of school, Creighton worked at a variety of different jobs. "I worked at warehouses, fast food restaurants, and factories. I was able to get certified as a robotics and facilities technician," stated Creighton.
Eventually Creighton decided to move to the United States. "I moved to Mississippi in 2003. I actually came here for a woman but it didn't work out between us."
Later on, Creighton decided to go back to school and finish his education. "I got my General Education Diploma (GED) in 2012 when I was 32. After that, I decided to go to a community college to continue my education."
Creighton had a desire to return to school and finish his education for a long time. "Doing 12 hour shifts at a factory can get pretty miserable and I didn't want to spend the rest of my life doing that," said Creighton.
Although Creighton eventually fell in love with writing, it was not his first choice when he began college. "I actually originally majored in electronics. I wanted to be able to comprehend that side of machinery that I didn't understand back when I was working in factories," Creighton said. "Eventually I took a creative writing course. I really fell in love with writing while taking the class and I decided to change course," Creighton added.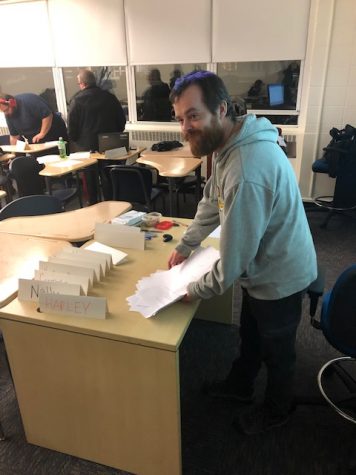 Creighton eventually moved to New York after transferring from community college to Columbia University. It was at Columbia that Creighton really began to help others with their education. "I was a first generation college student and I didn't have a lot of resources to help me get through the process," said Creighton. "Eventually I began working as a part-time student helper. I really enjoyed helping students who had difficulty with the college process," he added.
After leaving Columbia, Creighton went on to study higher education at Harvard University. In addition, he began to apply for jobs. He was later approached about applying for a position at Mercy College.
Because he was a first-generation college student, Creighton needed plenty of help to get where he is today. "I had many patient and caring people who helped me along the way. Especially when I was applying for scholarships. They helped me get through the process."
Due to the help he received throughout his time studying in college, Creighton has a great desire to help as many people as possible. "The institution has made it difficult on people when it comes to going to college. I want to help people get what they may have been denied because of their zip code," Creighton stated.
Creighton is already doing a wonderful job at helping students figure out what resources they can use in order to help further their education. In his Junior Seminar class, Creighton has helped students create resumes and learn everlasting life skills through methods such as crowdsourcing.
Creighton is also continuing his education while working at Mercy. "I am currently completing my Master of Fine Arts (MFA) in speculative fiction at Sarah Lawrence College," stated Creighton. "After that I would love to teach creative writing classes, and I would also like to work in student services and continue to help others be successful in life."
After completing his MFA at Sarah Lawrence, Creighton wants to further his education even more. "Learning new things is really wonderful. I still enjoy taking new courses on because you can never learn too much."
Prof. Creighton's story is one that many of us couldn't imagine. But through hard work and perseverance, Creighton was able to achieve his goals, and continues to pursue greater things.
Leave a Comment