Mav Friendly Market: Fighting Food Insecurity Across Campuses
Mercy's Manhattan Campus hosts workshop about the effects of food insecurity.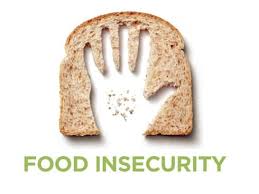 Mercy College's Manhattan Campus hosted a Diversity Lunch and Learn on Tuesday April 16 about food insecurity as the campus prepares for the Mav Market to make its way to the Manhattan campus beginning in the fall of 2019.
The Mav Friendly Market which currently serves the Dobbs Ferry and Bronx Campuses is a food and resource pantry that allows students, faculty, and staff to pick up food and personal items if they are in need.
The workshop was held to help bring knowledge and awareness to food insecurity and share exactly what it means to be a victim, as well as its effects on college students.
Mary Sherman is the Vice Chair of Pantry Operations and also the Mercy College Mav Market Coordinator. She begins the workshop with opening remarks on the definition of food insecurity. She reiterated that in many cases, a lot of college students go through food insecurity because they don't have the money to pay for food.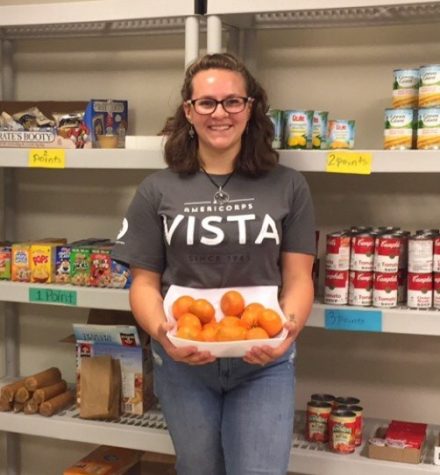 Many students come from high schools have free lunch programs and when they graduate high school and enter college they are left on their own.
A study done by the Still Hungry and Homeless in College found that Nationally thirty-six percent of students experience food insecurity during their college years.
Sherman explained that food insecurity can become a domino effect and lead to many other issues.
"It starts with being hungry, but then when you're hungry you have a hard time focusing in class which leads to bad grades and it just continues to trickle down."
According to Feeding America, thirty-one percent of students have to make a choice between getting an education or feeding themselves. Students may go to school to get an education in order to get a high-paying job and provide for their families but all aren't given that chance because they are unable to feed themselves.
Sherman emphasized that this isn't something that children and students go through but adults as well. She stated If an adult isn't receiving the proper about of food then it causes them to be less effective at work which can also lead to a multitude of other problems.
Adults and children react the same when not getting enough food and the same way a child will have a difficult time focusing in school an adult will have a hard time focusing at work."
People that go through food insecurity can often find themselves having to make a decision on whether or not to feed themselves or pay for other necessities such as electricity and heating bills.
Seventy-five percent of students that go through food insecurities are also housing insecure and have a difficult time maintaining their home according to Feeding America.
In 2017 twelve percent of U.S. households saw food security status as either low or very low according to the United States Department of Agriculture.
Students that participated in the food insecurity workshop discussed seeing large amounts of homeless people throughout New York City, many of which holding signs asking for food.
Participants shared that they sometimes give leftover food to the homeless as opposed to money because they know that the food isn't going to waste and feel content with making a difference.
Food insecurity doesn't just affect people who are under weight but people who are over weight as well. The state of obesity website states that lower-income individuals are also at increased risk for obesity because they have limited access to healthier food choices and have grocery stores in their communities with less healthier food options. This leads to buying cheaper foods that are processed to contain less nutrition and more sugars and fats.
Sherman stated that people who are food insecure can also be overweight because they may have money for food but the food that they are buying isn't healthy. Food that is unhealthy is the food that tends to be the cheapest, like fast food. While fruits and vegetables are more costly for people to buy. She went on to state that it sometimes comes down to making a choice of not eating at all or eating unhealthy food because it's all some people can afford.
Another huge factor that leads to food insecurity is redlining, according to Sherman. Redlining which is a discriminatory practice that refuses to help people with mortgages or insurance who are of a certain demographic or come from particular communities. This is a common case in minority concentrated communities. According to Feeding America the 10 counties with the highest food insecurity rates have an African American population of at least sixty percent.
Sherman says that this practice which began in the 1930s is still very much alive today and firmly believes that people shouldn't be singled out just because of their race or social economic status.
"All people should be able to eat. Being able to eat is a basic human right regardless of their economic standing. There are different social factors that play into how a person's economic standing is and how they exist."
The Mav Market, which first launched in October of 2017 at the Bronx Campus, has served over 3,500 meals to the Mercy community and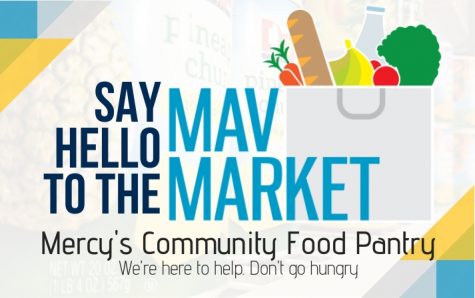 has over 190 members.
The Market, which has scheduled days and hours at the Dobbs Ferry and Bronx Campuses will be coming to Mercy's soon to be expanded Manhattan Campus.
Leave a Comment
About the Contributor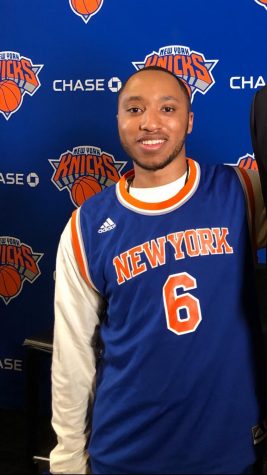 Ellis Joshua, Impact Staff
Ellis is a Senior Media Studies major who is looking to become either a sports writer or sports broadcaster after he graduates. He has a passion for writing...