Mav Friendly Market Continues to Grow
Up to half of the nation's college students might struggle with food insecurity, meaning that they rarely have access to food. According to a group of researchers at the University of Illinois at Urbana-Champaign, they estimate it that about 48 percent of community college students and 41 percent of four-year university students are food insecure.
The studies have also estimated that college food insecurity can be as low as 9 percent or over 50 percent, with some going as high as 75 percent.
According to Harvard statistics written by Grace Tatter, there are many solutions to putting an end to food security. Including, increasing grants and scholarships to cover unlimited meal plans and helping students apply for SNAP.
The Mav Friendly Market, Mercy's food and resource pantry, is one solution that has helped the Mercy community in various ways. It launched in October 2017. It has been an inclusive and confidential environment where Mercy students, faculty, and staff can get wholesome foods and personal items. Though not all students at Mercy are familiar with it, it has been a great success and impact towards the community.
The Mav Friendly Market's mission is to help reduce the students' struggle of balancing classes and being able to feed themselves or their family in and out of school. They have a four-part mission statement. To reduce food insecurity, to promote a healthy lifestyle, to engage in the community, and to be an inclusive space. They use this mission statement to make sure they are meeting the member's needs and empowering them.
Mary Sherman, the Mav Friendly Market program director, along with Mercy College student and Mav Market employee, Je'laya Johnson, spoke on The Mav Market's benefits to the community.
Mary Sherman came into the Mav Market community in June 2018. She reorganized it and set up an intake system. On the first day, there were 20 members who came in. They have since provided over 1,000 meals and have over 300 members.
"I'm proud of all the accomplishments we made," said Mary Sherman.
When the Mav Market opened up in October 2017, there was only one pantry in the Bronx campus, then a year later, one in the Dobbs Ferry campus opened, and there is now one at the Manhattan campus. They had their first pantry day at the Manhattan campus lobby, where they gave an estimate of 100 meals and had 23 people sign up to be a member.
It's not thought college students are experiencing food insecurity, but almost half of the college students do. So it is important to Mary, along with the market community, to help as much as they can.
"We want our members to know it's okay to come in a grab something to eat, whether it's a meal or a quick snack," Sherman says.
Sherman says that the Mav Market is planning on promoting so that more students and staff are aware. They will host a 4-hour session in mid-October to help the Mercy community with federal benefits.
Every semester they distribute surveys in hopes to receive feedback on how they're doing so they can improve. Due to feedback, they have increased the number of quick meals for those who have little time to cook. They could also create recipes with ingredients given at the Mav Market. They have been extending their open hours, and created a food request form, where members can go online and request any food or resources. The market then puts together a bag with all items requested and the member picks a day to come to pick them up.
"We want to provide the highest service to our members and listen to our community," Sherman says.
The Mav Market also now assists individuals with applying for SNAP benefits or WIC program.
It is important to live a healthy lifestyle. The Mav Market supports the idea. According to Nutritious life, having a proper diet will help rev your metabolism, stabilize your blood sugar, control your hunger, and boost your energy. Studies have shown that students who eat a healthy breakfast perform better in their classes.
The Mav Market is known for its healthy food choices, including granola bars for students who don't have time to eat breakfast.
Not only does the Mav Market provide a variety of benefits, it also educates its members. Je'laya Johnson, 18, says that not only was she able to save money, but she learned how to socialize with others. She has also learned different recipes and more about food security since joining the Mav Market.
"It was a character builder," she added.
The Mav Market has 79 percent of respondents that say they now have more food security since joining the Mav Market. Members say that they can perform better at school and work because of the resources are given.
"I've had people come up to me and say 'thank you' because they can now save money and needed the help," Johnson says.
The Mav Market community always looks to expand its reach. Word of mouth is one of the most successful ways to spread the news. They encourage others in the Mercy community to come and sign up in person or online.
Leave a Comment
About the Contributor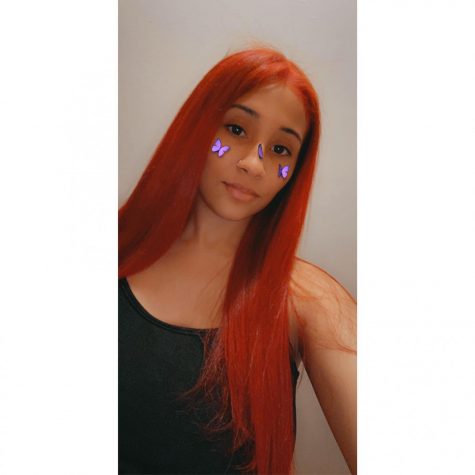 Amber Perez, Senior Writer
Amber Perez is half Puerto Rican and half Italian. She is currently residing at The Bronx, New York and enjoys listening to music and reading books about...