Students Respond Positively to Enhanced Manhattan Campus
The newly renovated Manhattan campus is now complete with new classrooms, a cafeteria, and a new library as students start the fall semester.
The facelift is complete, and it is a stunning success.
Mercy College opened up its newly renovated Manhattan campus in Herald Square on Sept. 4. The renovations are part of an effort to bring more students to the Manhattan campus.
The new renovations include brand new classrooms with new technology to create a stronger learning environment for students, a new library, and a cafeteria which the campus had not previously had.
The cafeteria and library are now located on the third floor along with the brand new PACT office.
The campus also has a brand new entrance on 34th Street.
With the enhanced campus comes more of an opportunity for students to take classes in Manhattan. The Manhattan campus offers students to pursue undergraduate degrees in Business, International Relations, Diplomacy, and Behavioral Science.
The new renovations have floors that total 95,370 sq. ft. And the new enhanced "smart classrooms," the new campus also has common areas on both the third and fourth floors for students to congregate and converse.
Besides new classrooms, which are much larger than the ones prior to the renovations, the campus also has a new lecture hall that holds around 100 people.
Students who have been taking classes in Manhattan prior to the renovations have already been taking advantage of some new renovations.
Olivia Gonzalez, who is a junior at Mercy College, says that its very important that the campus now has a cafeteria.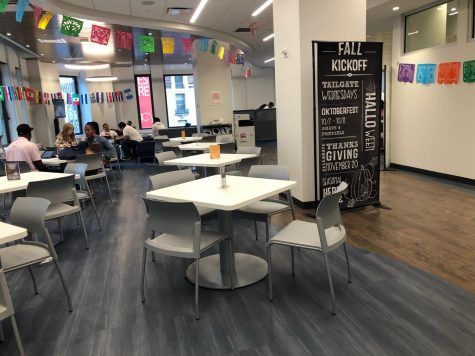 "I think it's great and really important that we have a cafeteria here now so that students don't have to leave the building to go get something to eat."
Other students also think that having a cafeteria is good to have because it saves time from having to go outside to get food.
"It's good that I don't have to leave the building during a break in class to get something to eat or drink because I might not have enough time if I had to do that," said James Curillo.
Besides the cafeteria being convenient for students, it also gives the students another area to hang out in between classes much like at the Dobbs Ferry and Bronx campus.
Students also think the bigger classrooms create a better environment for everyone.
"I remember having classes where the desks were so close together and we were all crammed up in a small setting. Now it's more spacious, which makes it more comfortable for everyone who is trying to learn, " said Aissatou Diba.
Dr. Andres Matias-Ortiz has been teaching Latin America History at the Manhattan campus since 2010 and thinks the new renovations bring a new level of excitement to the campus.
"I think anything new will bring excitement to people. I think the new classrooms, which are bigger, make it better for not just the students but the professors. I like the new windows that the classrooms have because you can see the gorgeous view of the city."
Matais-Ortiz also thinks the new lecture hall was a very important addition to the campus.
"I feel like by having a lecture hall in this building. We could do a lot with it. It allows us to have bigger classes here which is something we don't normally see at this campus."
Each classroom now includes technology such as smart boards and projectors much like the majority of the classrooms at the Dobbs Ferry campus.
The academic space totals 66,352 sq. ft.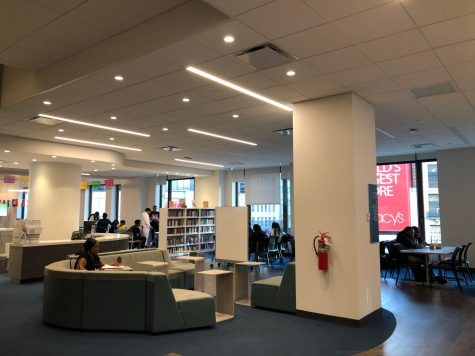 The classrooms professor Matias-Ortiz loves the new common areas on the third and fourth floors.
"It's great to see the students have more space to hang out and relax in between classes. I remember before the renovations seeing people cram into a small area in the hallway where you could only fit maybe eight or nine people."
While these renovations are complete, the campus is still undergoing an expansion, which will include residential housing starting in the fall of 2020. The residential space will include about 133 beds featuring a variety of suite configurations totaling 29,018 sq. ft. of residential living.
When everything is completed by the fall of 2020, Mercy hopes to have at 1,100 students if not more attending classes in Manhattan.
Mercy will have a ribbon-cutting ceremony and reception to commemorate the opening of the campus on Thursday, Oct. 24 at 10 a.m.
Leave a Comment
About the Contributor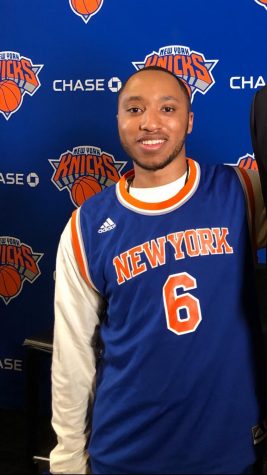 Ellis Joshua, Impact Staff
Ellis is a Senior Media Studies major who is looking to become either a sports writer or sports broadcaster after he graduates. He has a passion for writing...