Flag Football Fever
Growth Continues to Surge in Intramural League
The league is now two years in existence. It went from a morning struggle to an evening showcase. The lights. The glitz. The rivalries.
The games were played early on Sunday mornings in those first years, which led to many students showing up in "groggy" after a long Saturday night.
Students, including Senior Kyle Tieman, would throw up on the sideline and get right back on the field.
"People would show up in bad shape all the time. I've been there once or twice myself," said Tieman.
The players will also engage in friendly trash talk. It's part of the game.
"There is definitely some sarcastic banter," he said.
The league has also seen its fair share of pushing and shoving over its first two seasons. Last season two of the players took trash talking a little too far.
"They were both trash talking each other's skill," Tieman said. "They both took it too seriously."
Even with the fights and the groggy college students, the league has taken off. No, it's not the USFL or even the XFL. It's the Mercy Flag Football League.
The league was spearheaded by Smith Brickner, and Derek Napolitano, both who graduated this past spring. Brickner also had a hand in creating other intramural sports leagues at Mercy, such as speedball.
Mercy eventually recognized the importance of these intramurals and would tab Dan Steinberg, the Assistant Strength and Conditioning Coach at Mercy, to run the intramural games.
Steinberg began running the intramural during the last spring semester. This is his first time working with the flag football league, which is now ran by co-commissioner's Philip Granucci and Conor Irvine, both juniors here at Mercy College.
Steinberg has helped to expand the league this year, and making it as, if not more successful than the previous two seasons.
"We wanted to make sure we could meet expectations," said Steinberg.
Steinberg also wants to make sure things are done more seamlessly this season. He began this process by changing how players signed up for the league. Now players must be registered online, or they are not eligible to play.
Steinberg also helped get students to sign up for the league. "We had a tabling in front of the Main Café," said Steinberg. Students also found out about the league through flyers posted around campus, the word of mouth, and mass email.
With the league entering its third season, and with the departures of many students from the first two seasons, including Brickner and Napolitano, there have been a multitude of changes.
"The roster sizes are smaller, but there are more people in the league this year," Granucci said.
Last year the league comprised six teams. Four made the playoffs and Riches and Honors, now known as 3Peat, defeated Team Juice to capture their second straight championship.
3Peat is the only returning team as most of their players from the previous two seasons have returned. Although there are some returning players from last year the league has added many new players.
"Overall, we have about 40 new people this season," said Granucci.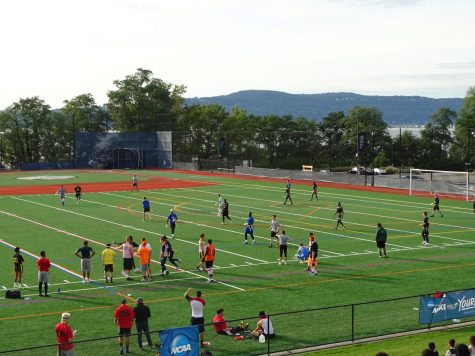 New players are not the only changes to the league this year. The season has been shortened to six weeks, with one bye week, and then two weeks for the playoffs. There's also a change to the field length.
"Because of baseball we had to change it to two 70 yard fields, but I feel that it makes the game more competitive," added Granucci.
Granucci emphasized that making the league more competitive is one of his main goals as co-commissioner this season. "We want to make it more fun, by making it more competitive," said Granucci.
Granucci also had high praise for both Brickner and Napolitano. "You can't replace those guys. They had such great, fun personalities, and they really helped this league grow."
Unlike the previous two seasons, Mercy is helping fund the league this year, which has been a huge help says Granucci.
"Steinberg has really helped us out with resources and getting the word out to students to join the league," said Grannuci. "They've also supplied us with new footballs, new flags, and new jerseys. It's a lot more organized than ever."
Although Mercy has helped immensely so far this season Granucci emphasized that the league is still a place where "kids want to be loose," said Granucci. "We want the league to have an intramural structure and recreational flavor."
Even with all the new faces joining this season there are still some players who have been around since the league's inception.
Leo Heffernan, a senior at Mercy College, plays for the defending champions 3Peat, and is entering his third season in the league.
"It's one of the most exciting things to do here on campus," said Heffernan. "It gives us something to do week in and week out."
One thing that Heffernan wanted to make sure he didn't change was the physicality of the league.
"As a lineman I wanted to make sure we kept some physical aspect to the games this season," Heffernan said
Heffernan has also been pleased with how Steinberg has been running the league so far. "They've made sure to keep it similar to the old league, while also making some changes."
With some new faces, and some old, the flag football league is poised for its best season yet.
The flag football league plays its games on Sundays from 5 p.m. to 6 p.m. on Mercy Field.
Leave a Comment