Students Walk In Central Park For Breast Cancer Awareness
According to the National Cancer Institute in 2019, roughly 1.8 million people will be diagnosed with cancer in the United States. An estimated 268,600 women and 2,670 men will be diagnosed with breast cancer, which makes it the most common cancer diagnosis. Lung and bronchus cancer are the second most common cancer diagnosis with an estimated 228,150 new cases. Prostate cancer is the leading cancer diagnosis among men and the third most common diagnosis overall with 174,650 expected cases.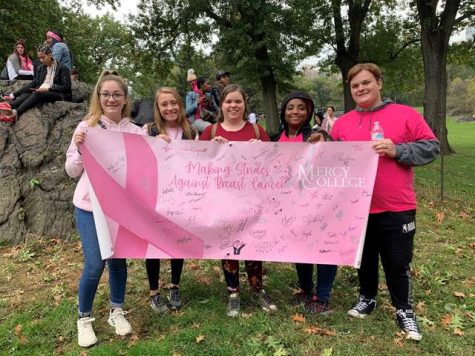 To help students understand how important is to learn about cancer, the Student Life Office, teamed up with the American Cancer Society to support the Breast cancer walk in Central Park. The American Cancer Society is always trying to push young adults to learn about cancer and early possible ways to prevent it.
It is such a great idea to inform students about cancer because they will be more conscious about medical checkups. Since cancer is becoming so popular among people it is important to understand how necessary is to talk with a doctor about the risks and what are the best ways to prevent it or diagnose it on time.
Mercy College students were able to raise $375 with prior fundraisers and at the Central Park walk. Denecia Charles, Student Life Specialist, at the Dobb Ferry campus, explained that it was a big challenge they accomplished raising the money because even though many students do not have enough money to afford big donations, they have the initiative of doing it anyways. Students understand that any little help counts to help survivors or people that is going through cancer.
"My dad suffers from prostate cancer, I think if he had checked with the doctor before he would have had more chances to fight cancer," says Charles.
Her dad is in the four stage of prostate cancer. He is not receiving any chemotherapy, but he stills needs to keep going to the doctor to keep controlling it.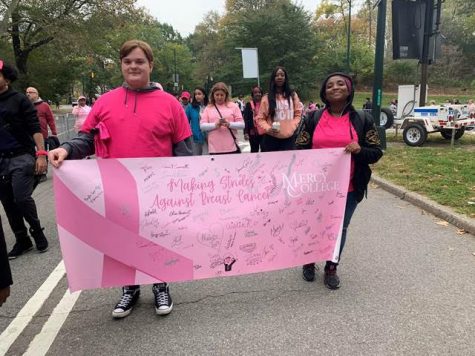 Four miles around Central Park were walked to create awareness about breast cancer. Mercy College team counted with 17 students, six of which were international students. It was the first time for international students joining a breast cancer walk as every student was supportive with the cause. Most of the students feel related with those people because they know someone who suffers from any type of cancer, they have family members or friends that have been fighting with this illness.
"It was emotional to hear people in the megaphones sharing their experiences with cancer and why they were there supporting these people," says Charles.
Even though breast cancer could affect females and males, the percentage in female is higher. The support these women received is incredible and wonderful thousands of family members, friends and people joined them to show their support.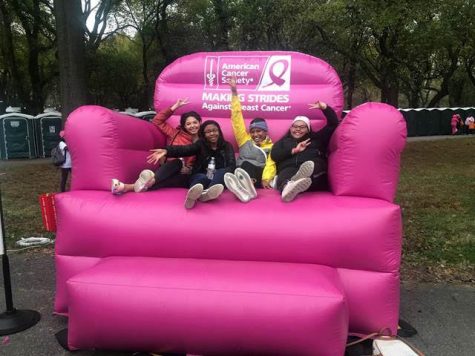 Mercy College is trying to increment the information that is spread around school. Together with the American Cancer Association, Mercy is trying to bring and share more pamphlets, infographics and any kind of propaganda that can call the attention of students.
Thera are may ways to prevent cancer and the most important one is to be aware and to keep the doctor visits on track. People also needs to understand that they are not alone and that there are hundreds of people dealing with this kind of illness daily.
The Student Life Office thanks all the students that supported the walk and fundraiser and alert students to keep donating. It is never to late to show support for people who suffers from cancer or needs information to start a treatment.
Leave a Comment
About the Contributor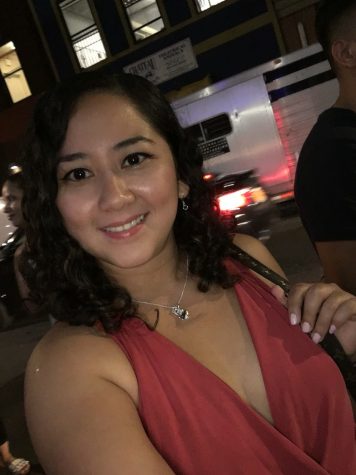 Adriana Saad-Vinza, Impact Staff
Adriana Saad is from Ecuador. Her grandmother brought her over when she was 15 years-old for a better future. She jokes that her plan did not go as she...