Mercy College Hosts Events for Hunger and Homeless Week
Mercy College's Mav Market collaborated with Residential Life and hosted a variety of events to spread awareness of hunger and homeless inspired by Hunger and Homeless week from Nov. 16 to Nov. 24.
Hunger and Homelessness Awareness Week is an annual program where people come together across the country to draw attention to the problems of hunger and homelessness
As of today, there are about 43.1 million Americans that live below the poverty level.
About 549,000 Americans are homeless on a typical night and 42 million Americans are at risk of suffering from hunger.
About one in five children in the U.S. live in poverty, according to hunger and homeless statistics.
That's just in America. According to statistics, about 795 million people do not have enough to eat worldwide. Nearly 770 million people live on $1.90 a day or less and six children die each minute of a hunger-related disease. About 65.3 million refugees have been driven out of their homes.
There has been slow but steady progress over the past thirty years, but there are still a tremendous number of people around the world who live in extreme poverty.
Mav Market's coordinator, Mary Sherman along with resident assistant, Antonio Solon, worked together in hosting several events at Mercy campuses.
The events consisted of a movie screening of The Pursuit of Happiness, days dedicated to making care packages for the homeless, a chopped: diabetes competition that brought awareness to diabetes, and writing letters to the homeless. There was also a food and clothing drive held on all campuses.
The care packages were made at all campuses, and consist of essential personal care items, snacks, information about the Coalition for the Homeless, and a personal hand-written holiday card from a member of the Mercy Community.
Solon hosted this event in the Main Hall Cafeteria, garnering over 30 individuals to help pack these bags, along with Mav Market volunteers assisting with putting the bags together.
The participants for the chopped: diabetes challenge had to create a recipe using very limited items that was appropriate for someone with diabetes. The idea was to help participants recognize the struggles of being diabetic while also facing homelessness.
On Saturday, Nov. 23, a team of volunteers helped to stock and reorganize the Mav Market in Dobbs Ferry and prepared to send out the care packages in time for the holiday season. All donations and care packages were sent to homeless shelters in New York City.
"The whole idea is to bring awareness to homelessness," Solon said.
"It is very important that people give back especially during the holidays," two Mav Market volunteers added.
In total, there were 50 care packages made at the Bronx, Dobbs Ferry, and Manhattan campuses.
"Hosting events throughout Hunger and Homelessness Awareness Week were deeply important to our mission to help spread awareness of these issues within NYC and in our own community," Sherman said.
Some will remain in the Mav Market for members to take and distribute to individuals, while the rest will be donated to The Coalition For The Homeless in NYC, the nation's oldest advocacy and direct service organization helping homeless men, women and children.
The Coalition For The Homeless is partnered up with Mercy's Residential Life.
There is a crisis intervention program along with the coalition's grand central food program that provides help to those who are homeless or are at risk of being homeless.
The Grand Central Food Program was founded in 1985 the day after a homeless woman died of starvation in Grand Central Terminal. Since then, the program has grown to become the largest mobile soup kitchen in America. They provide 1,000 warm, nutritious meals each night to homeless and hungry people on the streets of New York City.
Over 100 pounds of food donations were received.
"We are deeply grateful to the Mercy College Community for supporting their fellow Mavericks," Sherman said.
Over 100 individuals were part of the team to help lead Hunger and Homelessness Awareness Week. Sherman was pleased with the results and looks forward to continuing her work.
"Though it was a single week of programs and events, we hope that our work will have a lasting impact at Mercy, and we can continue to strive to end hunger and homelessness in our community."
Leave a Comment
About the Contributor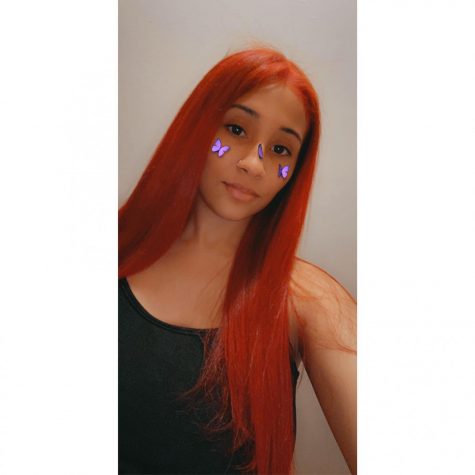 Amber Perez, Senior Writer
Amber Perez is half Puerto Rican and half Italian. She is currently residing at The Bronx, New York and enjoys listening to music and reading books about...