'Divas Have Mercy' Take On Lincoln Center
"Hello? Your boyfriend hit you again. That's never okay. Hang on, I'm on my way!"
The Mercy College co-ed step team, Divas Have Mercy, stomp, clap, and step in perfect unison during their social issues performance while competing at the UpStaged: Step and the City competition in Lincoln Center, Manhattan.
Divas Have Mercy is the first co-ed step team at Mercy College that empowers women through the art of step, the group says. In 2019, the team officially became a part of the National Step Association, with the help of their external coach, Dabe James.
Stepping, or step-dancing, is a form of percussive dance in which the participant's entire body an instrument to produce complex rhythms and sounds through a mixture of footsteps, spoken word, and handclaps. Originated in Africa, stepping was once communication used between slaves. Now, it is an empowering art formed symbolizing a connection between the past, present, and future of a generation.
The performances shed light on issues such as domestic abuse, women's equality and the harassment of women in public transportation, all while stepping in perfect synchronization. They also did a head-to-head battle round with Lincoln University.
Freshman Ellijah Hunter stole the show with his surprise death drop that secured their spot in the competition. The team place fourth in the whole competition, and third in their own region.
The team's president, Briyanna Hutchinson, a senior business administration major, has been leading the team, which once was just an all-girl step team that only performed in talent shows and events on campus, to a co-ed competitive team that competes all around the country.
"After our last president left, our co-founder Shaylah Brickle picked the team back up. We wanted to make Divas a competitive team and have people respect our craft and represent our school in different competitions," she said.
This competition was the biggest competition they have done thus far.
"It was an amazing but nerve-racking because we had to come up with a fourth routine twenty minutes before the show. However, we really got it together and I think we placed because our routines were the most creative. We had steps that the judges have never seen before," Hutchinson said.
To promote the competition, the Divas were invited to perform on Pix11 News on Feb.7.
Senior forensic science major, Kimberly Blair AKA "Spice" said, "It was so much fun being on television and see the behind the scenes of everything and the performance we did was well put together, we had no hiccups."
Sophomore business administration major, Brea Emanuel AKA "Shadow" said "It was an amazing experience. It was cool to have my friends tell me they watched us, I felt proud about it."
The Divas had their first competition last year in the Bronx. Since then they performed at Millersville University, Fusion Fest Dance Competition, and Stony Brook. Their next competition is in Washington D.C. at Howard University.
"All I know is I'm taking off work for this Howard competition. I mean.. It's Howard!" freshman Elliah Hunter said with a smile.
The team has become more than just a step team; they see themselves as family. They practice three times a week, sometimes having five-hour practices if it is before a competition. They work closely with their coach, Mr. James, who tightens up their routines and teaches them new steps.
If one member has a problem, they all have a problem. They have formed a close bond through their love for step and always push one another to overcome their fears and achieve their goals.
"Being a Diva resembles empowerment. We are a club that not only entertains but does their part at this school, we always empower each other," Blair said.
Senior and health science member, Moya Heron AKA "Giggles" said, "being a diva is all about family; it's somewhere to be when you are feeling sad. It is also somewhere to be when you need strength."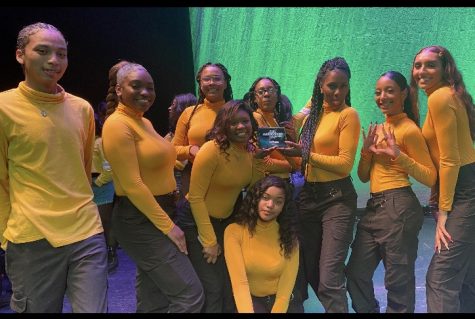 Hutchenson enjoys watching female improvement and encourages them to step out of their comfort zone.
"I remember I named Brea as Shadow because she was always hiding in the corner somewhere but you can hear her stomping hard. She would never perform in competitions a year ago, but this year she performed on TV with us and even did the Lincoln Center competition.. I am so proud of her growth she came out of her shell."
Emanuel said with a confident smile, "I definitely came out of my shadow, this team has helped come out of my shyness and want to perform more."
This competition seasons the team aims to win more titles, make more memories, and inspire more young children to step.
"We want to win, win, win here is to great experiences and to winning," Heron said with a giggle.
Hutchinson added, "Above all I want everyone to remember us for who we are and what we are about. We are a family and we empower each other doing what we love."
Leave a Comment