The Art of Women Empowerment
Being a woman means a lot of different things. It means to be independent but still be a dependable person. It means to be unapologetically yourself in a society that wants you to be a specific way. It means to make decisions for yourself that will be the most beneficial in the long run. It means to support all type of women – skinny, large, all races, transgender, disabled. It means to stay positive even though everything seems to be falling apart.
On March 3, Mercy College held a #WomenEmpowerment event, held by Student Life, where people were able to take a Polaroid picture, stick it onto the table and underneath the photo got to write a reason what women mean to them. Fernanda Lujan, a criminal justice major, was in charge of the table where she was in charge of taking pictures.
On the table, both men and women wrote their reasons for supporting women. Some people wrote things such as:
"Being a woman means to be a queen not a princess."
"It means to be a role model to other women."
"Be your own kind of beautiful."
"Bringing life into the world."
Lujan's reason for supporting women is that all women should support each other. "I think it's a privilege to be a woman," says Lujan. "Being a woman means to be a role model to others." Lujan showed her support to other women by complimenting others. When another student was asked if she wanted to take a picture, she said she did not want to because she said she looked bad. Lujan quickly said, "No, you look so pretty."
When another student walked to the table she was quick to compliment Lujan's hair and Lujan complimented her outfit. "So beautiful, look at that outfit, girl!"
The event focused on certain issues. It's important for women to complement each other in a world where women are constantly pinned against each other. It always seems to be a competition against whether it be who has the best style, music, hair or job. It seems as if women are never able to be truly themselves without having either women or men judge them. But, if more women show compassion to one another then more people will feel accepted more and be able to be themselves without the fear of competition or comparison. It's very easy for women to compare themselves to others which leads to jealousy which can lead to bullying.
"My mother is my biggest role model. She taught me to respect myself and most importantly to respect others," explains Lujan. There are many women throughout history that have been able to teach others how to be confident, reliable, hard working, positive and resilient.
Little gestures such as small captions under Polaroid pictures is a good way to show other women that they are not alone and they are able to see who are the people that show them the support.
Leave a Comment
About the Contributor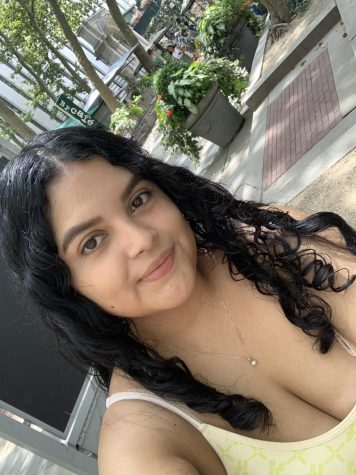 Noelle Ramirez, Impact Staff
Noelle Ramirez is a Junior at Mercy College perusing Journalism to become a Social Media Manager. Noelle enjoys listening to music, especially Bad Bunny,...