Mercy STEM Holds Annual Conference Virtually for the First Time
Mercy's annual STEM conference brought together teachers and professionals that share the same goal: engaging all students in real-world science, technology, engineering, and mathematics concepts in approachable ways.
Despite the current pandemic and social-distancing guidelines, more than 50 teachers, professors, and teachers in training attended a half-day conference on STEM (Science, Technology, Engineering, and Math) teaching and learning. The Mercy College Center for STEM Education (MCCSE) hosted their annual "K-12 STEM Teacher Conference" for the first time virtually, on Oct. 3.
Two-thirds of the attendees were Mercy faculty, alumni, or students including Elementary Education Department Chair, Dr. Elena Nitecki, and Associate Professor of Childhood Education, Dr. Wendy Mages, and MCCSE co-directors Dr. Amanda Gunning and Dr. Meghan Marrero.
Assistant Director of Mercy CSE, Mary Ushay, was pleased to see such a great deal of the Mercy community involved in this event as both participants and presenters, despite the virtual setting.
"There was a lot of giving back," she said, which is the primary mission of the MCCSE.
For the first time ever, this four-hour conference included a specific elementary strand: "Incorporating STEM into the Elementary Classroom," as a proactive attempt to get younger students involved in STEM as early as possible. Gunning, Marrero, and Nitecki are engaged in educational research and programs to support early STEM integration, making this development a priority.
For students who might not be familiar with STEM, teachers learn to incorporate these approaches and methods into their lessons, giving students more opportunities to develop an interest in STEM for their future studies and careers.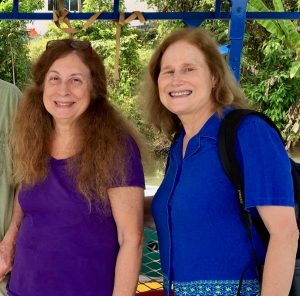 Drs. Jacalyn Giacalone Willis and Katrina Macht, of Montclair State University's PRISM (Professional Resources in Science and Mathematics), led a well-received keynote presentation called: "Classrooms Without Walls: Connecting Students with Scientists, Rainforests, and Ocelots," to start off the conference. The keynote video can be found on the Mercy STEM website.
Gunning and Marrero worked closely with Willis during the Wipro Science Education Fellowship, as their institutions were partnered together. After getting to know one another, they looked forward to having her as a keynote speaker at the conference.
Willis explained that over the years she has visited many classrooms in person to discuss how a scientist studies wildlife. She recalls being warned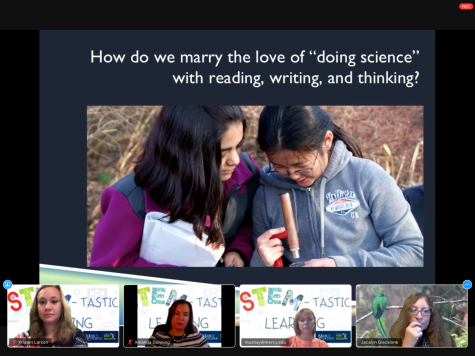 often by teachers that several students would not pay attention and so they had to be put in the first row.
"Yet, these students were focused and asked some of the most insightful and creative questions, and often followed up with emails to me, which I encouraged. I felt sorry that the curriculum did not engage these students and left them labeled as not 'normal' or behaviorally challenged."
She feels that education needs to work for a diversity of learners so that teachers do not lose some valuable but non-standard minds.
"Some of my friends in graduate school, who became excellent scientists, fell into that category and were almost lost in the cracks of the system."
In 2003, Willis and Macht co-created the interactive virtual program: "The Rainforest Connection" to bring diverse scientists into K-12 classrooms and engage students in conversations about research and methods, as well as explore the habitats and lives of ocelots and other wild creatures.
The two shared what it actually means to teach in a "classroom without walls." Macht recalls the pair being in Panama in February before COVID-19 spread throughout the world.
"My students were all the way in New Jersey and they were excited to be able to talk to us from the forest. Even today, with the virtual learning so common, it's still an important part of connecting to remote places," Macht said.
The Rainforest Connection provides video chats so students are able to meet and converse with scientists in real time.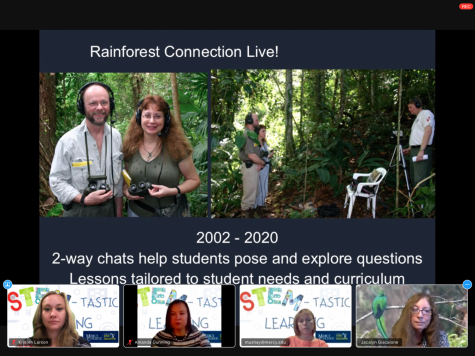 "It encouraged them to think critically across disciplines, across cultures, across scientific boundaries." These skills are what students need for the STEM careers of the future, she added.
Macht felt she and Willis could have continued talking for much longer, but was happy that they were able to share their passion and work with the audience.
"My primary goal for the keynote was to share the importance for teachers to seize every opportunity they can to connect students in the classroom with scientists in the field."
Following the keynote were two sessions of STEM workshops. These were mostly presentation-style, but there was a lively and interactive chat exchange between the listeners in each workshop.
Session one included: "Using Technology to Teach Science," "Integrating STEM Resources from NASA into Blended Learning Contexts," and "DNA Learning Center Virtual Lab Field Trips."
Session two took place at the very end of the conference and offered the workshops: "Integrating STEM into an Elementary Classroom: Voices from Different Districts," "Place-Based Education for Sheltering in Place," and "Teaching Statistics Using COVID-19 Data."
Between the two sessions, the conference was split into seven concurrent roundtable breakout rooms, each with a small group of 10 participants. All workshops and roundtables were presented by STEM educators from school districts and other education partner organizations in the tri-state area.
"For the roundtables, we chose topics that are of particular interest to educators right now, so that they could meet other teachers in a more informal setting to share tips, ideas, and strategies that could be immediately implemented in their classrooms," said Marrero.
The roundtable topics were: "Storytelling in the STEM Classroom," "Classroom Culture in a Virtual Environment," "Family Learning and Outreach for Research and Education in STEM (FLORES): Family Science Outreach Nights (K-2)," "Equity and Diversity in the Classroom," "Tech Tools for Elementary Education," "Teaching Math Remotely," and "Digital Interactive Activities for the Science Classroom."
According to Gunning, "The Equity roundtable provided an opportunity for us to reflect on how important it is for students to be 'seen' by their teachers and the integral role that teachers play in making the classroom a welcoming space, which is so needed right now. Ms. Street did a great job facilitating the discussion and making it interactive."
Mercy Center for STEM Education hopes to have their next annual conference in person, but for now, they will continue to encourage the virtual collaboration of STEM teachers, under the restricted COVID-19 circumstances.
To find out more about the MCCSE visit: www.mercy.edu/stem-learning
Leave a Comment