In Remembrance and Celebration: Mercy College Honors Veterans
President Tim Hall and Exex. Director of Media and Innovation Edie Magnus and several veteran guests gathered to discuss the importance of being an veteran and a student during Mercy College's virtual reception on Nov. 12.
The event began with fellow students performing the national anthem from a secluded location followed by Magnus greeting and thanking the veterans who came to the reception. Hall then greeted everyone who attended the event and gave a special thanks to the individuals who served or are currently serving in the armed forces. Hall then continued to discuss his own personal experience with the military stating how his father was a veteran of the Korean War and used that status to attend college, which made him the first college graduate of the family.
Since the very beginning, Mercy College has offered numerous courses specifically designed for those in the armed forces who wished to advance their education during and after their participation. Due to the constant support given to those who serve, Mercy has been awarded the title of a Yellow Ribbon School and named in the Top Veteran-Friendly Schools for United States Veterans. In addition to the courses, Mercy also offers these service members with professional mentors and  affordable private college education.
These services were mentioned heavily during the one hour conference held on Nov. 12 and was embraced by three specific Mercy College student veterans: Hector Rivera, who has a degree in Cybersecurity, which he received at Mercy while he was still in active duty in the Arm; Victor Vila, a current Mercy student who served in Iraq then came to Mercy to further his education; and Nneka Bell, who was also in the armed forces and completed her undergraduate and MBA at Mercy College.
Each student talked about how their time serving in the armed forces not only helped themselves with how they perceived life, but how they looked at education and the importance it holds.
Rivera, who is currently earning his Master's degree at Mercy College, described how even though it was difficult for him to transition from one being in the Army to civilian life, Mercy College helped him overcome that transition that many veterans struggle with once they have been dispatched.
Vila, who had similar views to Rivera, also described that even through the transition was difficult, Mercy showed him that he will be appreciated for not only what he had done to serve his country, but how he was going to further his education.
"When I went to college, I went to figure out things about myself and my field of choice. Mercy helped me learned how things worked in life and gave me an opportunity to think," said Vila.  "I was showed that I would be loved. I would be cared for. I would be looked after."
Bell also described how Mercy offered her the opportunity to further her education and critical thinking. "Mercy College did a lot for me and my business, I came here because I wanted to be an example for my children."
One person who was discussed and praised by all three students was Valerie Mason Cunningham, who also spoke at the event. Cunningham, who is on the Board of Trustees at Mercy College and retired Vice President of Channel Marketing, played a pivotal role in making sure each student veterans who attended Mercy get adjusted to their new lives at home. Her father, who was a WWII veteran, taught her the importance veterans hold to the United States and in return, she spends her life helping those who have and are currently serving our country.
"Perseverance, dedication and resilience makes these veterans extremely special," says Cunningham
Final four speakers of at the event were Viviana DeCohen '16, M.S. '18, Commissioner of the Mount Vernon Veterans Service Agency, Sandy Browning, Veterans Affairs and Mercy professors William Farber and
Retired Lieutenant Colonel Daniel Harris, M.S. '15.
"My career with veterans began at Mercy College,  said DeCohen. "I would not be where I am today if it wasn't for President Tim Hall for being mentor."
DeCohen, who is a member in City Hall at Mount Vernon's Veterans Service Agency, continually pushed for veterans to continue their education once they are released from their services. She provided veterans with kits loaded with meals and different care items to help get them through difficult times especially during the pandemic.
DeCohen, along with the other speakers, discussed how the current COVID-19 pandemic has affected veterans who have recently been released.
"COVID has been devastating on too many of our veterans" says DeCohen. "For those who have already have PTSD, COVID has only heightened it."
She continued to discuss how even though COVID-19 pandemic has rendered many veterans plans and motivations, other members have used this time of crisis to help those in more need then them. She discussed how many veterans at City Hall have been creating extra care kits with food using their vendors license to help those who are stuck inside and losing motivation.
"I know at least 70 vets who have died from COVID-19 and those who are also losing much of their income. We are bringing in more mental health services to help veterans who are in need of it and for those who just want to get out the house," says DeCohen
The discussion then shifted to Farber, who focused on bringng in veterans to Mercy College's mathematics program.
"As a vet who transitioned to mathematics, I truly believe in our veterans strength that brings into the teaching profession," says Farber.
In addition to recruiting veterans into the mathematics program, he has created a full-tuition program given to veterans who are willing to teach in high-risk areas across the city.
The final speaker at the event was Daniel Harris, who himself was in the armed forces and continues to practice the qualities he learned while serving into his everyday life.
"When I think about Veteran's Day,  I ask myself the question – what does it mean to be a veteran, and hen I realize that I'm still serving.," says Harris.  "It reminds me that I can still serve everyday since there are still many ways that I can help others."
Harris described how he created scholarship for young girls in West Africa to help empower them and teach them that they are valued and needed in the world they live in. He then described how Mercy College has shown him how many young leaders there are in the world and the limitless opportunities that they can take advantage of.
"I've only pivoted.  I haven't stopped," Harris used to close of his discussion.
The event closed with Magnus thanking everyone again for attending the event and giving thanks to this who have served the country.
Vila ended the panel by discussing his timeline for graduation. Unlike most, he is in no rush to set a date.  "As for my timeline to graduate, I hope never.  I love the experience and I love the interaction.  I'm a sponge and I hope to continue soaking everything in."
Leave a Comment
About the Contributor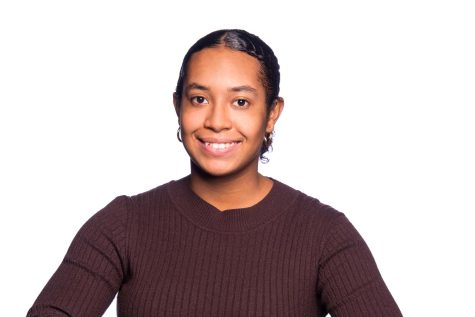 Britney Guzman, Impact Staff
Britney Guzman is a Senior at Mercy College. She writes a column called Quali-Tea News where she discusses her love for cats, Taylor Swift and mental...