Exercise and Science Club Spreads love During the Holidays
As Thanksgiving passes and the holiday season is well underway, Mercy College's exercise and science club has been doing food drives all throughout the semester.
During this time of the year, some people can't afford food or clothing, and especially with a global pandemic, many have lost their jobs, and children all across the world are home from school. The Exercise and Science Club has been hosting food drives all throughout the semester to help out with the community and ease the stress for people during these times of struggle and pain.
They have donated to organizations around the Westchester and in the New York City areas during these challenging times. President Jillian Riccio spoke about the food drives that she and the club ran during the fall semester.
"We were able to send food to the Children's Village of Dobbs Ferry, which is a shelter home for kids all around the area. On the second food drive, we had food that went to a woman's and children's shelter. It's called the Siena House and it's located in the Bronx, and the third one was more of a Thanksgiving Food Drive where we collected the typical food for a Thanksgiving dinner. And then the fourth food drive also went to the Children's Village as well."
According to Feeding America.org, one in every four kids may not know where their next meal will come from and 25 percent of children in households at risk of hunger may be forced to rely exclusively on hunger relief charities like Feeding America to make ends meet.
The Exercise and Science Club isn't just about exercising and staying in shape physically but also being mentally fit by helping out the community and the people around you.
"I think for most of us, donating food especially during the holidays and COVID-19 has gone to prove that our club isn't just about 'working out'. Though as a club we share a goal to create healthy lifestyles for ourselves and those around us we also have a goal to help the community around us, to make a difference, and spread kindness."
A stat recently published in the Washington Post said that 26 million Americans say that they don't have enough food to eat as the pandemic continues and that the holiday season approaches. Riccio and the exercise and science club are planning on doing more clothing drives as well in the upcoming semester.
"There are so many things going on right now that people feel very unsettled," Riccio said. "And I think it's just like to have something to help others and show that there's still people out there that care. We need that right now. We need to come together not as a club, but as a whole and help as many people as we can."
If Mercy students are interested in the Exercise and Science Club, one can sign up at campusgroups.com. and for more information about the club and what they do, contact President Jillian Riccio at [email protected] or vice president Roberto Campos at [email protected].
Leave a Comment
About the Contributor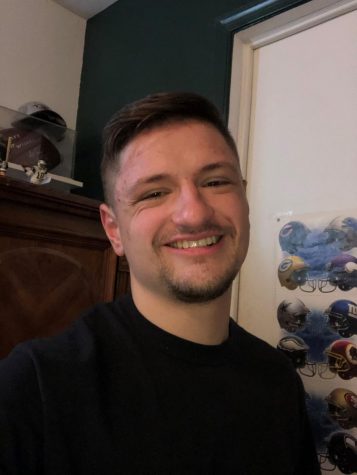 Alex Wendling, Impact Staff
A die-hard sports fan who is eager to learn more about the sports media industry. His dream is to one day work for a big sports news outlet. He is a die-hard...