Student and Entrepreneur; Balancing it all
A young New York college student already has a job as an entrepreneur, and couldn't be happier. Elijah Hunter, a 19-year-old student at Mercy College, has been working hard on his lip gloss company this past year. Gloss X was released to the public in early 2020, and Hunter has been enjoying his new endeavor.
Hunter has had a love for lip gloss for a while, and decided to turn that love into a dream. "My love for Lip Gloss grew in high school and it stems from the fact that it makes me and so many other people feel so confident! Alongside that, it can come in different scents, flavors, and even come in different styles! How can you not love something that does all that?!"
After his passion started to grow, he not only realized he could grow and income, but he realized he could create formulas that he could get behind. As an avid lip gloss user, he knew what he disliked from many products and he wanted to deliver something that would satisfy that consumer in him.
"For years, I've loved Lip Gloss and I knew that I could solve every Lip Gloss user's problems with Gloss X. I've created a Lip Gloss that takes away any worries about if your lips are being moisturized, if they are glossy enough, and what it's made off. Gloss X is made out of 100 percent Natural and Pure Oils including being Vegan Based AND is Non- Sticky! "
With a formula he enjoys in the bag, and the ball starting to roll, Hunter realized he needed a marketing plan and website. He spent months finding the marketing that would work well for him and Gloss X as a brand, as well as investing a lot of time into a fully functioning website for the products.
A small business often means very few, to no employees. Hunter does all the work himself when it comes to physically making the product and the marketing of it as well. As an enterprise he enjoys investing time and energy back into his business, while simultaneously reaping the benefits. "Everything concerning Gloss X gets done by me at the moment. I make the Lip Gloss, tube them, label them, package, and promote them, and guess what? I love it all! I love spending hours on my business whether it's creating new ideas, tweaking ideas, filming promotion videos, or even learning new skills to better my business."
Taking on business head-on and alone, can have challenges. Hunter has dealt with a few marketing and business issues along the way on his Gloss X journey. "A couple of weeks after releasing, I realized I needed more than 1 style of promoting. I couldn't just post videos of the Lip Gloss and tell people to shop. I had to have different approaches and styles. I then went one to create videos that described what Gloss X was and why the Lip Gloss was different! I began to watch a lot of webinars dedicated to growing Business Owners who had the opportunity to listen to successful Business Owners and Entrepreneurs. We were able to hear their different stories and listen to things that we should avoid whether that be mentally or financially. We also were allowed to speak on our experiences as well."
As Hunter went on to learn more about business, he has been able to deal with any other issues that have arrived in a timely and efficient way.
In regards to his company's name, Hunter wants something unique and bold. "Modern but also very simple and to the point. When you hear GLOSS X you know what we offer and who we are."
COVID-19 has been hard on businesses large and small, but of course the smaller companies tend to suffer more. Things were no different for Gloss X. The virus did have an impact on his business and profits, however he was able to find the silver lining in it all.
"During the pandemic I found myself facing multiple challenges and changes in my business. There was about a month or two when the pandemic first started where almost everyone was scared to order anything online because of the virus. Although this was something that was negative at first, it allowed me to be able to promote my Lip Gloss more and create tons of new promotion videos, photos, and ideas! During this time, I was also able to connect more with my customers and build a foundation of trust with them! After a while, people began to online shop."
Since people were shopping again, all was good for Gloss X until a question about masks and what's worn underneath was brought up. Pre-COVID lips weren't hidden under clothes like they are now in most of the world, so that was another interesting problem for the business.
"People were then required to wear masks which gave people room to question why they needed Lip Gloss if no one would see it under their face covering. This gave me the opportunity to remind people why they love Lip Gloss. Whether it's for their own confidence, for pictures, or even videos. I know that for me and many others, Lip Gloss is a boost of confidence that happens instantly. When you have the right Lip Gloss it pops out in pictures and videos! On top of all that, who doesn't want to keep their lips hydrated?! After reminding people of these things, many people realized that a mask isn't something that should stop one from wearing Lip Gloss. I was able to gain people's trust, interest, and ultimately turn a negative situation into a positive one."
Hunter has clearly worked very hard to keep his business alive during these trying times, and though he may not have employees, he isn't alone. His friends and family do support him wholeheartedly with Gloss X, and they have since day one. "I've been so grateful to have people who believe in my skills to run a business and people who support everything I put out. The support I receive means the world to me and definitely keeps me pushing."
Hunter does have a lot on his plate, with being a full time student and a small business owner. But, it has forced him to focus more, and put time and energy towards what's really important to him. He also does waste a second when it comes to marketing, that side of his brain is always on, and it serves him well. "Being in school has also helped my business in other ways. Having students around you daily whether in a classroom or in a zoom meeting has allowed me to promote my business effectively and create relationships with people to where they trust what I am selling. I'm able to create genuine bonds with people while at the same time putting a face to my brand which is something that is important!"
When it comes to Gloss X, Hunter has a lot to focus on as he is currently selling multiple different types of lip glosses and a few other goodies. "6 different Lip Glosses, multiple types of Hair Clips, and for the month of December, we have a Christmas Bundle! In 2021, I will be releasing 4 different glosses within the first 4 months and adding new products to my website throughout the year."
He couldn't be more excited to share his business endeavors with everyone, he even is thinking of the future and how he can one day take Gloss X to the next level. "I have many different business ideas that I want to complete over the next couple of years. With that said, I plan on merging my GLOSS X Lip Gloss with other projects that I do in the future in order to eventually have my own store with all my products."
Hunter is a hard-working young man, and very humble and grateful for his supporters. "I'm so thankful for all the support I have received and continue to receive with GLOSS X! Whether it was a purchase, re-post, shout out, or even word of mouth, all of it means the world to me and I am so excited for the future of GLOSS X."
Leave a Comment
About the Contributor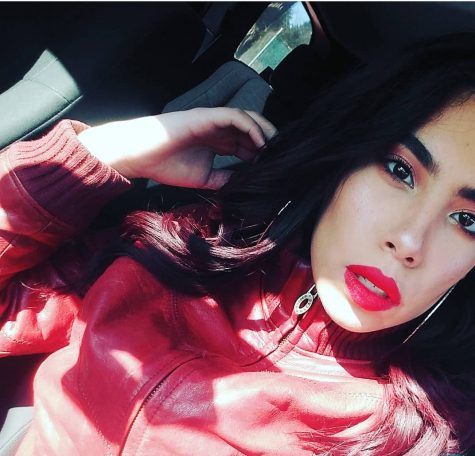 Jadeen Mercado, Impact Staff
Jadeen Mercado is a senior who loves all things entertainment!

She writes a column called Jadeen's Scene

She can be reached at [email protected]...