Mercy Cancels Spring Break, Creates MAV Day Alternative
Spring Break is officially cancelled. Sort of.
Mercy College announced via email in November that the 2021 Spring Break scheduled for the week of March 22 to 28 was cancelled due to concerns about the COVID-19 pandemic. The cancellation of the break is to ensure that students who wish to travel around the country or to other countries throughout the break wouldn't come back to campus and possibly spread the virus with other students or faculty.
However, due to critique from students and faculty, on Nov. 16, the college announced via email that they have decided to create five days scattered throughout the semester that students would have off to replace the lost weeklong break.
2021 Spring Term MAV Days:
· Monday, March 22, 2021
· Tuesday, March 30, 2021
· Wednesday, April 14, 2021
· Thursday, April 22, 2021
· Friday, April 30, 2021
All held classes on these days will be cancelled, however, if unforeseen circumstances result in class cancellations during the spring term such as snow days, these days can be used as make-up days for courses at the discretion of the Provost as mentioned in the email.
While the addition of MAV (Mercy Academic Vacation) days was supposed to allow members of the college to have days of rest and rejuvenation from their school work, many students including Mercy College student Ami Kotanie doesn't believe the days are much of a compensation for the lost break.
"I thought it was unfair [to cancel Spring Break] and MAV days isn't actually going to make up for it," says Kotanie.
While Mercy College has cancelled their break, many other colleges have also either cancelled or altered their break to try to flatten the curve and protect public safety. Consequently, since the break which usually provides students a time to rest from academic stress or catch up with jobs, now students who have had their break altered have experienced heightened mental health issues last spring semester. according to Teen Vogue. Now that the break has once again been cancelled, many Mercy College students are again worried about how the lack of Spring Break will affect their mental health. One student worried about how the stress levels will increase is Mercy College Junior, Soliany Santiago, who wishes the spring was still on so her stress levels can remain low. "I guess this semester is going to be a little bit more stressful than it usually is" says Santiago.
"Last year and this year has already been tough enough," says Kotanie. "I was actually quite upset about the cancellation. I'm tired of sitting in front of my laptop for classes, and now I don't have any break from it to clear my mind," says Ami.
For many students, they didn't plan on using their break for partying or vacationing on different islands throughout the world, they planned on using it to rest and prepare for the rest of the semester.
Now they only have one scheduled day a month for that rest.
For some colleges throughout the country, their scheduled breaks are being used as "reading breaks" where students are expected to either catch up on late work or read a given amount of material for the next scheduled class. This format is similar to what Mercy College is prepared to do in case circumstances occur that limits class time throughout the semester as was mentioned above. One example is of snow days which as this post is currently being written, New York State is currently in the midst of one of the most extreme and dangerous snow storms in the past couple of years. On Monday, Feb. 1, and Tuesday Feb. 2,  all of Mercy College's campuses shut down and many hybrid classes were cancelled due to a widespread loss of Wi-Fi throughout the state. It is expected by many that if circumstances the one mentioned above continues, the provost of the college can use one or more MAV days as make up days for some courses.
The unrelenting pandemic has led to many cancellations of not only breaks throughout the semester but has also delayed much of the sports events and has cancelled many of the classes scheduled either to be fully in person of blended throughout the semester. For many students, this has made much of the difficult classes more easier to tolerate and for others it has made the already stressful courses more difficult to take. Now the cancellation of the break has placed yet another heavy weight on the students.
"I feel like just because we're online [that] shouldn't change anything," says Kotanie. "Most of us don't want to take classes from home… at least do us the pleasure of keeping everything else the same."
Leave a Comment
About the Contributor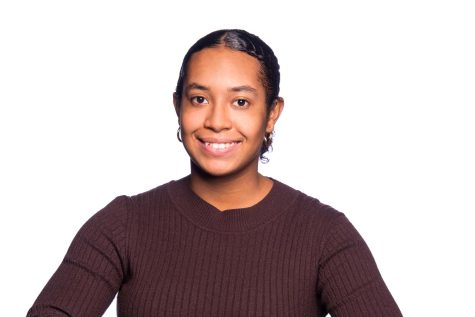 Britney Guzman, Impact Staff
Britney Guzman is a Senior at Mercy College. She writes a column called Quali-Tea News where she discusses her love for cats, Taylor Swift and mental...