College Enforces Mandatory Quarantine For All Residents For Two Day Minimum
Dobbs Ferry residents were informed on Feb. 4 that they are required to quarantine in their residential halls for the next two days starting immediately. On Feb. 4, President Tim Hall hosted an Town Hall virtual webinar open to all students and staff about the severity of the new cases.
The webinar was also co hosted by Mercy College nurse Colleen Powers and Vice President of student affairs Kevin Joyce.
Mercy College, who has been moving students back into the Dobbs Ferry campus since Jan. 15, has made the decision to hold all residential students since receiving an uptick in positive cases over the weekend. All cases coming are residential students. All students scheduled for in person classes will not be allowed to come into classes so they must attend virtually.
Out of the 106 students tested last weekend, there has been a current total of four positive cases, which according to Hall, might not seem like much too many, but is a big jump from where the college was in the beginning of the semester.
"We've been listening to the county health department… who usually doesn't tell us what to do until they're about to shut us down," says Hall. "We're hearing that we are about to go in another bad patch and we are trying to monitor what's going on statewide and nationally"
Testing for all residential students started yesterday afternoon and has continued today until tomorrow. For testing, students are not required to make an appointment but are asked to come in as soon as possible within the next two days, says Powers. Rapid testing will be used on all students tested in the next two days. On average, the results takes an average on 15 minutes to come back in but in positive cases, the results are returned just under three minutes. For students who test positive, the nurses will interview the person and ask them to the best of their ability, to name all people within the Mercy College community that they have come in contact with in the past two days. The nurses will then call, email and/or physically come to each person listed and test them and enforce a mandatory additional quarantine for those individuals.
"We will find you," says Powers
For students who are currently under the enforced quarantine, they must stay inside their rooms unless they are leaving for testing in the Rotunda, to use the bathroom in the dormitory and/or to visit the doctor on campus. Once students are done with those activities, they must return to their room for the quarantine. Residents will be delivered food three times a day at 10:00 a.m., 1 p.m. and 7 p.m. and food must be picked up downstairs by the students. After receiving their food, the students must return to their respective rooms.
For residential students who are currently not on campus but wish to return, these students must provide a negative result taken the day of and then quarantine inside their room for the following four days. Once the four days are up, they must be tested again for another negative result.
"Students who leave the campus in the following days will not be allowed back on campus, and will have to repeat the process of testing and quarantining," says Joyce.
Once the mandatory quarantine is over, the college plans to resume testing 25 percent of residential students each week and random testing for all commuting student and staff. Since the beginning of the semester, the residential halls has been proven to be the most transmissible environment for the virus on campus since the majority of the positive cases since Jan. 20 have come from both halls.
The college has not had any fatalities due to the virus since the start of the Fall 2020 semester but has had one hospitalization since the start of this semester, according to Powers.
The ongoing quarantine might be lifted depending on the number of positive cases, according to Hall. However, mandatory quarantine can be increased to a ten day hold if the results come back in higher results.
"I think we're being very proactive," says Hall. "We want to make sure that we are not in a situation where we're going to have to shut down the college."
Expect an announcement from Hall in the following days regarding the college's next steps.
Leave a Comment
About the Contributor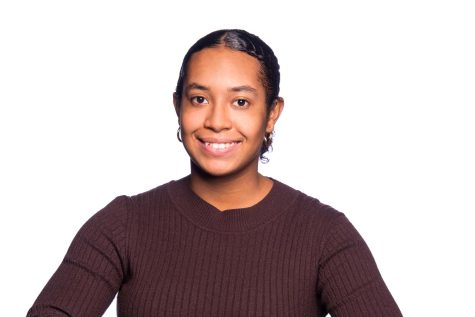 Britney Guzman, Impact Staff
Britney Guzman is a Senior at Mercy College. She writes a column called Quali-Tea News where she discusses her love for cats, Taylor Swift and mental...