Never Too Late To Find Your Strength
Although a strong woman, later in life decided she still had a lot to learn.
Mercy college student, Maribel Arias, has dedicated her time to being a great mother, and now, a student.
Arias has had quite the life. A person's journey is never laid out in front of them, and often choices have to be made. Arias made a big choice to leave behind the trouble and start a new chapter. She is from Mexico and was married when she was very young. She didn't get to have the education she is experiencing now while she was married. Arias didn't have the opportunity to do so once she gave herself to marriage.
"All my life I wanted to do something professional once I was married. In Mexican culture, it's complicated to study in the culture."
Her married life wasn't all great. She does have four kids, two of them have and are currently serving in the United States Marine Corps. Her marriage troubles, though, soon became too much to bear.
"I was experiencing domestic violence. I have been separated from my husband for 13 years."
Arias was determined to make a better life for herself and her children. She worked and was happy about saving money, with a dream to hopefully buy a car. But on May 14, 2014 – everything changed. Before this tragic day, she was making strides to be better, to go to the gym and lose weight. She was financially stable as well. She was quite happy, then everything changed.
" I worked as a home attendant and the patient never told me that the bathroom lock had been damaged, and after cooking I left the food on the stove and when it was left unattended, it caught a fire because I was trapped in the bathroom." The scariest moments of her life were yet to come, as the situation grew more dangerous, Arias felt helpless.
"The smoke was killing me. I couldn't breathe, my whole body felt that it burned as if they had put chili inside me. My chest hurt so much it seemed that I was carrying an elephant and my lungs were about to burst. My brain hardly worked anymore, I got angry with God because I considered what was happening to me was unfair." Arias was scared and getting weaker as time went on.
"I screamed. I cried. I tried to break the door but I could not and I sat without strength to wait for my death or to wait for someone, and no one came." Arias thought she would die right there, and those fears traveled with her long after the incident. Eventually, she was safe, but she was left with lasting effects such as PTSD, chronic pain, and a herniated disc. She deals with pain daily and every night, some nights worse than the others.
The fire left her not only physically hurt, but emotionally as well. But she found strength in her children to continue forward. "My children gave me the strength to carry on."
She has four children, a woman and three men and two granddaughters and a grandson. The first boy is a Marine veteran. Third boy is in high school, and her daughter works in a salad restaurant."
The horrors of her marriage could have left her completely drafted but she decided to prosper after all the emotional and physical abuse to start her education. "When I was married I couldn't aspire to anything because my ex-husband was very macho, mocking, and critical and if I wanted to do something for me, how to learn English, he would laugh and say that whoever was a donkey is always a donkey and that I aspired to something that it would never be for me."
But, she decided that it was to be for her.
In 2017, she started her education journey. "I decided to go to university, with no English. Cant speak, write or read. I did my associate in Hostos Community College. First-year was so hard because I couldn't understand anything but my classmates explained the course to me in Spanish."
Through her schooling and help from her kids, she started to learn English.
She hopes to graduate with her degree as a physician's assistant and continue to do good in her life and in others. Family is extremely important for Arias and she will continue to prosper alongside her kids.
Leave a Comment
About the Writer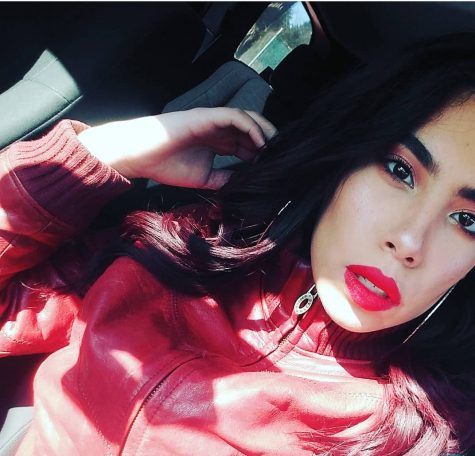 Jadeen Mercado, Impact Staff
Jadeen Mercado is a senior who loves all things entertainment!

She writes a column called Jadeen's Scene

She can be reached at [email protected]...