Mercy Celebrates Hispanic Heritage Month With Food and Dance
In honor of Hispanic Heritage Month, Mercy College held an event on Sept. 29 behind Hudson Hall to celebrate and enjoy the music, food and even a dance lesson.
The Office of Student Life put it all together with the help of student volunteers. They put together the colorful balloons and tablecloths, along with green lanterns.
The night began with a buffet consisting of food from many Hispanic countries like Cuba, Dominican Republic, Mexico, Spain, and Puerto Rico. Being served was tostones, fried yuca, cheese empanadas, chicharron, steak, rice with or without vegetables and chicken, and sausage. Of course, for desert there was tres leches cake, bread with guava paste filling, sweet bread and churros with raspberry filling. The line was pretty long for most of the night and everyone was able to get as much as they wanted. All being served by the volunteers.
"Its nice that Mercy is doing something for Hispanic Heritage Month," says sophomore Erendira Oseguera-Munguia, a nursing major. "Its hard to find people that share the same interests as you."
Everyone was enjoying themselves by experiencing so many different cultures at once.
As the food is being served, all types of music like Latin pop, bachata, merengue and more, are being played. People were coming together to celebrate.
With not too much time, dance instructor, Nick Avila, came on to the stage to teach everyone to dance bachata, a Dominican dance. After starting with a quick warmup, Romeo Santos played through the speakers and everyone on stage began learning bachata step by step. People stopped what they were doing and began to watch as they danced. Not too long after, everyone on stage began dancing either by themselves or with a partner. People started to laugh when some couldn't keep up or ran off the stage.
The bachata is a dance that originated in the Dominican Republic. It derived by the bolero, which is a Cuban dance. Instead of maracas, it uses a guira, which is a precession instrument. It is usually performed in a four-step timing sequence.
Naina Akahelfat, a senior majoring in education, loves everything about the night. From the food to the language to the music, "It's amazing, I love it, it's interesting. It's a good way to introduce others to the culture through Spanish music. It's a great opportunity to learn the culture."
Once everyone started to get a bit more comfortable and the shyness went away, more and more people began getting up to dance bachata, whether on the stage or on the side. Friends encouraged each other to dance and then couples started dancing. All of the energy lit everything up.
"Wearing costumes, traditions, being centered around family, it just brings a sense of community that other places don't have," says David Stanley, a senior studying criminal justice.
The Census Bureau states that there are nearly 60 million Hispanics living in the United States. That is up 10 million from 2010.
"At the end of the day, it comes down to family and togetherness," which Stanley said was his favorite aspect of the culture.
Hispanic Heritage Month is celebrated from Sept. 15 through Oct. 15. It was signed into law by President Lyndon Johnson in 1968. The date was chosen since Sept. 15 makes the anniversary of the Cry of Dolores, which is began the Mexican War of Independence in 1810. As the legend goes, a Roman Catholic Priest rang a bell in Hidalgo, Mexico (then known as New Spain) to take up arms against the Spanish Crown. His speech to those who gathered was known as the "Cry of Dolores."
The military also takes great pride in the event, according the Naval Office of Information of Public Affairs. There are 61 Hispanic soldiers to have been awarded the Medal of Honor. According to the Army' s website, roughly 13 percent of the branch is Hispanic, a number the has risen from three percent over the past 3o years. The site states, "Hispanic Americans have not hesitated to defend and show their allegiance to this nation in many ways, but especially through military service. The Army and U.S. draws strength from the diversity that makes up America's melting pot."
Everyone has a different opinion on their favorite aspect about Hispanic culture, such as sophomore Juoetzy Reyes Martinez, a nursing major.
"In Mexico all the states are different. The differences within the states still bring unity."
Leave a Comment
About the Contributor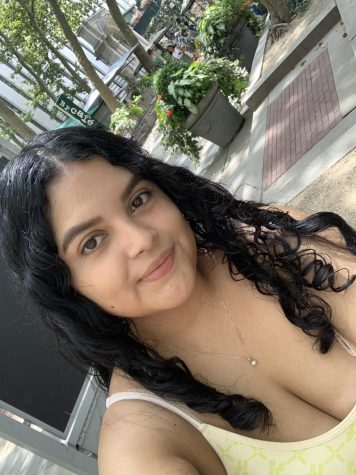 Noelle Ramirez, Impact Staff
Noelle Ramirez is a Junior at Mercy College perusing Journalism to become a Social Media Manager. Noelle enjoys listening to music, especially Bad Bunny,...