Large Increase For In-Person Classes to Start Semester
Mercy College increased its offering of in-person classes for the Fall 2021 schedule since the beginning of the COVID-19 pandemic.
In total, Mercy has 864 sections which they classify as Face-to-Face Instruction this fall. This is compared to only offering 76 total sections for the Fall 2020 semester. This is a jump of 3.8 percent of sections in person to 44.7 percent for all classes at Mercy.
"So far, it's really great. I feel safe, and everyone is respecting the rules so far," said Sara Kastrati, a freshman who is majoring in Graphic Design.
Kastrati is an international student who is taking all of her classes in person this semester.
This feeling was shared by Joey Normil, a freshman majoring in Computer Science. He applauded the safety precautions that are in place in order to make students feel safe, especially class size.
"The class sizes are not big, so we are spread out around the classroom. It definitely helps put some of my concerns at ease," said Normil.
However, some students have still not made the return to in-person classes as shown by 851 sections, or 44 percent of the class being offered in a distance-learning format. Of the distant learning class, 610 are not synced, which means students do not meet on Zoom or In-person.
Tom Wright, a sophomore and Political Science major, prefers the distance option over in-person learning.
"When I go to campus for class, I have to commute there and back on top of my time in class. When I can do the class from my room, I can have more time to focus on my school work and free time to give myself a break," said Wright.
This accessibility is one of the main reasons Kevin Joyce, Vice President of Student Affairs, distance classes have a higher fill rate than in-person learning. For Fall 2021, in-person classes have a fill rate of 70.6 percent, which is compared to a fill rate of 86 percent for distance learning classes.
"Distance learning especially async, you don't have to learn to stick to the same timetable of the class. Students' availability during the day is not dependent to be in class," said Joyce.
Joyce also indicated that these numbers were including both undergraduate and graduate-level courses. According to him, the number of undergraduate classes that are in-person is around 66 percent.
Having classes return in person was one of the main focuses of Mercy College as they prepared to launch the new semester.
"All the evidence we have is that students perform better in an in-person learning environment. Those connections they make create a greater sense of belonging in the Mercy Community," said Joyce.
This sense of belonging to the community was the main reason both Kastrati and Normil wanted to be in person to start their college careers. That was something Joyce has noticed since classes resumed over one month ago.
"In Dobbs Ferry, on a nice day, there are more students who are staying on campus. Coming before class and staying after class. Staying on campus between classes. Outdoors using common spaces and socializing," said Joyce.
One of the major reasons for the ability to return has been the safety measures instituted by Mercy College since last fall. This includes the vaccine mandate or weekly testing for those who have a medical or religious exemption.
As of Oct. 12, 88 percent of students and 94.5 percent of full-time and part-time faculty were fully vaccinated.
Joyce stated that he is optimistic that students will be able to finish the semester without issues if they remained committed to following all the measures instituted by Mercy and other local officials.
"We have over 6,000 students who have submitted vaccination records. For those medical or religious exemptions and those who aren't fully vaccinated, they need to be tested every week. So if you're scheduling your test and going to get tested. That gives me confidence in our ability to persist," said Joyce
After this semester, he hopes that by Spring, Mercy will be able to continue its goal of keeping and adding more classes in person.
"Our goal is to have students in classrooms taking advantage of campus resources to succeed. My hope and desire are we continue to head in the direction we are going towards."
Leave a Comment
About the Contributor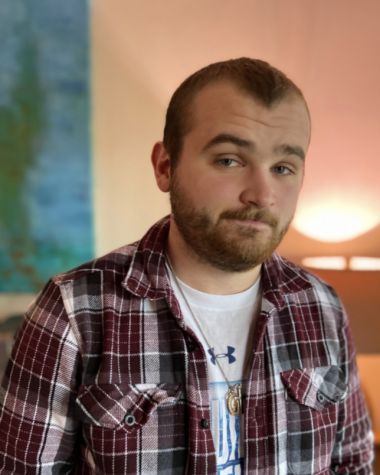 James Tiedemann, Managing Editor
James Tiedemann graduated from Mercy College in the May of 2022. He transferred there after graduating from SUNY Orange with his Associate's Degree in...