Mercy Hosts Biotech Company To Learn About The "Life Of A Scientist."
Mercy College hosted a science panel that gave STEM students a glimpse at a day in the life of a scientist.
Teaming up with biotechnology company Regeneron Pharmaceuticals, Sara Shepherd, Employer Relationship Manager at Mercy, and the panelists, who work for the biotechnology company as scientists and medical researchers, held the meeting virtually over Zoom.
This partnership is all thanks to Volunteer NY, who organizes Regeneron's Day for Doing Good. A program that allows the company a chance to give back to, and positively impact, local communities.
The informative meeting focused on each of their careers, background in the field, and advice on how to both step into the field and build connections and networks that could help build a successful medical career.
The panelists introduced themselves by discussing their background in the medical field and how they started to work at Regeneron.
Ian Middleton, who studied at Cambridge University and who's been in the industry for over 40 years, originally set his sights on academia. However, after teaching biology for four years, Middleton decided that "in order to progress my career, I would have to move into the industry."
After Middleton moved in and out of numerous other biotech companies, he eventually found his purpose at Regeneron, where he's been for the past seven years. Middleton now works in project management and is involved in the early development of medicine.
Middleton discussed his time working from "discovery to commercialization. We are involved in early development, publications, medical affairs, and medical analytics. You name it, we do it."
Another Regeneron panelist, Miriam Kore, reflected on her history in the field and how she found the company. After her previous pharmaceutical company, Roche Holding AG, shut down their facility in Nutley, New Jersey, Kore first heard of Regeneron in its early days.
"A lot of people didn't know much about it. Some would even call it risky. Why would you leave this big pharma that had all this to offer for Regeneron? Thankfully I had a mentor who had done a number of years of business development for Regeneron. He understood what was coming when others didn't necessarily see what was coming."
After telling her mentor about the offer, he told her, "if they're offering a position, you need to go there. I think there's a really good future there."
Founded in 1988, all of Regeneron's scientists on the panel made it clear the reason why Regeneron has received the successful status that it has is because of the company's passion and dedication to collaboration and teamwork. The panelists expressed that teaming up with various researchers and scientists from different departments can spark creativity and magic.
But this emphasis on cooperation was heavily impacted by the Covid-19 pandemic. When Mary Peterman, a scientist from Regeneron and who has been with the company for three years, was asked how the pandemic has affected their work, she answered by saying: "It has changed significantly. We're trying to find our new normal."
Peterman went on to explain that, "One thing that works is getting scientists all in one room. There's this scientific synergy when you get a lot of great minds together. It's difficult when you're doing that virtually instead of a room."
Even though the pandemic has had a clear negative effect, Peterman made sure to remind the panel of all the positives of the situation. "It has also brought out all of the best in us. The company has done a lot to support the world in this pandemic. The pandemic has affected us in really large ways, but also in positive ways."
Near the end of the Regeneron panel, Mercy students had the chance to ask the scientists and researchers questions they had about the industry, and any general advice they could share. Kore explained to them the importance of seeking out internships and finding ways to gain experience.
She told the students about her past internships and how they helped her understand "clinical trials and what it takes to run them." She then went on to point of the importance of networking and advised them all to jump on any opportunities, no matter how small they may seem.
Kore advises, "You would be surprised how maybe you could find something that maybe isn't formal. Maybe it's doing a quick rotation somewhere for a few weeks with someone, even a family member, or a friend of a family member. They might have an idea about something. [Put] yourself out there and [have] conversations."
Leave a Comment
About the Contributor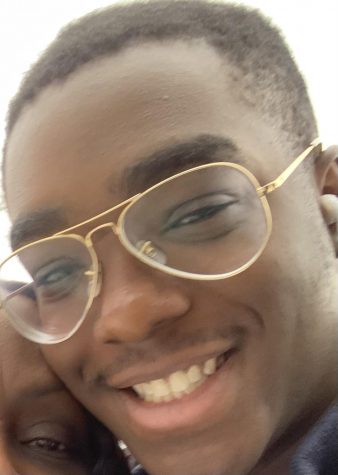 Maleek Munroe, Senior Editor
Maleek Munroe is a senior at Mercy College, majoring in communications. He graduated Nyack High School, where he found his love and passion for both...