New York Launches Incentive Program to Get Kids Vaccinated
Vaccinate, Educate, and Graduate is a new incentive program for children in New York, ages five to 11, to participate in a chance to win a full scholarship to a SUNY or CUNY school.
Governor Kathy Hochul announced that it's a new way to support and encourage the vaccination of children from ages five to 11. Parents and guardians of the children have the opportunity to enter their children into the program if their child receives the first vaccine dose starting on Nov. 19 through Dec. 19.
"Our critical work to make the vaccine accessible and available to all eligible children and their families is underway- and we will creatively support and celebrate those who get vaccinated," explained Hochul.
Ten winners are to be announced, each week beginning Nov. 24 over the next five weeks, with a total of 50 winners.
The winners will receive two or four years of full-time study in any SUNY or CUNY in an associate's or bachelor's degree program. The full scholarship provides:
The full cost of in-state tuition at a New York State or City University.

Allowances for books, supplies, room, and board, and transportation up to the cost at SUNY colleges.

Commuter students will receive less of an allowance than students living on campus. Students living on campus will receive more room and board. If students on campus are not able to find housing on campus, they'll still receive the same amount of allowance as students living on campus.
"Vaccinations were the key to a more normal academic and campus experience throughout SUNY. Now that even younger individuals have an approved vaccine option, this is another huge step to seeing the finish line of this pandemic," said SUNY Chancellor Jim Malatras.
For children to be eligible, they have to be between the ages of five to 11 and be New York residents. Under federal law, they must be lawful permanent residents or United States citizens.
Only one entry per child will be allowed, and they must have gotten their COVID-19 vaccination one day before the entry. The vaccine doesn't have to be taken in New York, but it does have to meet the satisfaction of the State of New York.
Neither of the child's parent, step-parent or legal guardian, sibling, grandparent, or residing household member can be an employee of the New York State Department of Health (NYSDOH), the New York State Higher Education Services Corporation (HESC), Office of Information Technology Services (ITS) or the New York State Executive Chamber.
New York State will check the eligibility of each winner. The winner will be selected randomly, and entrants will have to agree that until the verifications are completed, and they are announced as the winner that they will not disclose information with anyone outside of their households.
Once the winner is selected; an email will be sent and then a phone call to validate the child's vaccination, the child's age at the time of immunity, residency, and that the child doesn't have a legal guardian or residing household member working for NYSDOH, HESC, NYSITS, or the New York State Executive Chamber.
Since the child is a minor, the parent or legal guardian will have to enter into a prize agreement governing the terms and conditions of acceptance.
If the parent does not respond to any notifications by noon, they get withdrawn from the prize. They will have a chance to be re-entered for any future drawings, and the next eligible person will be selected and notified.
To receive this prize the winner must attend a SUNY or a CUNY and be enrolled full-time. Certain circumstances are available for students who cannot participate full-time, with exceptions governed by the prize agreement.
The funds will be available to be utilized until the winner is 30 years old. If not claimed by then, it will be forfeited and returned to the public university systems.
The scholarship doesn't guarantee admission into the college or university. The student has to meet all of the requirements on their own.
The president of HESC, Dr. Guillermo Linares is hopeful the program will benefit many, and he said, "launching the 'Vaccinate, Educate, Graduate' Vaccine Incentive Program will enable New York to drive down the overall number of positive COVID cases and ensure all New Yorkers are protected."
There is speculation that other colleges will continue to follow suit for the next few years. Colleges across the country such as Purdue, Missouri State, University of West Virginia and the College of Charlestown have offered incentives such as free tuition, free pizza, puppy therapy and gift cards to eateries such as Chick-fil-A, according to a report by NPR in the fall.
"Incentives really work best when they're aimed at people who are not against being vaccinated, but they have for whatever reason not prioritized vaccination up until now," says Emily Largent, a professor of medical ethics and health policy at the University of Pennsylvania, told NPR.
Before the focus was the the youth, the initial focus was college students. In the summer of 2021, the Biden Administration launched the College Challenge to get young people vaccinated and aimed for a 70 percent vaccination rate.
Leave a Comment
About the Contributor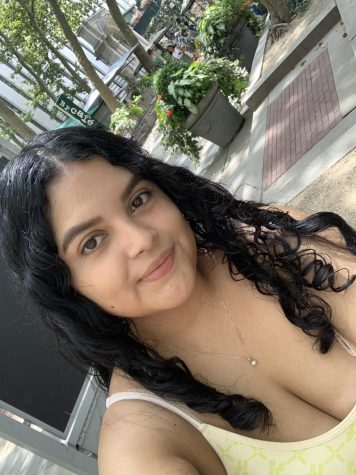 Noelle Ramirez, Impact Staff
Noelle Ramirez is a Junior at Mercy College perusing Journalism to become a Social Media Manager. Noelle enjoys listening to music, especially Bad Bunny,...