Mercy is the Only College Offering Albanian in New York
Mercy College is currently the only college offering Albanian language courses in all New York state.
Mercy offers two Albanian courses, ALBA 115 Albanian for Communication, and ALBA 116 Communicating in Albanian. ALBA 115 is to learn about the Albanian-American culture and community. ALBA 116 is for American-Albanian students who want to better their spoken and written Albanian.
These courses were added after the director of Mercy College's Modern Foreign Language Program, Alan Hartman, noticed the large population of Albanian-American at Mercy, in Westchester and Bronx area yet, no other college offers any Albanian courses. Hartman said there was a lot of interest from the Albanian-American community at Mercy to learn the language and culture.
"A lot of the elements of the Albanian culture are visible in the Bronx and Westchester that are not elsewhere in the country, and that makes us unique," Hartman explained, "so for anybody curious at Mercy and wants to explore further the Albanian-American culture and community, our courses are our way to do it. That's a resource that we're offering that no one else is offering in our immediate area."
New York has 50,000 to 200,000 Albanian-Americans living in the area, especially in Westchester and Bronx. In the Bronx and other areas in New York City, there are a lot of Albanian restaurants, deli's, and different Albanian holidays are celebrated.
In addition to the courses, Mercy is the only college in New York where students can complete their general education language requirements in Albanian.
Hartman hired alumna Greta Luka, a school psychologist and native Albanian speaker who teaches ALBA 115 full time in a Westchester public school.
"When I saw that this course was being developed and offered, there wasn't a question in my mind about teaching it," says Luka.
Hartman had to learn more information about teaching Albanian to create these courses. Hartman says there aren't many textbooks by American publishers, so he decided to reach out to members at Arizona State University and Utah's Brigham Young University.
He also spoke with authors of an Albanian language textbook by the University of Wisconsin Press, to learn how to introduce Albanian courses at Mercy. There he was provided with a sample syllabus that Hartman modified to match what is being offered at Mercy.
"I've had the support of a lot of people, but I've done it myself," Hartman stated, "I found the Albanian community to be nothing but supportive, and it's been a pleasure."
At Arizona State University they have a summer course in Albania where they said they would involve more students if students at Mercy wanted to go. Both Utah's Brigham Young University and Arizona State University offer additional resources for the Albanian community. Utah's Brigham Young University offers Albanian so they can become Mormon missionaries in Albania.
Hartman wants to take Albanian courses at Mercy in similar directions as these universities. He also plans to create a meaningful connection with the University of Pristina, in Kosovo. Albanian is spoken in Kosovo, and if a connection could be created with the university, Hartman would want to create a study abroad program where students can spend a semester in Albania or Kosovo.
"If we get something really interesting that arises from that, which could be very interesting to me, to our colleagues, and enticing to the students, and that would serve a purpose academically and maybe even personally and transformational," said Hartman.
Also, Hartman would want to create Albanian as a minor at Mercy.
In addition to the two Albanian courses offered now, Hartman is interested in creating more Albanian courses that will branch out to culture conversation and maybe literature history.
To Hartman, this can all be possible if the students continue to enroll in the classes.
Hartman says, "I would like the Albanian-American community to know that we're here. We're happy to collaborate with them however they'd like. We recognize the culture, the linguistics, and the historic value of their community in Albania, Kosovo, and the United States."
Leave a Comment
About the Contributor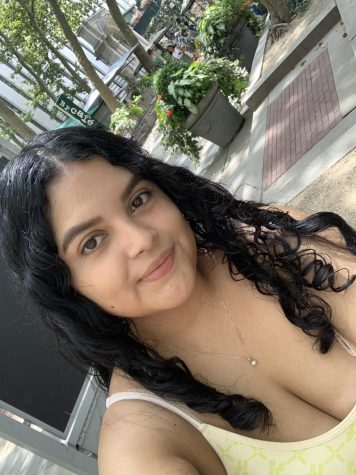 Noelle Ramirez, Impact Staff
Noelle Ramirez is a Junior at Mercy College perusing Journalism to become a Social Media Manager. Noelle enjoys listening to music, especially Bad Bunny,...