CATA Hosts The Second Annual Screenwriting Competition
Mercy College will host its second annual Mercy Department of Communication and the Arts (CATA) Student Screenwriting competition for all enrolled Mercy College students, with a deadline of March 31, 2022.
One winner and two runner-ups will all get to win prizes. The first-place winner will gets to win an entrance fee for Script Pipeline's First Look Project Competition, a screenwriting competition. The winner and the runner-ups will be winning Final Draft 12, a professional screenwriting software, and a four month Script Listing at InkTip, a website producers use to look for material to either buy or produce.
All of the screenplays will be judged by Steven DeRosa, CAEI Associate Director and Film/Culture Faculty; Louis Grasso, Media Studies Program Director and Assistant Professor, and Michael Perrota, Chair of Communication and the Arts, Program Director in Journalism and Associate Professor.
The judges judge the screenplays based on the title, premise, structure, pacing, tone, originality, characterization, theme, if there is enough conflict, creativity, professionalism, frankly, if it is a page turner.
"It's really about telling a good story at the of the day, whether it's a short subject, a television pilot or a feature length. It's really about, are you telling a well told story? Are the characters engaging or relatable? A character doesn't have to be likeable but they need to be relatable," explained DeRosa.
DeRosa said last years winners won because the screenplays were original and unique. After reading through the screenplays, without having a prior discussion, all the judges came together with their top three and they all matched on their top three. Afterwards, it was very easy for the judges to deliberate.
"It's about originality. Don't do a re-hash of something that's already existing, be different, be unique," DeRosa explained, "Write something that's close to you because you don't want to spend a semester, or a year of your life, or sometimes more, writing something because you know it's going too commercial. Write something because it's something that resonates with you."
Last years winner, Reginald Agossa, wrote a short screenplay titled, The Incredibly Overwhelmingly Taxing Love Life of a 20 Something Superhero. It's about a superhero in his twenties surviving the dating world. It won because, "It was the uniqueness of the idea. It's a "what if" scenario. Like "what if a superhero wanted to find love? It was funny and a humorous take on the whole thing and that made it relatable," said DeRosa.
It also won because the idea can be expanded into a feature film or a series.
The competition last year consisted of eight or nine contestants. Not all of them came from media studies or had already taken the screenwriting courses. There were students from the English program, graduate students, and undergraduate students.
"It was a good mix across the college. I'm very hopeful that this year, now that we got the word out from last year, that there's more on campus this academic year that we'll have a more robust competition," says DeRosa.
Just like last year, DeRosa will be hosting a screenwriting competition clinic where he will go over all the techniques and little aspects about proofreading, to check and make sure the script is ready. The clinic will be offered remotely on a Saturday in February for about two to three hours, depending on the attendees.
In some instances, DeRosa knows how long it has taken a student to write a script because he's had them in the screenwriting courses. The students take their script as far as they can within the 15 weeks of the semester and then they continue to write. Some students take a year or more to write a screenplay.
Tommie Cruz and Jenny Fabrizio, last years runner-ups, are currently taking Advanced Screenwriting with DeRosa and they're using the screenwriting software that they won. According to DeRosa, it is an important tool to have if the writer is at the level where they're taking their screenplay seriously.
DeRosa is hoping the competition will build enough interest in writing screenplays on campus. He's looking forward to developing a course that's for bingeworthy episodic series. Since so few movies are being made right now, there's a big market for streaming content and this course will designed just in that area. Students will be designing their own series.
"Be bold. Don't be shy about your work. You're writing something because you want somebody to read it. You need somebody to read it if you want to get it out there and if you want to sell yourself as a writer," expands DeRosa, "You never know what your work is going to go up against. Everyone has a shot. You're not just writing it for yourself or to keep in your drawer, you want to get it read."
Leave a Comment
About the Contributor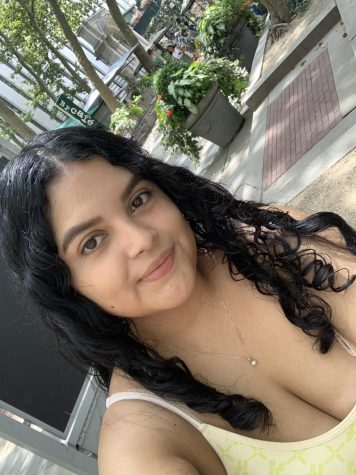 Noelle Ramirez, Impact Staff
Noelle Ramirez is a Junior at Mercy College perusing Journalism to become a Social Media Manager. Noelle enjoys listening to music, especially Bad Bunny,...