Mercy College Launches "CERTIFI" To Teach Students about The Business of Cannabis
With the legalization of marijuana for retailers set to be in full swing at the beginning of next month, many businesses and schools have begun flocking to capitalize on not only selling marijuana but instructing the students about the tasks behind the grass.
Now Mercy College has joined in on the fun.
The college has partnered with cannabis education program, Green Flower, to offer students two courses on the business of the cannabis industry. An eight-week and six-month certification process will give students the information and skills needed to enter the ever-growing business. A business that currently has 428,059 people (about half the population of Montana) in the field as of 2021, according to Marijuana Moment, which is a stark increase from 321,000 employed just a year prior.
"One of our goals is to create educational opportunities that are directly related to openings in the [cannabis] workforce," says Brian Amkraut, Ph.D., Vice President and General Manager Workforce Development and Community Impact at Mercy College who also oversees the new program.
The increase of cannabis education programs in schools has been steadily increasing as the legalization of marijuana spreads more across the state. Medgar Evers College was the first CUNY school to launch a marijuana education program back in September of 2021, now as of early February of this year, CUNY has added 12 cannabis education courses to all 25 schools across the five boroughs, according to Shneps Media.
The new CERTIFI program is primarily focused on workforce certifications in the cannabis industry. Partnering with Green Flower allows Mercy College to learn from programs that have expertise in the field, and in turn, instruct students about careers that might not have existed a decade ago.
It was in the fall of 2021 that the college decided that one of the areas they wanted to move into was the cannabis industry. The reason came for two reasons – the changing laws and the opportunity for more jobs in the field.
Those more relaxed laws in New York State surrounding marijuana reflect the dozens of states that has an equally or more dilute approach towards cannabis. Colorado, Washington, Alaska, California, and Massachusetts are some of the 18 states that have recreational marijuana legal in the United States. The reasons why vary but motivations such as for pleasure and medical purposes are popular arguments for the legalization of recreational marijuana and the push for it become legal in all 50 states. There are also biological connections between the use of marijuana and the human body.
"The different active compounds of marijuana, whether it's THC or CBD, have different but complementary effects that depend precisely on the fact that our body is able to respond to it," says Dr. Patricio Mujica, Assistant Professor of Biology in the Department of Natural Sciences at Mercy College.
The discussion of how marijuana helps the body rather than hurts it, has been a hot topic on the forefront of both supporters and opponents of cannabis, specifically medical marijuana has been long known to be a form of pain control for many and for some. It is the only treatment to control chronic pain. Multiple sclerosis, nerve pain and body pain due to aging are some of the non-curable diseases that medical marijuana helps elevate the pain comes along with the illnesses. There are also other non-life-threatening illnesses that medical marijuana helps ease such as nausea, weight loss and Parkinson's disease.
"There are molecules that our own bodies produce that have to activate [our bodies] receptor, so what the plant [cannabis] is doing that is tapping onto a mechanism that our own body already possesses," says Mujica.
However, while there are medical advantages to marijuana use, many critics who oppose the legalization of the drug bring up the argument that it while it may does not hold danger in severity, it can be served as a gateway drug.
Marijuana, that is commonly known as one of the popular habit-forming drugs, is argued to be the start for many, especially the youth, to further experiment and become addicted to more powerful drugs in the future. According to the Substance Abuse and Mental Health Services Administration (SAMHSA), marijuana has the potential for long term negative effects such as permanent IQ loss, DUI, fetal growth restrictions for babies and an increase in depression, anxiety, and suicidal thoughts.
However, many of the concerns people have of marijuana may not be factual but more perception based.
"It's a very multi-layer problem," says Mujica. "One issue you can say is that marijuana is not nearly as addictive as other hard drugs and the reason why it has been observed that way… a lot of what happens is not directly related to the actual chemistry of the drug but rather that there are societal issues that makes individuals more likely to fall into those traps because of racial inequality, economic inequities, because the lack of a safety net because of a bunch of societal structural, systemic issues.
For students who are wanting to pursue a career in the cannabis industry, CERTIFI is offering three eight-week certifications programs: Advanced Dispensary Associate, Advanced Cultivation Technician, Advanced Manufacturing Agent. Tuition for those programs will cost students $800. The three six month programs make up of three eight-week courses includes focuses on Cannabis Healthcare and Medicine, Agriculture & Horticulture, Cannabis Law & Policy, and The Business of Cannabis. Tuition for the six-month program will cost students $2,250.
Through all the criticism and concerns, the cannabis industry is still one of the fastest growing industries in the country which is pulling in large numbers of employment for those who have a passion for cannabis.
To learn more about the courses or to enroll please visit: cannabiseducation.certifi.mercy.edu.
For questions about the new online certificates please email [email protected].
Leave a Comment
About the Contributor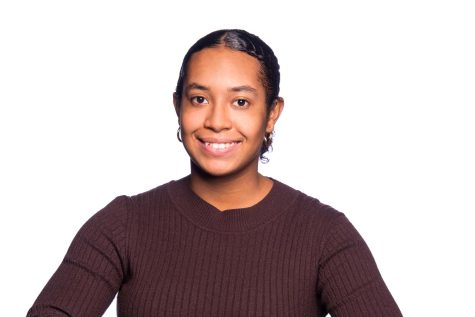 Britney Guzman, Impact Staff
Britney Guzman is a Senior at Mercy College. She writes a column called Quali-Tea News where she discusses her love for cats, Taylor Swift and mental...