College Enrollment Continues To Drop Nationwide

College student enrollment has dropped to a recent low since the start of the pandemic. Nationwide, colleges have lost nearly a million students.
As of Jan. 13, the National Student Clearinghouse Research Center reports that enrollment fell an additional 2.7 percent from the 2.5 percent in fall 2020. This makes the total number of students decline at 5.1 percent or 938,000 students since fall 2019.
Community colleges, since the start of the pandemic, are also feeling the bulk of the numbers. However, four-year colleges are now included in the drop of undergraduate enrollments.
Mercy College battled enrollment losses of about eight percent during COVID-19 pandemic. Yet freshman projections for 2022-2023 are slated to be at its highest in the last 10 years, according to President Tim Hall's budget discussion in late April.
As of July 2021, reports show that applications for the Free Application for Federal Student Aid, also commonly known as FAFSA, have dropped a significant 5 percent. This means that around 100,000 students are missing a key component in the college application process and likely not enrolling for the Fall 2021 semester. Notably, a significant amount of missing applicants were people of color. Another report shows how the state of Wisconsin alone experienced a 12 percent drop, the lowest number since 2016.
Reasons for the decline have ranged widely from financial issues, the sudden large number of available jobs, to the discussion regarding the need for a college degree.
Since the start of the pandemic many businesses have shut down, and a lot of people have been laid off. The easiest assumption is that students are opting out of earning their degree in favor of helping out and getting a paycheck. While for the time being this may seem like the better option, research has shown that this could lead to bigger problems down the road.
For high school graduate Alea Farmer, a gap year felt like the only option.
"The city was severely underprepared for this," she says. "For a long time, I couldn't participate in my classes because my family couldn't afford a computer. And no one was sending us one."
Farmer feels she fell into a "depressive episode" during that time. Although the decision was unwelcomed by her family, in the end, they felt like it was the best decision. Senior year was already a hard enough struggle and she felt unready for college, especially with the situation that Americans are currently in. She mentions that she is still hoping to attend college one day, but when she is in a healthier position financially and mentally. In the meantime, she works full-time as a librarian and is saving up money.
High school students who don't attempt to earn a higher degree make a median of $24,000 a year, according to the College Board. Statistics show that they are more likely to fall down the path of unemployment and poverty.
More studies indicate that people who don't have a college education are also more likely to not vote, divorce, fall into smoking and drugs, have depression, need government assistance, and even live a shorter life.
The decline from an educational completion not only affects the individual. This has severe effects on society and the economy.
With fewer people graduating from college, the chairs of college education required jobs are being unfilled. Businesses can't run if they can't find people to work for them. When businesses inevitably have to shut down, this affects the overall revenue coming in for their community.
Realistically, it'll be a long time before Americans truly start to see an effect but eventually society will be less "healthy."
"It's not only frightening, it's damaging," says Jeanie Huntley, a member of the Chancellor's Parent Advisory Council also known as CPAC, who is a part of the never-ending fight to advocate for students with low resources and prejudice against them and give them the chance to earn a higher education.
"The efforts we made in trying to reduce the class and racial inequality gap are being washed away."
One student recalls how she decided to take time off during her spring semester of 2021. Kalia Isasac, a paused sophomore, studying to be a forensic scientist, delayed her return to college in favor of working more hours at her local theater.
"The billing for classes was coming in much faster than the paychecks were."
Since classes were online, she felt it wasn't worth the full amount anyway, so she opted out. The plan is to still return next fall. Isasac is hoping to have enough money saved up so that she won't feel every payment as heavily as before.
Doug Shapiro, executive director of National Student Clearinghouse Research Center, expressed his feelings on the subject.
"The phenomenon of students sitting out of college seems to be more widespread," states Shapiro. "It's not just the community colleges anymore. That could be the beginning of a whole generation of students rethinking the value of college itself."
Leave a Comment
About the Contributor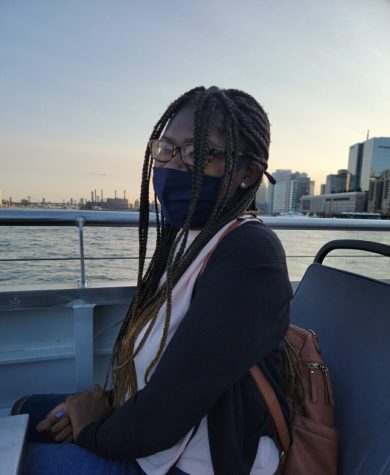 Diannah Plaisir, Managing Editor
Diannah Plaisir is currently a senior at Mercy College, pursuing a degree in Media/Communications. Having decided that she was going to be a journalist...