Harlem Police Officer Killings Are Just Another Reminder Of How Dangerous Law Enforcement Is
As of February of 2022, police across the United States have shot over 138 people to death while on duty and 10 officers have been shot due to gunfire across the country.  

Two of the officers that have fallen victim to gunfire this year were New York Police Department, Officer Wilbert Mora, and his partner Jason Rivera. Both men were Latino, and both were trying to make a positive difference in the communities where they grew up in.  

Rivera, growing up in the Inwood region of Manhattan, saw first-hand the negatives effects of growing up in a low-income neighborhood. He decided to become a police officer to help communities like the one he grew up in for the better not the worse.  

Mora's story is similar. Growing up in East Harlem, he studied at John Jay College of Criminal Justice and focused on how he could be a successful officer in difficult neighborhoods without being too confrontational and aggressive. He wanted to connect police officers and the community and help break the chain of us versus them. 

However, their short careers and lives ended as they were shot on Friday, Jan. 21, as the two officers responded to a domestic disturbance call in Harlem where the shooter then shot the two officers in a small hallway. Rivera was killed immediately and Mora died of his injuries the following Tuesday.  

"Wilbert Mora was a hero. He served his city, protected his community, and gave his life for our safety. Our hearts are heavy. Our city is in mourning. To his family, loved ones, and brothers and sisters in the NYPD: Your city is standing with you today and always," New York City Major Eric Adams said on Twitter, on the night of Mora's passing.  

The killings of the two officers are yet another grim reminder of the pandemic within the pandemic Americans are living in. A rise in gun violence in New York City all while the rest of the world is still dealing with the still deadly COVID-19 pandemic that has plagued the world for two years now. 

In 2020 alone, 400 officers died with 45 of the deaths being the result of gun violence. The rise continues to the other end as 1,127 people died in 2020 from police killings.  

The police killings over the past few years are another reminder of how some might have a negative outlook on officers, according to Dr. Tanya Grant, assistant professor of Criminal Justice at Mercy College.  

"Being an officer today is very dangerous, no matter where you serve. Unfortunately, society looks at officers with such negativity rather than positivity. But as the saying goes, one bad apple spoils the entire bunch. Before we see the negative actions of a few officers, everyone assumes they are all bad," says Grant. 

Grant, a former correctional officer in the Tri-State area, has seen her fair share of violence towards officers. While she has never personally seen an officer killed or assaulted during her time in corrections, she is aware of not only the negative societal look on officers, but the heavy workload they are tasked with daily.  

"They are not only there to serve and protect, but they are also expected to be social workers, school resource officers, and community partners. Those are

"

They are not only there to serve and protect, but they are also expected to be social workers, school resource officers, and community partners. Those are roles that one person cannot totally master alone.

— Dr. Tanya Grant

roles that one person cannot totally master alone. It truly takes a village to rebuild our communities, but if parents are not responsible for their children, schools lack resources to educate our youth, and the police are left with the unobtainable task of building bridges with people who do not trust them," says Grant. 

Building bridges was something Mora and Rivera were trying to do within the communities they grew up in but instead of wiping away the hate from the streets that plague the city, they left their loved ones wiping away their tears at their respective wakes at St. Patrick's Cathedral in Midtown in the weeks following their deaths.  

The rise of gun violence has sparked another discussion among New Yorkers, the rise of mental illnesses in the city. One in every 25 people living in New York City is living with a serious mental illness, with 280,000 adults suffering from illnesses such as schizophrenia, according to New York City's mayor's office.  

The danger is not just prominent for residents but for those who are wishing to join the police force soon.  

With hundreds of police killings and fallen officers in 2022, despite only being a little over two months within the new year, the heightened anxiety for those who wish to join the force is on high alert and for their loved ones, they are worried about what the future might entail.  

"My son is currently applying to police departments, and I am fearful of the environment in which he will be entering as a new officer," says Grant.  
Less than a year ago, Jason Rivera's family felt the pride of seeing their son join the NYPD.

He did it for the right reasons: to be a bridge between his community and our police.

He was killed by a coward, but he lived the life of a hero. We will never forget his sacrifice. pic.twitter.com/xs3YdDzltf

— Mayor Eric Adams (@NYCMayor) January 28, 2022
In the case of the two fallen officers, they were dealing with an armed man who has a history of violent behavior.  
However, the two officers did not know that when walking in.  
The officers were responding to a domestic violence complaint and were not aware of a gun being present as it was not clearly stated by the woman who called 911, according to Grant. If they had known that beforehand, the situation could have turned out different, says Grant.   
With the rise of violence within the city, there have been calls for more government and law action to help fight the rise in crime and while some steps have been taken, some people such as Ramos, feel like more actions need to be taken to help curb violence within the city 
To take control of violence in New York City, especially in the subways, New York City mayor Eric Adams has established a team consisting of police officers, health workers and outreach workers in subways to help identify the homeless and mentally ill and convince them to accept housing and psychological support.  
However, as many are realizing, offering people support and the people taking the team up on their offer are two different things and most times, they do not result in the welcome arms. 
"I am no politician, so I cannot make assumptions as to what is the political response to your question. However, as an educator and past practitioner, our laws often become very cyclical," said Grant. "The United States has the highest gun violence rates. While laws exist to ensure the right people are purchasing guns legally, we see that often it is not the legal firearms owner we must worry about, but the illegal owners who purchase guns on the street. How can we fix this if we relax our punishments for gun charges? It becomes counter-intuitive."
Leave a Comment
About the Contributor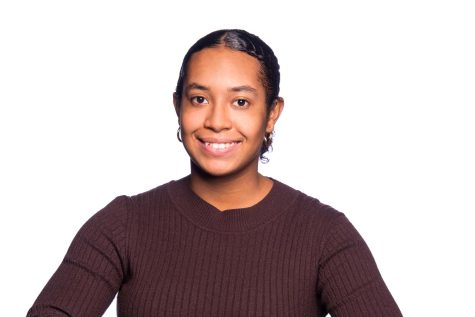 Britney Guzman, Impact Staff
Britney Guzman is a Senior at Mercy College. She writes a column called Quali-Tea News where she discusses her love for cats, Taylor Swift and mental...