Mercy's CGE Hosts Panel Discussing the Russian Invasion
Mercy College hosted an online virtual event where panelists openly discussed the ongoing Russian invasion of Ukraine on March 30.
The panel was led by the Mercy College Center for Global Engagement (CGE), which according to its official webpage, is a group that seeks to "further Mercy College's mission by establishing programs and initiatives designed to encourage the exchange of knowledge across international boundaries."
CGE has been involved in numerous panels and discussions that delve into important social topics like the pandemic, climate change, and refugees.
The latest online event's panelists discussed the war in Ukraine through the lens of their particular fields of study and points of view.
All three of the panelists opened up about their deep and personal connections to both Russia and Ukraine and were able to shed light on vital information that the public must know and understand regarding the conflict.
At the start of the event, Dr. Eduardo Albrecht, director of Mercy College's International Relations and Diplomacy Program, gave a thought-provoking and eye-opening lecture that discussed the historical context needed to understand the invasion.
Through his speech, he gave the audience an understanding of the history of Ukraine and asked them "has this war inaugurated a new phase in world history where nuclear weapon-holding states outside the Atlantic Alliance are emboldened to use war as a policy tool?"
This intriguing question was followed up by Inna Melnykovska, Ph.D., assistant professor of comparative political economy at Central European University, and her discussion on Russia's economic incentive for invading Ukraine.
"The war against Ukraine is a war against liberal ideas," Professor Melnykovska explained. "And its potential to transform Russia's political-economic system of governance."
Melnykovska went on to state that even though the economy is a contributing factor to the invasion, it could also be used to "counter Russia's aggression."
She believes that targeting the pockets of Russian businesses through economic sanctions will, in the long term, lead Russian business leaders to attempt to influence governmental policies and voice their stance against foreign aggression.
Dr. Natalia Forrat, who is a research associate at the University of Michigan's Weiser Center for Emerging Democracies, continued the conversation by talking about public opinion and the increasing anti-war mindset within the Russian community. She announced to the panel audience that more and more Russians are beginning to strongly disagree with President Vladimir Putin's invasion of Ukraine.
Even though many are opposed to the invasion, they are afraid of what will happen if they publicly speak out against their government. She brought up the fact that multiple Russian resistance leaders were jailed for being outspoken against Putin.
And she also talks about how many polls revolving around the Russian public's support of the invasion are somewhat incorrect due to the fact that many have refused to give their opinion publicly as they are frightened of any consequences they think will happen.
Even though many live in fear, there are some Russian citizens who are still finding subtle yet effective ways to show their absolute defiance. Which includes large flash mob-style demonstrations and the distribution of political leaflets.
Frank Brown, director of the Anti-Corruption and Governance Center at the Center for International Private Enterprise in Washington, D.C., agreed with Forrat and shared his own personal observations among the Russian and Ukrainian citizens.
Brown is a journalist who has worked in both Ukraine and Russia for a number of years.

He has seen the strength of the Ukrainian people up close and talked about how he believes the Russians who support Putin and the invasion, because they see him as a symbol of stability. Brown states that if we wish to understand why there are still a large number of Russians who are supportive not only of the government but of the war, we have to look into the past."
"They went through so much stress and so much instability with the fall of the Soviet Union," Brown said. "Many are willing to pay a high price for stability and a degree of certainty. That's why Putin's message to the Russian people is resented so strongly."
Events like these are important in the spread of information regarding the invasion, and Dr. Eduardo Albrecht strongly believes this. Near the end of the event, Albrecht said that the Center for Global Engagement's panel was a "brave event for Mercy to organize…it puts Mercy on the map in terms of leading conversations on this very important, timely topic."
Leave a Comment
About the Contributor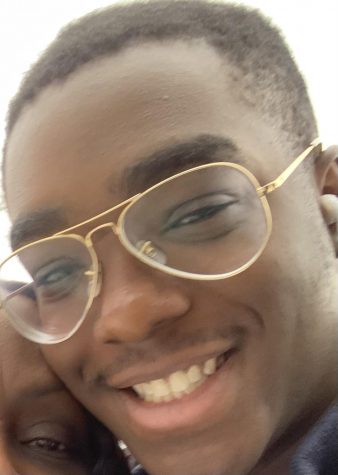 Maleek Munroe, Senior Editor
Maleek Munroe is a senior at Mercy College, majoring in communications. He graduated Nyack High School, where he found his love and passion for both...