Mercy Staff Takes On This Year's Tour De Bronx
"It's an opportunity to take to the streets and see that beautiful borough you're a part of…"
Members of the Mercy College staff had a thrilling experience when they participated in the 28th annual Tour De Bronx on Oct. 23, a cycling event that united the community for a tour through the borough's most popular and beautiful sites.
Among the over a thousand bicyclists who took on the 25-mile course, Vice President of student affairs, Kevin Joyce, and Vice President of the Mercy College Bronx and Manhattan Campuses, Scorpio Rogers, took on the honor of representing the Mercy community.
Joyce spoke passionately about his love for cycling and the Tour De Bronx overall. He says this tour promotes the "vibrancy of the Bronx and gives back to the residents. It's an opportunity to take to the streets and see that beautiful borough you're a part of…It's just a very positive, high-energy, feel-good opportunity."
Joyce and Rogers first heard about the Tour De Bronx when Mercy College announced that they will be sponsoring the event.
Rogers talked about the greater cycling community and events such as this gives them a chance to come together and enjoy their chosen sport.
"Kevin Joyce asked if I would ride, cyclists hear about these types of tours through other cyclists and cycling networks."
For years, Joyce has taken to the streets on his bike and explored his New York borough.
"I'm an avid cyclist," Joyce said, "and I've ridden for years through the Bronx. The Bronx has just about one hundred and fifty miles of paved off-road bike trails that so many people don't know about."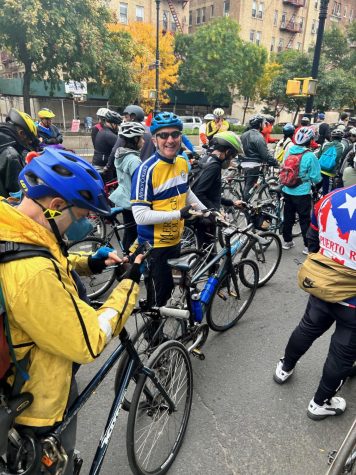 What Joyce finds most alluring and addictive about cycling is the "solitude, you have to be able to clear your head and become comfortable with yourself."
Rogers agrees with this statement, saying "it allows me to get away and think. It's great exercise, and I find it an easy sport to do."
Unfortunately for Rogers, he does not have the free time available to ride regularly.
"I don't have any free time," Rogers said, "because, in addition to working full time, I'm in the process of earning a Ph.D. Once I attain my Ph.D., I will start riding regularly."
When Joyce recalled what he and Rogers did during the Tour De Bronx, he discussed the large crowds that came to participate in this great yearly event.
"They capped the registration at a thousand riders," Joyce stated. "But I think more people than that showed up and I think they might have let them ride."
The roads were not shut down for the day, so cyclists had to snake in, out, and around cars throughout the race. This led to a "chaotic" but enjoyable ride.
"As much as they advertise it and inform drivers that there's going to be riders on the road, there's plenty who have no idea what's going on. You have a stream of cyclers coming though and they'll be honking trying to drive past."
Joyce also put himself in the perspective of the drivers on the road, saying "you might be stopped at a stop sign on a street and wait for about 100-200 cyclists to ride by."
He also talked about how his knowledge of the neighborhood of the Bronx aided him in his race and might have been a struggle for others.
"I love the Bronx, but if you don't know it and aren't comfortable in that urban environment, then it would be a more challenging ride for you."
Rogers and Joyce, along with Matt Presser, Assistant Vice President of Institutional Research and Innovation, and Marques Payne, associate director of public relations and community outreach at Mercy, wore Mercy College cycling jerseys.
These cycling jerseys got a great deal of attention from Mercy College graduates.
Joyce said, "It could be in the Bronx or it could be in Westchester, but I love wearing Mercy merch when I'm out because it attracts people, especially in this region."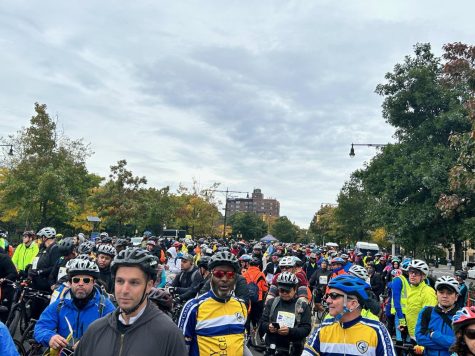 He also went on to recall that before the start of the race, a married couple noticed his Mercy jersey and introduced themselves to him. It turned out, they were both Mercy College alums who met each other while they were in the education program.
Joyce found his love of cycling after he and his wife started a family together. He found cycling a freeing and calming sport, especially for his children. "Nothing's better than putting a crying baby on a bike seat on the back of your bike and taking him out for fresh air. Before you know it, they're happy and having fun."
Rogers also looked back on how he found his love for cycling. He stated, " I started riding semi-regularly in the early 1990s. I've been riding on and off since then. In 2013, I purchased a nice bike, and up to about 2019, I rode a lot of weekends from spring and fall."
Outside of the Tour De Bronx and during peak cycling season, Kevin Joyce tries to average around "100 miles a week. 400-500 miles a month. And when you get into cycling, 25 miles just becomes what you do."
At the end of the tour, cyclists are greeted with a large festival filled with food and music, where they can celebrate for the rest of the event. Reflecting on the entire event as a whole, Joyce happily described his experience at the Tour De Bronx by saying it was "cold, rainy, and chaotic. But it was a blast."
Leave a Comment
About the Contributor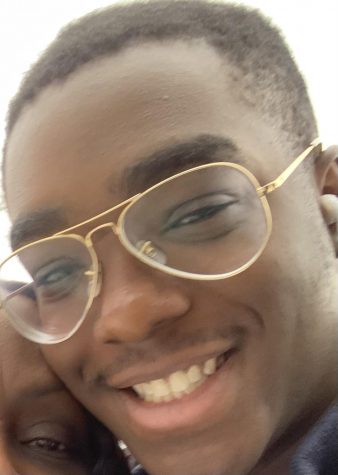 Maleek Munroe, Senior Editor
Maleek Munroe is a senior at Mercy College, majoring in communications. He graduated Nyack High School, where he found his love and passion for both...