Mercy College Hosts Event Honoring Veterans
Mercy College used this year's Veterans Day to show respect and honor to veterans in our Mercy community and highlight different methods the school has to support student veterans on their road toward future success.
The event, which was hosted on Nov. 10, was led by Mercy College's Vice President of Student Affairs Kevin Joyce, and had many guest speakers who spoke about the importance of ensuring veterans are given the chance to transition from military service and into the careers they desire.
And to show Mercy's gratitude to the school's veterans, President of Mercy College, Tim Hal,l honored them by presenting "the veterans and active duty service members in attendance with challenge coins as a symbol of Mercy's appreciation for their service to our country."
Among the featured guests were Kevin Joyce, Mercy College's Vice President of Student Affairs, Nneka Bell, who graduated in 2017, and Reverend Viviana DeCohen, who is currently the Director of Military and Veteran Affairs at Concordia College. DeCohen is a Mercy alum who served in the U.S. Marine Corps for over 20 years.
Joyce participated in the event as "master of ceremonies while Bell set the tone of the afternoon by singing the Star Spangled Banner.
According to Mercy College's press release that was published five days after the event, Hall spoke about the school's 300 veteran students and how Mercy continues to plan to provide them with the support they need.
Reverend DeCohen followed up Hall with a speech of her own. DeCohen has dedicated her life after serving the country to work "one-on-one with veteran students to provide them with academic, financial and career support."
Reverend DeCohen presented Hall with a letter from New York State recognizing his mission of "serving the unique needs of veteran students and leading efforts to ensure their success at Mercy."
In her speech, DeCohen thanked Hall and said "it was you who truly created a door for us where there was a wall. Your commitment to the needs of the veterans…played a significant role in the academic and personal lives of our veterans. Many of whom were struggling with the transition from military to civilian life, poor grade point averages, and other socio-economic challenges."
DeCohen went on to say that "those same veterans now carry double degrees, have attended Harvard, and pursued doctoral degrees. We have gathered this evening to surround you with the same support, the same care, and the same admiration which you have given the veterans."
And later, after Hall's powerful speech, he gave the student veterans and active duty service members who were at the event challenge coins as a "symbol of Mercy's appreciation for their service to our country."
Manuel Coronel, one of the students who received the challenge coin, is a U.S. Marine Corps veteran who served for nine years.
Coronel graduates next year with a degree in cybersecurity. Before being presented with his challenge coin, he used his speech to reflect on his experiences and how Mercy College has guided him.
Coronel spoke about his time in the Marines and how it taught him to appreciate the "true meaning of passion".
Coronel also stated that Mercy College provides "support for veterans through priority registration, veterans lounges and more."
He has received "100 percent scholarship for the course plus a $5,000 stipend to help him cover basic expenses so he can focus on his learning." And as part of Mercy College's Techwise Program, which seeks to prepare minority students in the field of tech for their future careers, he is currently being mentored by a Google employee.
All this, thanks to the support of Mercy College.
"Thank you for your answer to the call of service," DeCohen told Hall. "Your innate ability to serve has truly made you a great leader and you taught me this. Because you answered the call, we are here tonight. Not to say farewell, but to say thank you for your service."
Leave a Comment
About the Contributor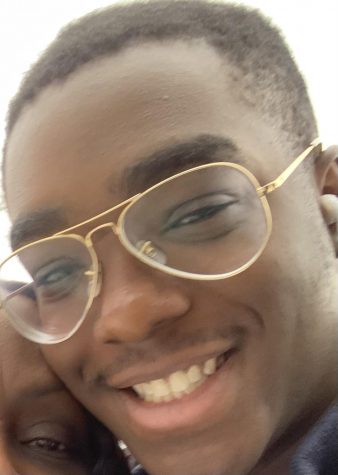 Maleek Munroe, Senior Editor
Maleek Munroe is a senior at Mercy College, majoring in communications. He graduated Nyack High School, where he found his love and passion for both...