Mercy College officially announced its transition to Mercy University during a ceremony held in front of Dobbs Ferry's Main Hall on Aug. 22, 2023.
The ceremony entailed speeches from new President Susan Parish, professors, student leaders, Mercy staff, and multiple alumni. This even included an alumni dating back from the first class at Mercy in 1965.
One of the alumni speakers, Cindy Lopez, stated during her speech, "My bond with Mercy is profoundly personal."
These alumni even have the opportunity to have their degrees reprinted with the institution's new name, which President Parish commented, "People have very different feelings about that and they should be proud, I hope, that they graduated from Mercy College which was a wonderful institution and our students going forward will have a diploma that says Mercy University."
The ceremony creatively revealed Main Hall's new signs with the name Mercy University and an M statue that everyone could place blue and white colored balls into with a wish on them. The event was even attended by U.S. Senate Majority Leader Charles E. Schumer, U.S. Senator Kirsten Gillibrand, U.S. Congressman Jamaal Bowman, Ed.D, New York State Senate Majority Leader Andrea Stewart-Cousins, and many more authoritative figures.
The Dobbs Ferry Mayor Vincent Rossillo could not attend, however, he said ,"The village is thrilled with the continued growth and success of Mercy University. Mercy is a valued member of our community and thanks to the energy and spirit of the students, staff and administration, Dobbs Ferry has become more vibrant. With Mercy University's help, I believe that Dobbs Ferry will someday be known as one of the best college towns in New York."
"
With Mercy University's help, I believe that Dobbs Ferry will someday be known as one of the best college towns in New York.
— Dobbs Ferry Mayor Vincent Rossillo
During one of her speeches, Parish mentioned aspirations for Mercy University to double the graduation rate, ensure equity gaps, and make sure students receive the jobs they want.
However, how exactly will Mercy change as a University in order to accomplish these goals?
Mercy's Student Government Association President Rita-Marie Masi, who also spoke at the ceremony, said, "Mercy University is a new beginning for all of us. Students have an opportunity to choose from more programs and better their education."
Masi added, "With the adjustment of becoming a university, we have the opportunity of making a great school even greater."
Typically, colleges only offer undergraduate programs. However, Mercy has offered graduate programs to students since 1981. Mercy's name as a university will allow a better understanding to people of who Mercy is and what they do, according to President Parish.
President Parish said, "What I think is most exciting about Mercy becoming a university is the university status really reflects the comprehensive nature of Mercy's educational and academic offerings."
However, some students have yet to see the changes and are expecting changes in policies relating to the food served, treatment of residents, parking, and teaching. One student in particular, Sophmore Isabella Matranga said, "The academics are the same so far. Dorming is the same, and parking. We gained like two schools and we didn't add any parking."
Parking has seemed to be a huge issue with the transfer of students from multiple college closings nearby. However, Parish reassured a complete redoing of the parking lot is in the works in addition to other repairs and the opening of the Tim Lee Hall Pavilion that will give students great opportunities to be on campus. Various changes are also underway for the Bronx and Manhattan campuses.
Matranga added, "I just feel like they heard our complaints and gave band-aid fixes when really we need stitches."
Matranga also shared her thoughts on the new dining arrangements and academics at Mercy and said, "Overall, the food is better but at times you see the façade fall and it's back to normal of having no food in the dining. Also, our academics haven't changed. (Some) teachers make the amazing teachers we do have look bad."
President Parish said, "I think that we have been engaged in continuous work to improve in terms of the supports that we offer students, in terms of the quality and experiences that are available on all three campuses."
Becoming a university has not seemed to translate to the idea of changing since Mercy has acted as a university before even becoming one by name. Parish said, "Becoming a university is not driving us to do better. It's something we've been working on for years."
"
Becoming a University is not driving us to do better. It's something we've been working on for years.
— President Parish
What Parish does think we'll change is that it will be easier to attract international students to Mercy University. This is because in some other countries, the word "college" is sometimes equivalent to that of high school.
Parish commented, "Becoming a university may have some international applicants to understand Mercy because the name says everything about us. That we are granting baccalaureates, masters, and doctoral degrees."
However, she added, "In terms of our mission, we remain deeply committed to the same things we were committed to last year."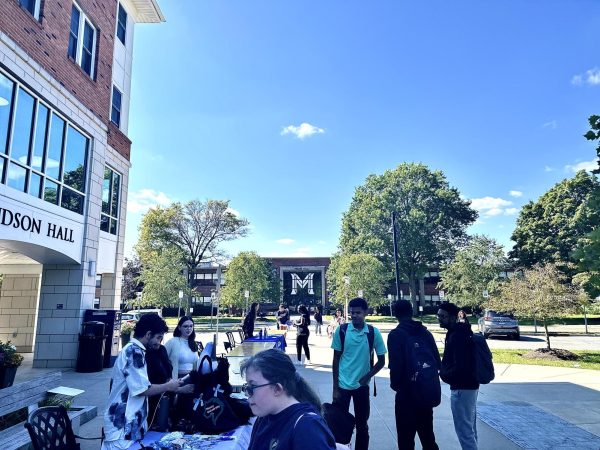 There's no direct relationship between the tuition and the university status, so students can be assured there will not be a change in tuition due to the institution's new status.
Parish concluded, "Nothing about the core of the institution is changing. Our mission is the same. Our commitment to providing excellence is the same. Our commitment to affordability is the same. Those things will not be changing."