OP/ED: What's Next After Graduation
You've always dreamed of this day.
You're walking down the aisle, staring straight ahead with the biggest grin on your face, trying to keep your cool.
Your body is shaking and your knees quiver as you continue to walk forward towards your future. Hoping not to fall, you take it one step at a time, soon hitting the front of the platform.
You get to the front and stand there, anxiously waiting for him to say those few special words to you.
Then it happens. Your name rolls off his tongue with such power. It sounded more magnificent than you ever imagined and your heart begins racing faster than it ever has before.
You reach out your hand, still shaking, and so does he, though his is completely calm.
There's no turning back now.
He smiles at you and you smile back, knowing you will remember this day forever.
The day you receive your college diploma.
What's next?
That's the golden question seniors ask themselves as they begin their descent from their sky-high college career.
It's the question every family member, friend, acquaintance and stranger asks.
There is absolutely no escaping the stress of hearing those two words and the only answer I have ever been able to come up with is: "Good question."
How is one expected to have their future planned out so soon? These are the prime years where students are exploring who they are as an individual and who they want to be in the future, career and all. None of that should be rushed.
"Today is the first day of the rest of your life," people told me at my high school graduation, and will most likely tell me at my college graduation, too.
If that's true, then what exactly were the last 22 years of my life?
Maybe it's ok to not know what to do right after graduation. I think it's part of the thrill. It's part of living life to the fullest and not having to worry about what's to come at every passing moment.
When I was 15 and moved away from home into a boarding school, I was absolutely terrified.
My first couple months in the dorms was nothing short of lonely and intimidating. I soon forgot why I wanted to move there in the first place and immediately regretted my decision.
One night, I was in my room crying to my mom telling her to come pick me up.
"I need to come home, mom. I have to come home now. Please come get me."
Then my mom, in her calm warming voice, said something that would forever be engraved in my head. It was something that I continue to tell myself every day, especially when I'm scared of what comes next.
"Do something every day that scares you," she said to me.
And so I did.
After high school, I moved out to Nebraska and played Division II basketball for a year. From there, I moved to New York and after living here for three years, getting my own apartment, becoming a bartender, working at a CrossFit gym, and writing for the college paper, I believe I've lived up to my mother's advice.
I've put my heart out in the world, just to be broken, but I also learned how to mend it. I've adventured through The Big Apple of New York City and gotten lost. I've met amazing people and… not so amazing people.
I've been living. Truly living.
So, what do you do when one chapter of your life is coming to a close and you don't know how to start up the next one?
As a writer, one would think I'd know what words come next and normally, I do. When it comes to telling other people's story, I could write until my fingers go numb. But when it comes to writing my own, the page is completely blank.
It's daunting, but more than that, it's exciting to know that I'm starting fresh. It's thrilling to know that in seven months, I have no idea where I'll be.
I'll be diving into the unknown, just like every other senior soon to be graduating.
So, what's next, class of 2017?
Last year, in my Creative Writing course, I wrote a poem called, "Freedom in a White Canvas," and I think it gives a suitable description of how every senior should picture their future.
It reads:
"Give me snow. Give me a familiar face to gaze at. A fluffy white coat, cold while warming to my heart. Bring me to this world I dream of. A fantasy I don't have to wake from. Seven months. Give me hope. I want to look at the sky as far as I can see and picture a white canvas, begin a new chapter, discover a new me. Give me freedom. Let me write my story across this eternal, colorless field of nothingness. Give me something to believe in. A God that is hiding above, watching me find my way. A spirit, with a countenance as beautiful as I imagine. Give me inspiration. A new perspective. Give me life."
Today isn't the first day of the rest of your life – it's another chapter. What comes next is up to you. But first, enjoy these last few months, because once you turn that last page in this chapter of your life, there's no turning back.
Leave a Comment
About the Contributor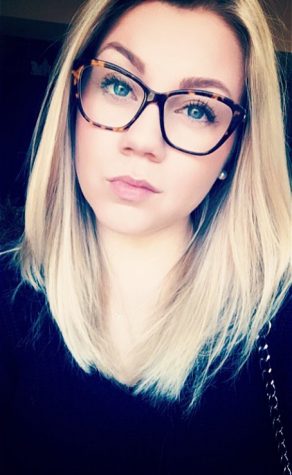 Laine Griffin, Associate Editor
Laine Griffin is from the one and only Washington D.C. and is a journalism major at Mercy College. Her hobbies range from playing sports, bartending, spending...