OP/ED: The MTA Fare Hike Will Not Disentangle a Broken Transit System
There is a signal malfunction ahead.
There is train traffic ahead of us.
We delayed because of a sick passenger and will be moving when EMS officials arrive.
Due to track maintenance, this train is now running on the local track.
We are delayed because of an unruly customer. Police are currently investigating.
We will be moving shortly.
We apologize for the inconvenience.
We thank you for your patience.
Those are phrases I hear almost every day of the week as I dismally take my seat (or should I say stand) on the crowded, unkempt trains of New York City.
As unveiled in November, the MTA released their proposed 2019 Budget and a four-year plan. The press release stated that a fare and toll adjustment is necessary to avoid a layoff crisis and service reductions.
They also stated that their 2019 through 2022 budget is $819 million worse than projected in July of 2018. Just what is the MTA spending this money on since it's clearly not on improving the physical conditions of subway stations and improving the frequency of train departures.
New York City government is now attacking its loyal public transportation residents by increasing the train and bus fares and not taking accountability for its mishandling of their budget.
The possible base fare increase for the subway and local buses can be increased $0.25 to $3.00. The 7-day weekly unlimited MetroCard can increase $1 to $33. The monthly unlimited MetroCard is also set to increase $6 to $127. The express buses can also rise $0.75 to $7.25.
I can put those extra quarters towards laundry or lunch instead, but no, the MTA always gets their way.
We unwillingly have money removed from our paychecks for federal and state taxes. This funding should be used towards improving the accessibility and aesthetics of our urban communities.
The transit system should be prioritized as 55  percent of commuters in New York City put their trust in public transportation, according to the New York City Economic Development Corporation.
Even on the verified press release, the MTA has not yet specified a detailed plan for the specific improvements they plan to achieve. I'm pretty sure every project needs to have a game plan, especially one with a tight budget. How am I a citizen of a democracy supposed to simply put my direct trust in a plan that I as a commuter have no say in?
Despite the MTA's "over-concerning" message to fix our transit system it simply comes off as a ploy to keep New Yorker's trust. It is clear that many residents are turning to Uber and Lyft for more reliable commuting experiences.
According to Taxi and Limousine Commission data, Uber and Lyft accounted for 691,000 car trips each day last November.
Subway ridership has dropped nearly 5 percent since 2015, with a record low of 1.68 billion rides in 2018, according to the Daily News.
These ride-sharing company users are now being charged an extra NYC congestion tax in hopes to relieve the most lost from public transportation ridership. That's only giving daily commuters like me fewer options for a reliable travel experience.
I can't even count the number of times I've had to leave for work, school, or an appointment 60 – 90 minutes earlier than I normally would. I constantly have to give myself extra time for bus and subway delays. I'm removing extra hours of sleep to simply avoid possible tardiness when I have never been a tardy person.
Even when I give myself the extra time to commute, 90 percent of the time, I hear the conductor announce a delay and "apologize" for the inconvenience. Yes, this is inconvenient, and no your robotic apology isn't going to make my day any more pleasing.
Also, I understand some track "maintenance" occurs on the weekend to avoid rush hour, but that honestly makes no difference. Trains run every 20 minutes and accelerate even slower.
Shuttle buses should at least be a common courtesy option for those who can't spare another lateness at their jobs. For those who can't afford a $2.75 swipe because they're saving for their inflating New York City rent costs.
Unless one has a transit app on their phone, they will not be notified of any changes on their nearby train/bus lines. Even then the apps tend to be unreliable and cause even more havoc. They should be monitored and updated constantly to avoid waiting an extreme amount of time in unruly weather.
These functional and aesthetic improvements should be completed mainly during late night hours. Late night meaning 11 p.m. through 5 a.m. They should also avoid performing track work on lines in close vicinity.
I live on the 2/5 line and there has been a copious amount of occasions when the MTA decides to prioritize track work over the reliance that commuters have towards these lines.
I need to get home as fast as I can. Walking to the next train line over is simply extra time and energy that shouldn't even be used in the first place. The reason for multiple train lines is so this can be avoided, and it's still happening. The nearest train line could be upward of five blocks away. Now imagine that "inconvenience" for elderly and disabled people who rely on the subway system.
I've also noticed that the 2, 4, 5 and 6 lines in The Bronx only see one type of train. The other models that go through Manhattan, tend to be much larger, commonly seen on the N, R, W, Q, and F trains. These make it so daily commutes can be slightly more bearable. Boroughs other than Manhattan should get the same treatment. Just because the average tourist may not visit us, doesn't mean you should forget about your paying residents.
Even on weekdays during rush hour, with no weather advisory causing traffic havoc, my nearby bus lines will have buses run extremely far apart. Two buses will come within two minutes back to back, then the next one won't come for another 20/25 minutes, and so on.
No explanation. No space. No seats.
This causes extreme crowding in already small-sized buses. This also leads to arguments and physical fights between strangers. There's no seat for the 85-year-old woman in the cane. No seat for the 35-year-old pregnant woman. No seat for the 19-year-old student carrying 30 pounds worth of textbooks.
We aren't given a voice. The officials constructing these regulations do not experience the stress of the MTA on a daily basis. It's all about profit. Isn't the whole point of the existence of government officials to be the voice of the people? Well, they're clearly deaf to us, but not corporate businesses like Amazon.
People are struggling. We live in one of the most abundant cities in the world, and yet our transit system is collapsing to bits and pieces.
Change it, or there will be no more New Yorkers left to screw with.
Sincerely, a 21 year long Bronx resident.
Leave a Comment
About the Contributor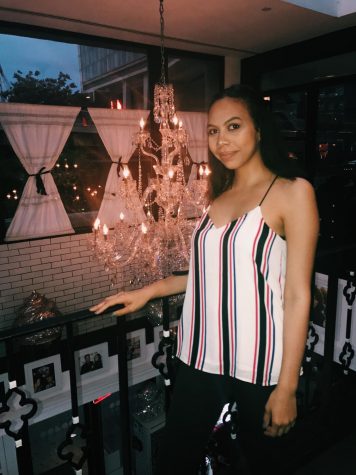 Nicole Acosta, Managing Editor
Nicole is from The Bronx and is a journalism major at Mercy College. Her hobbies include discovering new places to eat on a budget, photography, listening...