OP/ED: Bad Choices And Bad Faith: Is America Finally Going To See A Change?
In a campaign year marked by a global pandemic, a recession, and a national wave of protests, it's easy to forget that this whole election season was deranged from the start.
It's no shocker that this year's Presidential election was probably the most wild as riots were already starting before a winner was announced. Many U.S. citizens were going at each other's throats for any reason.
With all of this happening though, polling suggested that this election was the second straight presidential contest in which both candidates were viewed negatively by a majority of voters.
America had to make a serious and very difficult choice, former Vice President Joe Biden or President Donald Trump. There are quite a lot of people who were with Trump and another lot with Biden. Then there's the group of Americans who were confused and not in support of either.
At first, I was stuck in the middle. I was in support of neither candidate. From what I have seen in the debates, neither one of them seem to have a legit plan for the U.S. but when it came down to it, I was team Biden. Despite his past, it seems that he wants to change as much as everyone else does. Therefore, I'm willing to give him a chance.
Biden plans on rebuilding the middle class; investing in federal infrastructure; tuition-free public universities. While Trump's plans were to bring back the pandemic-battered economy, build the wall and curbing immigration, lower drug costs, terminate the Affordable Care Act, and support the Second Amendment on gun control.
This year's election had had had the biggest turn out in modern history, according to CNBC.com, a projected 159.8 million Americans voted in this year's presidential election. It took more than a day to declare the winner (and we are still not official). This is the longest Election Day since 2000 and I wonder if it takes us 37 days to get there.
Biden lead in the popular vote, he had amassed over 69.5 million votes. He has broken Obama's record for the most popular votes than any candidate for president in U.S. history.
Trump had repeatedly raised concerns about fraud with mail-in ballots, many expected there would be a known winner on Election Night. Many believed that it would take a week or even more to announce a winner, as Trump declared a recount. After days of stress and worry, Biden has been announced the elected president on Saturday, though Trump still assisted that the election was a fraud.
I think it was pretty fair, for a second I thought Trump was going to win, he came pretty close to victory.
Many Americans in both the last election and this one have expressed an aversion to each of the major candidates, which could speak to the heavy polarization and violence. So far, things seem to be going well.
Yet half of us didn't like our choices.
According to PewResearch.org, about half (49 percent) of registered voters say they are very or fairly satisfied with the presidential candidates, while a similar share says they are not too or not at all satisfied.
Although both candidates may have meant well in their defense, they have some flaws and secrets that they may have thought they buried, this year was the year those secrets were dug up.
According to BusinessInsider.com, both candidates were accused of sexual assault and pedophilia. Along with a few other women, back in September of 2020, former model Amy Dorris, 44 claimed that Trump forced his tongue down her throat and groped her at the 1997 U.S. Open, according to The Guardian.
Back in April of 2020, Business Insider reported that Tara Reade, a former staff assistant in Biden's Senate office, alleged that Biden pinned her against a wall in the hallway of a Capitol Hill building and penetrated her vagina with his fingers in the spring of 1993.
An ex-business partner of Biden's son, Hunter Biden, alleged that former Vice President Joe Biden was part of discussions around his son's efforts to form an investment venture with a Chinese oil company. Though the Biden campaign denied Biden had any involvement in the venture or stood to gain by it.
In an article titled "Hunter Biden, Burisma, and Corruption: The Impact on U.S. Government Policy and Related Concerns," the article states that on April 16, 2014, Vice President Biden met with his son's business partner, Devon Archer, at the White House and then visited Ukraine five days later. Soon after he was described in the press as the "public face of the administration's handling of Ukraine."
"The day after his visit, on April 22, Archer joined the board of Burisma. Six days later, on April 28, British officials seized $23 million from the London bank accounts of Burisma's owner, Mykola Zlochevsky. Fourteen days later, on May 12, Hunter Biden joined the board of Burisma, and over the course of the next several years, Hunter Biden and Devon Archer were paid millions of dollars from a corrupt Ukrainian oligarch for their participation on the board."
According to BBC News, Biden shares some of the political weaknesses demonstrated in Hilary Clinton's presidential race back in 2016. Like Biden, her long time in the public eye left a long record for her opponents to pick apart and bound her to a status quo establishment many Americans had come to distrust.
His position against school bussing to end segregation in the 1970s, his chairmanship of the Clarence Thomas Supreme Court confirmation hearings in 1991, and his support for the 2003 Iraq War and stringent anti-crime and bankruptcy bills have been spotlighted by the field opposing him.
However, Trump was impeached this year for attempting "dirty tricks" in this election. According to BBC News, Trump was accused of pressuring Ukraine to dig up damaging information on Biden and his son.
He was accused of dangling two elements as bargaining chips to Ukraine which withheld $400 million of military aid to Ukraine that had already been allocated by Congress, and a White House meeting for Ukraine's president. Trump became the third president in U.S. history to be impeached.
On Thursday, Trump tweeted to stop the count, as officials in key battleground states continued to tally legally cast ballots, and Biden moved within 17 electoral votes of being able to claim victory.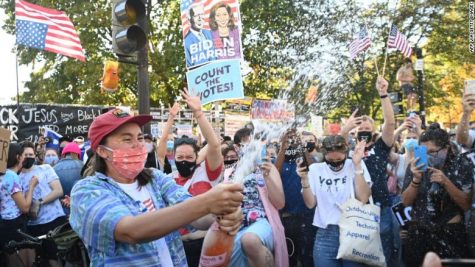 2020 has been a rough year, and this election didn't make it any better, but the results really warmed my heart. I was afraid that there would've been riots, but instead, people celebrated. I haven't seen the country this bright and happy in years.
Across the country, there were parties and prayer. People streamed into Black Lives Matter Plaza near the White House, where Trump had ordered the clearing of protesters back in June, they waved signs and took cellphone pictures.
Spontaneous block parties broke out in almost every state. People ran out of their buildings and banged on pots. They danced and high-fived with strangers, and had the loudest cheers. It was a beautiful sight.
It could be bad faith or maybe for the first time in a long time, America might finally see change.
Leave a Comment
About the Contributor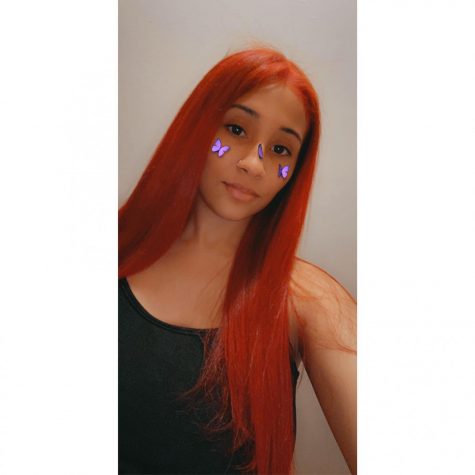 Amber Perez, Senior Writer
Amber Perez is half Puerto Rican and half Italian. She is currently residing at The Bronx, New York and enjoys listening to music and reading books about...