ALL LIN
"Fire D'antoni".
"Wait for Baron Davis".
"Je-re-my! Je-re-my!"
Jeremy Lin was waived twice this year before the season even started and the Knicks took a flier on the fan-favorite. The Harvard kid. The perennial underdog.
Lin didn't get a single Divison I scholarship offer. By his own admission, he wasn't a guy who would wow anyone with his athleticism. He's a point guard. He's a tempo-controlling, ball-moving point guard.
He was easily the best all-around player in the Ivy Leagues. He was a 2x unanimous All-Ivy League First Team-er, a finalist for the Bob Cousy award, midseason candidate for the John R. Wooden award, and was tabbed by Fran Fraschilla as one of the 12 most versatile players in college basketball.  Yet again, Lin was overlooked by the talent evaluators and went undrafted.
Don Nelson gave him a chance, inviting him to the Dallas Mavericks summer camp. His hometown Golden State Warriors were one of the teams that offered him a contract and Lin signed a 2 year deal with them (for less than he would have made with one of his other potential suitors). Not only did the Warriors sign him but Nike also inked Lin to a three year contract.
Let's not avoid the 800-pound elephant in the room. Jeremy Lin doesn't look like his teammates. Lin is an Asian-American; an identity that subjected him to taunts and jeers that his peers did not have to contend with. In college (even in the Ivy Leagues), he was called a "Chink", "Wonton Soup", was told to "go back to China" and was mistaken for a volleyball player. Sean Gregory of Time attributes his under-recruitment, at least partially to racial profiling and stereotyping. Lin downplayed the heckling and embraced his identity as a cultural icon. He has enjoyed something mirroring a cult-following at both the collegiate and professional levels. If his status as an Asian icon wasn't apparent enough, Vivid Magazine ranked Lin amongst the top 8 most influential Chinese-Americans.
And that was before he even showed what kinda game he's got. He was always a fan favorite for his hard-working, hustling, style of play. He was the second most sought after interview while in Golden State behind Stephen Curry. He was signed by the Knicks and remained nothing more than an anomaly. An afterthought. The first Harvard player in the NBA since Ed Smith in '54. That's all he was, a trivia question. And then came the injuries.
The Knicks have been deplorably thin at the point all season. The Knicks have been in a free-fall nearly from the start of the season and the lack of a floor general has been fingered as the main culprit. Baron Davis, the savior in waiting, suffered a set-back in his recovery from a back injury which only further accentuated the Knicks flawed point guard play. Toney Douglas, the de-facto starter, is mired in a god-awful slump that's made Knicks fans pine for Chris Duhon. So in stepped Lin. And then came the impossible.
"Je-re-my!"
"M-V-P!"
Rudy only made the one catch. Tim Tebow has his cult following despite some truly awful quarterback play (for those Tebow worshiper's, we'll call it "inconsistent quarterbacking"). Jeremy Lin, although obviously buoyed by the support of a very vocal Asian community ( a community that managed to get an injured Yao Ming into All Star Games by landslide margins), it is his game that's been making him the talk of the NBA.
Kobe Bryant supplanted Shaquile O'Neal as the fifth leading scorer in NBA history. That made him the second biggest story in the NBA behind the kid from Harvard who led a Knicks squad sans Amare Stoudemire and Carmelo Anthony to their second straight victory. And the most unnerving part? How seamlessly the unassuming Asian kid from Harvard was able to light up Deron Williams and Devin Harris and embrace the Broadway spotlight. The energy and passion Lin displayed after converting a continuation was reminiscent of John Starks. He has made a patchwork NBA lineup into a lineup that has yet to be beaten since he's assumed the mantle of floor general. Landry Fields is playing well. Tyson Chandler is the most dominant he's been on the offensive end since a guy named Paul was tossing him lobs. Billy Walker and Steve Novak are getting open looks behind the arc and knocking them down. Even Jared Jeffries has shown flashes of offensive ability that he seemed to have forgotten about once he came to the NBA. That is perhaps the greatest aspect of the Lin revelation.
The Knicks LOST their only two offensive threats. Carmelo Anthony is an All-Star starter and one of the most dominant one on one scorers in the NBA. The knock on 'Melo is that he doesn't put in the effort defensively and that he is a black hole on the offensive end. Once the ball touches 'Melo's hands, the team stops moving and watches as he jab steps, milks the clock, and takes his shot. Amare isn't quite as bad but he likes to get his shots in as well (when he doesn't have a guard adept at running the pick and roll that is).
The debate is not new. Basketball used to be about fundamentals: ball movement, the Princeton Offense. defense, and rebounding. As the ESPN era began to modernize basketball. As "The Fab Five" and loud, flashy, in-your-face, highlight reel basketball took over, the impetus on fundamentals have fallen by the wayside. Jeremy Lin is changing that. Jeremy Lin is doing everything humanly possible to save coach Mike D'antoni's job. He's also changing the ESPN-type philosophy that's invaded the Knicks offense. It wasn't until his third game as a starter that Lin threw down a dunk, preferring to lay it in when possible. He's run the pick and roll with Chandler to devastating effect and is just doing everything he possibly can on the defensive end given his athletic limitations. He hustles, he moves the ball, and he makes his teammates better. Steve Novak has had 19 points in each of the last two games. Steve Novak. Jeremy Lin's success with this offense without Amare and 'Melo is a victory for Coach Krzyzewski and every other coach who stresses a team game and fundamentals. It's a victory for every traditional basketball fan who can only shake their head at all the And1-style 1 on 1 basketball.
Yesterday, Lin's non-guaranteed contract was extended meaning the penultimate underdog no longer has to sleep on his brother's couch at his NYU dorm or at Landry Fields' .
Lin is a great story and naysayers can easily point to the poor quality of opposition that the Knicks have beaten during this run. Admittedly, the Jazz, Nets, and Wizards are not the Celtics, Bulls, and Heat and no one is suggesting that the Knicks are better without their star players. Just that they play better without them right now because without 'Melo and Amare's ability to halt the offense, everyone is getting their shot.
Lin's been making the most of his.
Leave a Comment
About the Contributor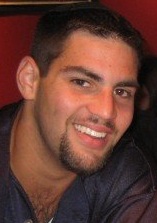 Chayim Tauber, Sports Editor
Chayim Tauber is a media studies major hoping to obtain a career in sports journalism and sports broadcasting. He is the sports editor of The Impact, has...