Pentatonix: From Reality TV Winners to Superstardom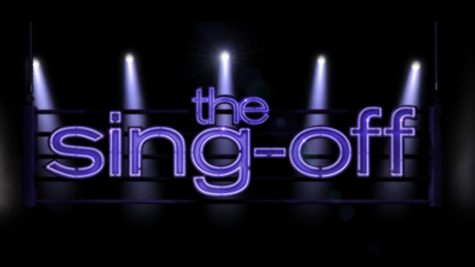 For those of you who don't know me, I am a huge fan of the acapella group Pentatonix. Pentatonix consisting of Scott Hoying, Mitch Grassi, Kirstin "Kirstie" Maldonado, Kevin Olusola, and former member Avi Kaplan is an acapella group from Arlington, Texas that got their start on season three of the reality singing competition The Sing-Off and they went on to beat out 15 other acapella groups to become the winners and receive a prize of $100,000 and a Sony Music recording contract. Ever since winning the show back in 2011, Pentatonix has gone on to have lots of success and opportunities.
The group started working on their first album titled PTX Vol. One in January of 2012 with producer Ben Bram while also writing original material and posting videos to the popular streaming website, Youtube with almost all of the covers going viral. Finally on June 26th, 2012, the album was released selling 20,000 copies in the first week. In the fall of 2012, Pentatonix starting embarking on their first national headlining tour, selling out and visiting 30 cities. While on tour, they also started working on their first Christmas EP titled PTXmas, releasing it on November 13th, 2012. That same year, Ryan Seacrest's website named the group the 2012 "Featured Artist Of The Year" for all the work they did in one year.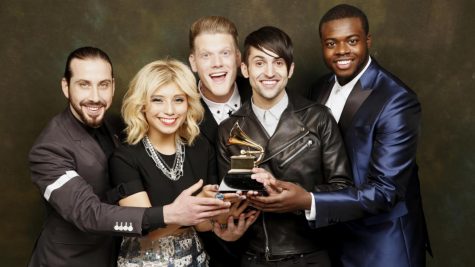 Over the years, Pentatonix went on to make numerous television appearances including performing their rendition of Jolene by Dolly Parton with Dolly Parton herself on The Voice and even have a small cameo in the film Pitch Perfect two as the Canadian team that was competing against the Barden Bellas as well as performing a Star Wars tribute on the Grammys and win Grammy awards three consecutive years in a row also while releasing a documentary about their journey titled "On My Way Home", based off the song of the same name from PTX Vol.III.
Sadly, In May of 2017, the group posted a video to their Youtube channel announcing that Kaplan would no longer be a member and would be venturing out to pursue a solo career following their upcoming tour. This left fans of the group including myself deeply saddened as Pentatonix has been around for six years together and none of their fans saw this coming. After the dismissal of Kaplan, Pentatonix posted their first cover without Kaplan, a cover of Robyn's "Dancing On My Own", with Olusola playing the cello in substitute of a bass vocalist. Kaplan officially said his goodbye from the group on September 3rd, 2017 as he played his last show as a member of Pentatonix. A month later on October 13th, Hoying introduced Matt Sallee as the new bass vocalist of the group. A few months later, the group released a cover of Camila Cabello's "Havana" as their first official release with Sallee as well as announcing the upcoming release of their next album, PTX Presents; Top Pop Vol. I to be released this past April along with a summer tour.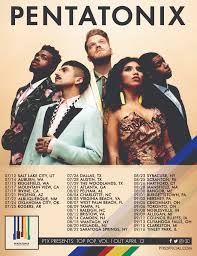 I had the privilege of seeing the group this summer for the second time, first with Sallee as the new bass vocalist and might I say that I was very impressed and they never disappoint. First, they had Britain's Got Talent Series Nine finalist Calum Scott open the show for a few songs, whose voice is amazing, if you have never heard of him, I suggest you listen to his single "Dancing On My Own". After Calum's set, Pentatonix's second opening act, Echosmith, performed a few songs as well, closing out their set with their very popular song "Cool Kids". Finally after about an hour and a half of waiting, Pentatonix hits the stage and the crowd goes wild, the group performs a wide variety of stuff including some of their own original songs, but majority of the set being from the recent album, PTX Presents: Top Pop Vol.I closing out the show with their rendition of the popular Queen song "Bohemian Rhapsody." I went to the concert with one of my best friends from back home who had never heard of the group before and by the end of the concert, she was singing along as we were walking out of the venue back to her car. I strongly suggest if you have never heard of Pentatonix, listen to their music because you will not be disappointed.
Leave a Comment
About the Contributor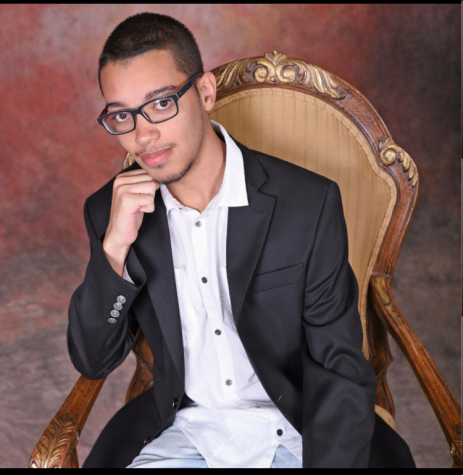 Jared Naut, Impact Staff
Jared Naut is a junior majoring in journalism hailing from the town of Parlin, New Jersey. When Jared is not writing, you can catch him listening to his...