The Time That I Had A Dream Come True
It was September 26th, 2011; I was a young twelve-year-old boy tuning into one of his favorite television shows, The Sing-Off, it was a singing competition where acappella groups competed to win a record deal. I tuned into the show this day, like I did every week. But season three was which was the season airing was a little different from the earlier seasons. The number of acapella groups competing increased from ten to sixteen which created two brackets with the first eight groups competing on the September 19th season premiere and the remaining eight groups competing on week two of the competition which aired on September 26th.
I was watching the show that day, and I came across the group Pentatonix and from the moment I had seen their performance, I became a fan of this group. I had been watching the show since the beginning and never did I love a group as much as I loved Pentatonix. I remember predicting that they would win the whole show and not so much to my surprise, my prediction was correct when on November 28, they crowned Pentatonix the season three winners of The Sing-Off, winning the recording contract.
Ever since Pentatonix was on The Sing-Off, I have been such a big fan of theirs. I have all of their albums; I have seen them in concert twice, I even listen to their music when I'm feeling upset because listening to them makes me feel good. I remember seeing them in concert for the first time like it was yesterday. It was 2012; I was a freshman in high school and it was their first official tour since they won the show. I got the ticket as a Christmas present from my mom and when I had seen what I had gotten; I screamed out of excitement. I had wanted to see them in concert for such a long time since the show, I just freaked out.
I waited months for the day to come where I could finally see my favorite acapella group in concert. It felt like ages before the concert came around, but the day finally came. My mom had picked me up, and we went straight to the concert in Philadelphia. I Had a few people from my high school choir class that were going to the concert as well, so I saw familiar faces there and it was nice to see but my mom was the one who bought me the tickets and I didn't want to be rude and leave her side to go hang out with people I saw at school every day.
Pentatonix came out and everyone cheered for them. They performed for about two hours before ending the show, but nobody wanted the show to an end. Everyone screamed "encore, encore!" until Pentatonix came back out to perform as their encore and ended the concert.
The next day came, and I was sad that the concert was over but I vowed to see them in concert again one day and flash forward six years later, and I did, in fact, see them in concert for a second time in August 2018, this time getting the concert tickets as a birthday gift.
The first concert of theirs that I went to was just a small concert since it was their first official tour, but the second time I saw them, they had been on many tours since their first concert I had been and were more experienced and they were better the second time around. not that they weren't great the first time around though.
This time I went with one of my best friends to the concert. They had two opening acts for the show, Calum Scott, known for being a finalist on Britain's Got Talent and Mike Posner, best known for his song "Cooler Than Me."
Finally, after about an hour of waiting, Pentatonix came out to perform. Even though this was my second time seeing them in concert, it was my first time seeing them with a new member that was a replacement for one of the original members who left the group to pursue a solo career.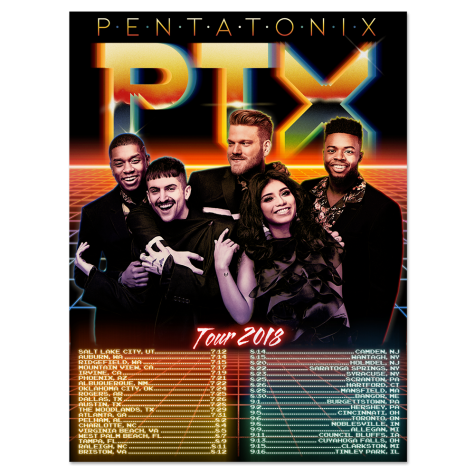 This was my friend's first time seeing them in concert and she enjoyed the show just as much as I did. She had heard of the group before. But she wouldn't have called herself as much of a fan as I was; she didn't follow their journey like I did. She didn't purchase all of their albums as I did, she just heard some of their songs before and enjoyed what she had heard.
She really enjoyed the concert, and we left early to walk before it became hectic and as we were walking back to the car, we heard Pentatonix performing the classic Queen hit "Bohemian Rhapsody" and we couldn't help but to just sing along to their last performance of the night as we were walking out of the venue.
I think everyone has something that can calm them down when they are feeling stressed or upset, and I can without a doubt that Pentatonix or even music is that for me. Whenever I am feeling down, I just put on some headphones, turn on some music, and sing along to the words of the songs I am listening to. Hell, I'm not ashamed to say it, sometimes I even pretend that I'm performing in front of a live audience and that they are loving every second of my performance.
For music, that is my happy place, it may not be an actual place or a nice island, but I feel carefree when listening to music and I'm glad I have music to help myself when things are getting tough.
Leave a Comment
About the Contributor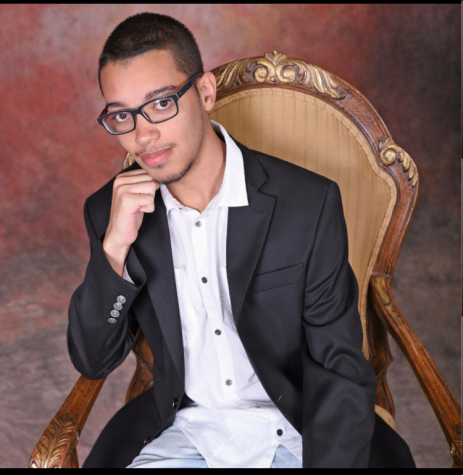 Jared Naut, Impact Staff
Jared Naut is a junior majoring in journalism hailing from the town of Parlin, New Jersey. When Jared is not writing, you can catch him listening to his...