"Blue Man Group", comparing with "Nanta"
Those who did not see the "Blue Man Group" performance on October 8th  would be regretful. A little more than 20 Mercy students got on the bus at 5pm, and then the bus headed to the Bronx campus to pick up other students. An hour later, students arrived at concert hall, near the Washington Square Park.
Mercy College students were given the opportunity to buy the tickets cheaper. The tickets are offered for $80-$99, but Mercy college students only had to pay $20!
Mercy students looked so excited about the performance. After they were seated chairs, they started to wear a raincoat that was given which was anticipating that there was scattering of colorful paints. In somber darkness, there were three men made up blue. They beat drums to the rhythm pouring colorful paints on the drums. Because of magical lights, the paint fountains looked like effused lava. Every audience member focused on the eye-catching beating and paint. The three blue men kept beating the drums splashing vivid paints with joyful band music.
After being absorbed in drumming, one of three blue men drew paintings with his mouth on canvas, and then he presented audience a completed picture. Though the painting was drawn by mouth, the painting could stand comparison with noted paintings drawing with artists' hands.
Subsequently, three big iPhone screens came down in front of audience, and the three men began to perform with the screen. The iPhone screen shifted diversely from the iPhone mobile screen to a gambling machine and even to a You tube video.
"Blue Man Group" is not performed by movement of body. Instead of speaking something, their performance is filled by music! Three blue men played music instruments. All music instruments are just plastic drains. However, they made clear ringing sound just by beating the drains. When the drain sounds were mixed with the band musical performance, the fantastic sounds resounding in the concert hall fully enraptured audience.
Although "Blue Man Group" is "non-verbal performance", there is no problem to communicate with audience. Sometimes blue men came down the stage, and they naturally induced audience to participate in and made them lead the performance. Audience followed the performers' behaviors with exerting great tact and caused laughter at the same time. In this way, the performers and audience were harmonized each other without speaking anything. Therefore, foreign audience could be assimilated readily.
Not only did the performance raise a laugh, but also had facts of "performance art". Additionally, at the end of the performance, huge amounts of tissues were drawn and filled in the concert hall. The performers pulled out tissues constantly, and bundles of tissue fell down at the lower stand. The stems of tissues were tangled in all direction. There was an unseen great spectacle.
After taking about two hours, the performance was over and Mercy students took pictures with "Blue Man Group" performers. The students were caught by the dreamlike performance that never happened to be seen. "It was very interesting! The performance was definitely different from any other performance that I have seen before because audience and performers were in harmony, and that was so impressive for me" stated Amanda Droll, a Mercy College student.
She also said "Especially, lines of paper everywhere remained strong. There were countless pieces of paper all over the place. It was fun and energetic"
Likewise, "Blue Man Group" performance being combined with music, comedy and technology is beyond imagination and drive global village in excitement and enthusiasm. In addition, there is also similar performance in Korea. "Nanta" is non-verbal and musical performance about exiting happenings in kitchen with "samulnori", Korean traditional percussion quartet. "Nanta" means 'pounding', so "Nanta" combines four cooks who pound Korean traditional rhythm with kitchen utensils like frying pan, knife, ladle and dish. It is attraction of "Nanta" that rhythm of "Nanta" is made with everyday objects. Ordinary objects make powerful rhythm and magnificent spectacles.
Similarly, "Nanta" is also non-verbal performance. While the performance is under way, all sounds are only loud and strong shouts. Instead of speech, pulsatile sound and comedy in movement fill a concert hall. Because of pulsatile rhythm; primeval rhythm to all mankind, "Nanta" can easily approach foreign audience by overcoming the language barrier.
In addition, "Nanta" also has audience participation as what "Blue Man Group" has. For example, audience can be bride and groom in traditional wedding or compete hard at Dumpling challenge. Audience adds to the amusement by themselves with performers and sinks into thrilling enjoyment.
Finally, "Nanta" has attracted a diverse audience over a border, since the performance was given the highest score in Edinburgh Festival, international festival of artistic performance, and entered the overseas market. Since "Blue Man Group" has started in the late 1980's, also the performance has been loved by all people and became a byword for creative performance art.
Leave a Comment
About the Contributor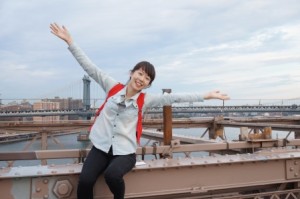 Jung Hyun-Jung, Impact Staff
"Jenny" Hyun-Jung is an exchange student from Yonsei Univ. in South Korea. She majors in Korean Language and Literature and she is highly interested in...