President called "Puppet" and Secretive Adviser called "Rasputin"
South Korea's situation was totally desperate while I was staying in New York and enjoying Halloween week. More than 200,000 people gathered at Gwanghwamun Square, Central Seoul on Saturday, Nov. 5 to demanding the president's resignation. Many of my friends also participated in a candle light demonstration. I would have been there, too if I'd been South Korea.
No one could believe such a story was real. No longer does this happen, just in the movies. How could anyone believe that there was a president's secretive adviser? The whole country was outraged and disappointed. Meanwhile, I saw some of my American friends share this 'heartbreaking' South Korean news on Facebook. It was a shame to tell and confusing to explain such a long and wrong story. But, I feel I have a responsibility to publicize the country's situation so that we can amend that which is wrong.
Choi Soon-sil who has been known as a secretive adviser for the South Korean President Park Geun-hye, is a confidante of the Ms. Park's for four decades. Their relationship has been long generated gossip, but it was never taken seriously by a large numbers of people until revelations of corruption of the Mir and K-Sports Foundations were revealed. After Ms. Choi's influence in the Blue House became evident, "Choi Soon-sil gate" began to rise to the surface. Their ties have a long story. Ms.Choi's father who founded the Eternal Life Church in 1970s, which incorporates elements of shamanism, became close to Ms. Park after the death of her mother. Her mother died at the hands of a North Korean assassin while her father was president. After Ms. Choi's father died, she succeeded him as church leader and became spiritual mentor to Ms. Park which has started to become a political force of her own.
What makes the South Korean nation more furious is not merely Ms. Choi's role as being a secretive adviser for the Ms. Park, but the fact that her intervention to politic turned tremendous profits. Ms. Choi never held an official position. Despite having no official position and no security clearance, Ms. Choi was given advance access to presidential speeches and other political top secret documents. In this process, she had an unfair advantage and a hidden fortune estimated at hundreds of billions of dollars. Two of them are Mir and K-sports Foundations which were nominally founded to promote Korean culture overseas. Within months they raised $72 million from corporate donors, allegedly with the help of the Culture Ministry and the Federation of Korean Industries. Some of the funds were used to buy Ms. Choi's homes in Germany and support her daughter's horseback riding. At the same time, her daughter was given special treatment when she applied for Ewha Woman University and studied in the university.
The more the truth about Ms.Choi's embezzlement became known to us all, the more nation anger and disappointment grew. South Korea is a democratic republic and people elect their own representatives in democratic voting processes. Who is our representative and who is the president? If the president that we elected doesn't work and someone who has no right to govern is controlling our country, then what for did we vote? This incident brings into question the whole purpose of the democracy. Besides, many people who have been working hard to survive felt an ever greater sense of deprivation, seeing them abuse their power. In a second, I felt like all of my effort had come to nothing. Controlling president and government pushing top executives into advantage, they curtailed our right. Despite the difficulty in society filled with depression, unemployment crisis and other things, people never stopped giving their best effort. We did this because we believed in the democracy of the country. We had a belief that our representatives are working for us and our country to make things better. Now, people can't help but suspect our country's representatives.
In one of Ms. Choi's daughter's Facebook past posts, she said "Money is her ability." I was surprised that someone can think like that and say proudly. She should be ashamed of herself for thinking and telling such things. It is hard to believe this happened in the 21st century, not feudal society. This is embarrassing for our country. However, we should raise our voice and publicize the issue. This is the only way to root out corruption. This also proves that democracy is still alive and there is a chance to fix it. While watching the news and photos of candlelight rally held on Saturday, I felt gratitude to all of people who are trying to fight the wrong and I sensed our determination to change it. We are not prosecution or police. All we can do is keep an eye on the movements of a situation, following up their punishment by the law.
Even though president's apology filled with self-pity and sympathy is exacerbating the situation, we shouldn't stop it. We should pay attention to it and speak with one voice so that these things change and never happen again. I hope 150,000 candlelights will be the last arbiter and eventually help reveal the truth.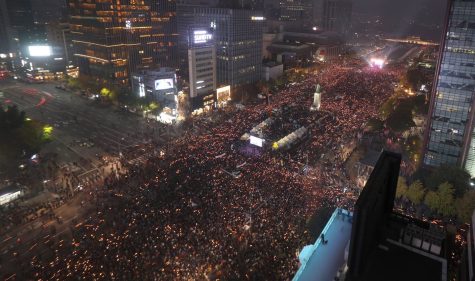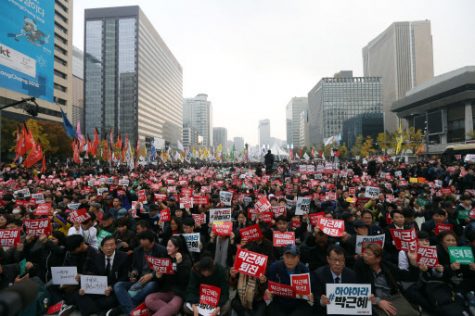 Leave a Comment
About the Contributor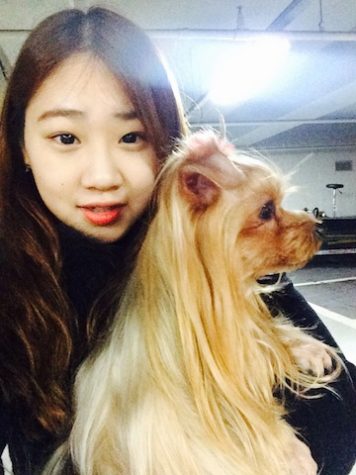 Jenny Cha, Staff Writer
Jenny is an exchange student from South Korea. She has worked as a reporter at the  Yonsei University Newspaper 'Yonsei Chunchu' for  two years. She...