I'm positive that pretty much everyone knows or has heard of Demi Lovato and the show, the X-Factor. I for one love Demi Lovato and the X-Factor is one of my all time favorite shows.
For those of you who do not know, the X-Factor is a music competition television show created by Simon Cowell. Simon Cowell is mostly known for being the "jerk off" judge from American Idol. I for one like him, while some people are not a fan.
Demi Lovato, personally one of my favorite singers, is a 20 year old singer / actress. She has appeared on the Disney show Sonny with a Chance and the Disney movies, Camp Rock, Camp Rock 2, and the Princess Protection Program. What most of you may or may not know is that Demi was bullied most of her life.
In Oct. of 2010, Ms.Lovato dropped out of the Jonas Brothers' concert tour and entered herself into a treatment facility due to physical and emotional issues. Demi had been cutting herself since she was 11 years old due to being bullied for being "fat". Demi Lovato was treating herself for self mutilation and eating disorders.
Now, Demi is alive and well! She has inspired people everywhere to speak out about the issues she has faced. She is a great role model, in my opinion, for people dealing with the same issues. Ms. Lovato is now one of four judges on the X-Factor along with Simon Cowell, Britney Spears, and L.A Reid.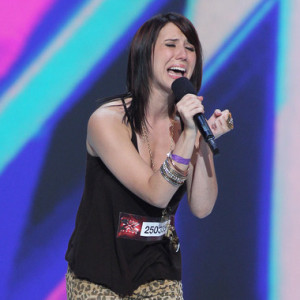 On the Wednesday, Sept. 12th 2012 episode of the X-Factor, hearts were touched. A 20-year old competitor, named Jillian Jensen, shared her heart wrenching story of being bullied through out most of middle school and high school. Jillian cried before during and after her performance. Along with her voice, her performance was amazing. She even had Demi Lovato in tears. "When you sang…you broke my heart", said Lovato about Jenson's performance, "I can't wait for the bullies at home to see this."
And indeed they will Demi, just like the jerks who bullied you see how popular, successful, and beautiful you are. I'm sure they're kicking themselves in the ass.
Not only did Demi give a "yes" to Jillian, but she ran onto stage to embrace her in a hug as well.
That episode had me in tears, it was heart warming. I am definitely a fan of both Demi Lovato and Jillian Jenson.
What do you guys think, will Jillian make it to the end of the X-Factor competition?