Armpit Hair Is In!
Armpit Hair Is In!
For years we have portrayed woman as hairless delicate flower. However now ambitious feminist are changing the game. Many different types of women are going au natural. People are even dying their pit hair.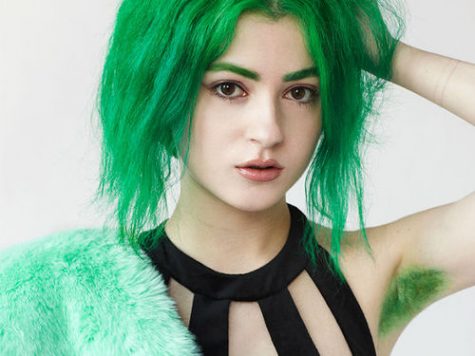 This year, dyed pits became a thing. Women are posting pit pix with the hashtags  #pithairdontcare and #freeyourpits.
Although little out of the comfort zone this new trend is beautiful to many, for multiple reasons. This trend is simply establishing that now in 2016 that women can do whatever it is they want with their bodies if it makes them feel fabulous. No matter how out there that trend might seem to others. Women from all walks of life chanting "Do whatever the heck you want with your body/clothes/style/image" like singer Lady Gaga said.
***
We've all got it, so who was the person who one morning woke up and tried to make hair-free armpits a thing and why did women start shaving their armpits?
The answer is simple Marketing! In the early 20th century, most women in the U.S. did not shave their armpits or anything else. However fashions change fast. According to a video from Timeline News in the spring of 1915, Harper's Bazaar told the worlds that sleeveless dresses were in. That meant armpit hair was out.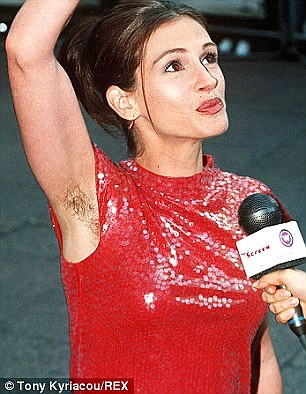 A flood of anti- armpit hair ads hit magazines in the years that followed. The ads linked armpit hair with embarrassment and attached self-shaming to your hair. Then before you knew it armpit hair became something for women to feel embarrassed about. Just another way for marketers to tell women how to feel about their bodies.
There has been rebellions over the years like Julia Roberts and Madonna who have been seen on the red carpet waving to fans with armpit hair. However they're usually met with horror in the U.S.
***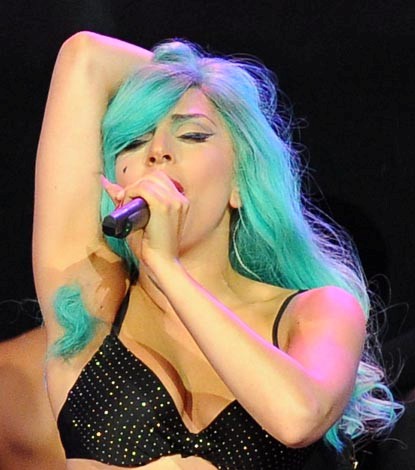 Things are shifting in the last five years. More and more women are tossing aside the razors and embracing nature. With more celebrities forgoing the razor like Lady Gaga leading this trend on Much Music Awards in Toronto in 2011 with a jaw dropping performance of "Hair" off her newest album rocked a turquoise-blue wig, underarm hair, and her black outfit featured a matching patch of blue hair over her genital region.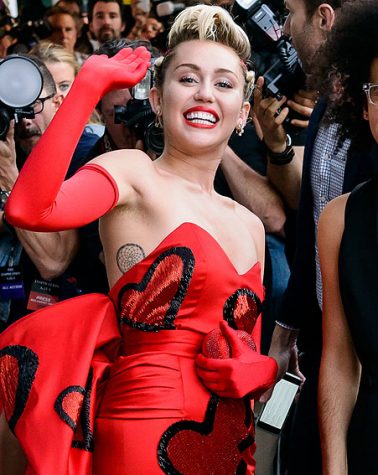 Miley Cyrus displayed her newly pink underarms in a photo she posted to Instagram on May 1, drawing more than 396,000 likes and more than 30,000 comments. Instagram now has more than 700 photos of women and also a hand full of men posting with the hashtag #dyedpits.
YouTube now had about 365 results found when searching "How to Dye Your Armpit Hair." With girls like Racheal LeeRose with 37,252 views on her how to tutorial. This trend is going viral.
***
What real women think about this trend?
Breanne Fahs, associate professor of women and gender studies at Arizona State University, published an article last year about a study she conducted of 62 women who stopped shaving their armpits and legs for 10 weeks, and who kept journals about the frequently negative reactions from romantic interests, friends and family. She welcomes the dyeing trend.
Dr. Breanne Fahs a professor of women and gender studies at Arizona State University, who said "Probably most women don't say: "I'm dying my armpit hair as a direct act of political resistance."
'But it becomes an act of political resistance because it highlights the presence of an otherwise silent or erased aspect of women's bodies." According to an article in the New York Time by ANDREW ADAM NEWMAN.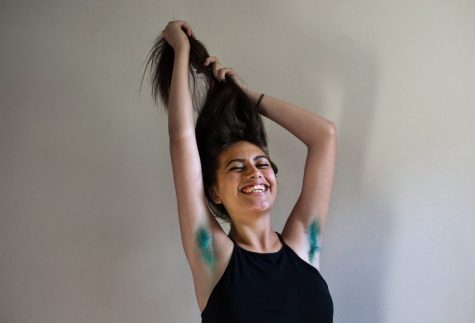 Some women like Daisha Perez Fashion student in LIM College are saying "Why do I buy things every day to get rid of something that my body's just trying to grow?" "To shave or not is up to the woman," she said.
 Leila Noelliste, creator and editor of the hair site BlackGirlLongHair said "Much of what women consider beautiful is based on standards set by men, so it's refreshing to witness a woman-centered beauty movement,"
Maria Del Russo, a beauty editor for the millennial-focused fashion, style and beauty site Refinery29, said expression of identity is key in the mix.
"I think the reason more and more women are using social media to show off their body hair choices is connectedness. Since the idea of women having body hair is not considered the 'norm,' women who feel that it is their norm are likely attempting to make connections with other women who feel the same way."
If there's any statement to be made, she said, it's this: "What one woman decides to do with her body hair is her business, and hers alone. For plenty of women, it's just hair."
Angelique Serrano, beauty director for InStyle magazine, said there's clearly no one right way to approach the pits, on feminist, beauty or hygiene grounds. The magazine offered a tutorial on its website late last year on how to achieve neon Rainbow Brite tints with bleach and Manic Panic dye after the hashtag "dyedpits" popped up on Twitter and Instagram.

***
Who are the real women doing this trend?
Not just celebrity's but real women are keeping the armpit hair and even dying them women like …
Destiny Moreno, who is 17, drove to a Sally Beauty Supply near her       Seattle home last September with a newly found idea. She asked the sales person on the floor several questions about dying hair and replayed with an unexpected answer
"I was like, 'Oh, I'm dying my armpit hair,' " Ms. Moreno said. "She stared at me shell-shocked for five seconds, and then she started laughing and was laughing throughout the entire interaction."
Dying her hair a Voodoo Blue by Manic Panic and posted a video on YouTube the following day. "Which she wears a tank top and proudly raises her arms to show turquoise-colored armpit hair. The video has had more than 264,000 views. After she stopped shaving her underarms a few months before, Ms. Moreno drew plenty of negative comments, and dyeing her armpits bright colors — she has since also gone with hot pink, purple, green, neon yellow and orange — has been something of an act of defiance.
"Nobody questions when a guy wearing a tank top does a selfie that shows his armpit hair," she said. "But if I happen to show my armpit hair in a selfie, it's like, 'Whoa, feminist witch asking for attention.' "
Alyssa Bishop, 38 dyes her shoulder-blade-length hair, eyebrows, armpit hair and below the belt. Ms. Bishop, who lives on Vancouver Island in British Columbia and works in a commercial greenhouse, said her underarms in particular function as a litmus test.
"If people don't think that my blue armpit hair is funny, then they probably aren't worth my time," she said. "It's really great for turning off people who aren't accepting."
"When I see myself naked in the mirror, I laugh every time," she said, "because I think it's hilarious and kind of awesome."
These two testimony according to an article in the New York Time by ANDREW ADAM NEWMAN.
Like the trend? Want to dye your pits?
Daisha Perez Fashion student in LIM College is drying hair air today April 5th 2016 after growing it out for 3 weeks and says
"Why not … Who cares what people think?"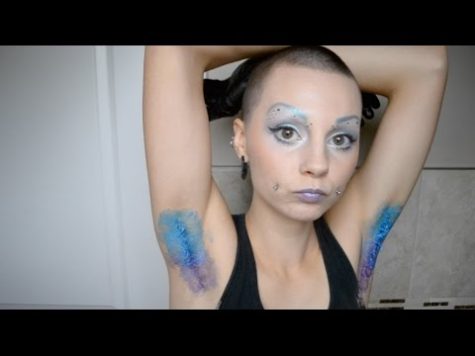 Perez take the steps she analyzed from a YouTube tutorial.
Step one : growing your hair out from 3weeks to 2 mounts
Step 2: Buying materials- volume 40 Bleach, semi-permanent hair dye (whatever color you like), gloves, brush
Step 3: starting
Applying bleach with professional brush applicator
Leave it on for about 20 minutes. Five minutes in "This burns really bad!" said Perez
Rinse the bleach well, and dry the hair. " It's so blonde!" said Perez
Apply a dye. (Perez used Manic Panic Hot Hot Pink) brush applicator and leave in for 30 minutes and wash off
Touchups, use gloves and put a tiny amount of dye between your index finger and thumb. Apply about a centimeter from where the hair stats growing so as not to color your skin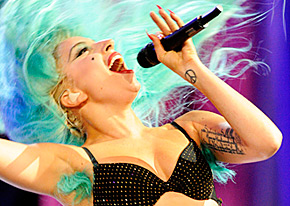 Then you're all done. Perez loved the outcome. "I can't wait to see how people react to this, it should be funny!"
To shave or not that is the question? What will you do with your armpit hair ladies?