Netflix's 'Queer Eye' is the Wholesome Uplifter We All Need More Of
Twenty-gay-teen truly is the year of the queer. Love, Simon is selling out box offices, Panic! at the Disco and Hayley Kiyoko are touring together, boy bands in tight pants and eyeliner are all the rage, and you can't log into any site without seeing at least one gif of a drag queen. Thank god.
My favorite gay event so far this year–and not to mention new favorite show in general–came to me in a spring-break-induced binge watching session: Netflix's 'Queer Eye'.
You've probably seen or heard about the original 'Queer Eye for the Straight Guy' that saw its rise to fame in the mid-2000's. The concept is generally the same: five gay men, dubbed "The Fab Five", come to the rescue of a man who's seemed to let himself go in all aspects of his life. The Five give him a complete makeover and share tips on fashion, grooming, food, culture, and interior design.
While the original show seemed to rely heavily on stereotyping, this new reboot shines in comparison, seeking to start difficult conversations about masculinity and gender roles, and show the world that it is possible for people from different walks of life to make a genuine connection. And honestly, it's leaving me in tears.
Each episode begins with the Five rolling into town–this season in the beautiful Atlanta suburbs–and surprising the makeover nominee in his home. From the moment they meet, the Five are always ready to make themselves at home and do whatever it takes to connect with their new subject. After learning about his life, each member of the Five gets to spend a bit of quality time with him while working on their particular of expertise.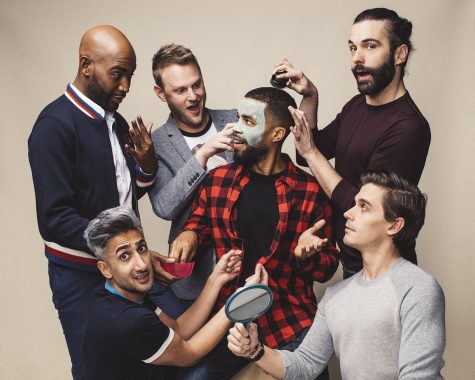 Tan France is resident fashion expert of the group. He happily introduces clueless men to stores beyond Kohl's and Walmart, and helps them find a personal style that they are confident and comfortable in. You'd be surprised how many men wear baggy clothes that don't fit– and the confidence boost when they find great pieces that fit them like a glove is so rewarding.
Alongside Tan is Jonathan Van Ness, the uber-charismatic, unapologetic energy bomb in charge of hair and grooming. Jonathan's goal is to give the men a fresh clean look, and to teach them about the importance of skincare and grooming– which, to no surprise, many of these men had never even considered.
In the kitchen is Antoni Porowski, professional chef and cooking coach. The men are encouraged to help out with cooking, and that it's important to be making an effort in the food you prepare, whether it be for yourself or for your family and friends. But this isn't Gordon Ramsay's kitchen– Antoni happily guides them through simple recipes and tips to creating fresh and easy meals at home.
Having one of the harder jobs of the bunch, Bobby Berk is tasked with transforming musty basement bachelor-pads into functional and stylish design masterpieces. After designing a new space, Bobby and the makeover-ee work on projects together for the new space such as revamping old furniture or building a garden, all while chatting about the benefits of inhabiting a home that fits your personal needs and style.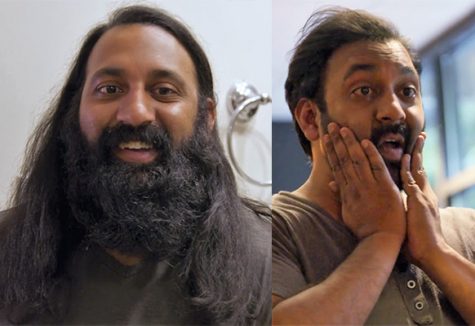 The physical updates are nice, for sure, but the changes that get to me the most are led in-part by Karamo Brown, culture expert (and resident ametur therapist and life-coach). Karamo is oftentimes the member to engage the most emotionally, helping men build up their confidence and work around general problems in their mindset that are negatively affecting their life. Karamo also works on their relationships with friends, family, and their spouses, and often the guidance given leads to a stronger and lasting bond between these men and those close to them.
These emotional changes are most important, and each of the Fab Five guys has part in it– firstly by helping them out with their own lives, but more importantly by being extremely accepting and loving towards the man they're making over and everyone else involved. The Fab Five are open to anyone, and you can tell that they genuinely love using their knowledge and kindness to help someone improve themselves.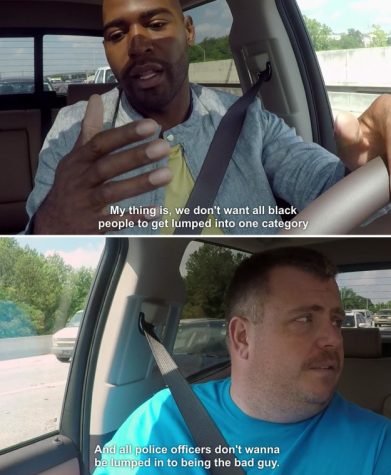 Even when faced with making over a Trump-supporting conservative man, who doesn't seem like a typical supporter of five loud gays ramshaking his house and making him try on clothes, they greet him with positivity and grace, smiling and having fun with him just like they would treat anyone else. Another impactful moment is seen when Karamo has a conversation with a white cop about gun violence in America, and especially the treatment of black youth in America. These men put aside their differences and become lifelong friends by talking about and understanding what the other is going through– a method that isn't seen much in political discourse nowadays.
Moments like this prove that even though the world seems to be in a very dark place, there's still hope that by embracing and learning about each other we can make change happen for us and everyone on Earth. The LGBT community is seeing more and more acceptance everyday, and only these positive interactions will help shape our future for people of all walks of life.
Other than that, the show is teaching men to be comfortable and proud of the way they take care of themselves, and being unafraid to show their feminine side. By spending time on self-care and personal relationships, they are shown that being vulnerable is oftentimes even stronger than putting up a wall, and that physical and mental confidence can make all the difference when it comes to taking the steps they need to become a better man and reach their goals.
The show has been confirmed for a second season, and I couldn't be more excited to see what the Fab Five have in store next time around. Every episode leaves me smiling and happy, almost in a therapeutic way. The hilarious and infectious personalities of the Fab Five and the beautiful conversations that come about during the transformations have me floored. If you're looking for a touching and lol-worthy show that you won't want to take your eyes off of this Spring, look no further than 'Queer Eye'.
Leave a Comment
About the Contributor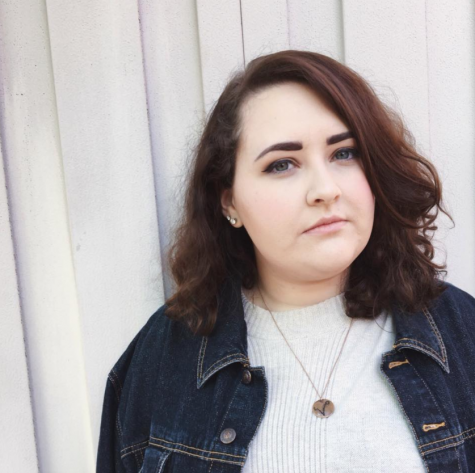 Kristin Millard, Impact Staff
Kristin is a musician, audio engineer, and recording studio assistant from suburban Chicago. She is constantly attending local shows to support her friends,...