#TheReturn2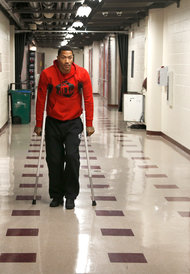 The return of Derrick Rose was shortly lived for Bulls fans. What was supposed to be a big year for Chicago was once again flushed down the drain when their star player Derrick Rose was once again injured.
Last year he tore the ACL in his left knee. That was already a tough injury to come back from. The injury that he has just received this year is a torn meniscus in the right knee. This injury will sideline him until playoff time or worse next season.
Derrick was already mentally strong and got much support from his fans and loyal partner Adidas. Adidas was by his side every step of his recovery last season. Adidas filmed his recovery and helped support him by launching the campaign "Derrick Rose: #thereturn". The question is will the fans, adidas, and franchise be with him every step of this year's injury recovery after already waiting a whole year for his return.
"This is the nature of the N.B.A.," Bulls Coach Tom Thibodeau said. "Most players, at some point in their career, they're going to deal with injury. That he made it through the A.C.L., I think that gives him a frame of reference to deal with this one."
"I could care less what people say about me, criticize my game, or whatever," he said. "I have a unique way of playing basketball and I can't change that," says Derrick Rose.
The worst part about the whole thing is that the Bulls did not resign their leading scorer from last year Nate Robinson. Robinson was basically the heart and soul of the Chicago Bulls organization from last year. He was especially special to them in the playoffs when they were squaring off against the Brooklyn Nets in the first round of the playoffs.
Lacking a true star, Nate Robinson stepped up and averaged close to 23 points per game for the Bulls. "God blessed me with a lot of heart and no height, and I'll take that any day," says the 5'9 point guard after an emotional win.
What's next for Derrick Rose? Derrick has to take his time once again and think long term; he is a franchise player and carries a lot more weight on his shoulder then the average player.
With both of his knees hurt, he has to develop a more consistent jump shot in order to find other ways to score to compensate for the loss in athleticism he may have. As everyone who watches basketball may know Derrick Rose and Russell Westbrook are the two most athletic guards that the NBA has ever seen. With Derrick having these injuries he just has to work on his overall skill set to keep him at the franchise player level, because there will be days he doesn't have the lift, so he has to still be able to score. D. Rose will still have to be able to put up superstar numbers in order for the Bulls to be dangerous.
Will the Bulls continue to be a threat in the East? Yes and no. They are a threat to every team except for the Indiana Pacers and the Miami Heat. They can beat any other team in a 7 game series without Derrick Rose. The Bulls will definitely make the playoffs, but they will not be a threat to make it to the finals without their superstar point guard Derrick Rose.
In my opinion the furthest that the Bulls will make it is round 2 of the 2014 NBA playoffs. Derrick Rose will return and be just as good as he was this season. He has already proved that he can come back from injury now let's see if he can stay healthy.
"I could get hurt 10 more times," Rose said. "I'm never going to stop."
Leave a Comment
About the Contributor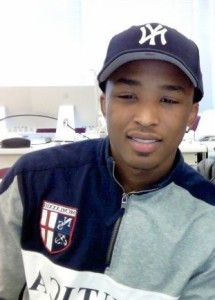 Trifton Rose, Impact Staff
Trifton Rose is a Yonkers native who is a senior at Mercy College and majors in
broadcast Journalism. He is a member of the men's basketball team. Trifton ...