Amare Stoudemire Injury
It's no secret that the New York Knicks are a mess. They're just 7-17 a little over a quarter of the way into the season and they've been straining to grind out victories while they play with incomplete rotations due to injuries. The Knicks are already without Pablo Prigioni (fractured toe), Raymond Felton (strained hamstring), and Kenyon Martin (strained abdominal). Tyson Chandler could return from his broken fibula in the next game or two but nothing is certain.
The Knicks cannot catch a break with Amare Stoudemire being injured for a third season in a row! According to coach Mike Woodson "Stoudemire may be out for a while." Give me a break! Are you kidding me! It's bad luck, after bad luck, after bad luck with this guy. He is a maxed player who does not give you maximum production. He has not played in a full NBA season in over four years.
Knicks fans are starting to feel like the Knicks should just cut their losses with Stoudemire and get some new players who can produce with all the money that they are paying him. I like what the guy brings when he's healthy and playing well but it seems like every time we start to see a glimpse of the old Amare he gets hurt.
I do appreciate the great MVP caliber season that Amare Stoudemire gave us. It would have been great to see how far the Knicks would go with a MVP level Melo and Amere with a solid Raymond Felton would go. The team would be scary if we had a healthy post presence like S.T.A.T.
Who can the Knicks get to replace the 6'10 power forward? What if the Knicks get a cheaper but younger player like J.J Hickson. If the Knicks chose to finish developing a player like Hickson he can be something special. J.J is capable of doing everything that Amare Stoudemire does. He can shoot the mid range shot, dunk the ball, and grab some rebounds. The difference between him and S.T.A.T is that he brings an intimidating presence in the post that most big men lack.
Another good idea would be to get another big contract to replace his. Maybe somebody like Kevin Love would do. The only issue with that is who else the Timberwolves would want for Kevin Love other than Amare.
Kevin Love would be a perfect fit for the Knicks offense. He is 10 times the player Andrea Bargnani is.  Kevin Love would compliment Carmelo Anthony's isolation offense because he spreads the court so well. Kevin Love can spread the floor, grab rebounds, and score from anywhere on the court. He would drastically increase the value of the team.
In all I do not think that getting Amare Stoudemire was a waste. If not for Amare we would not have attracted half of the talent that we have gotten in New York. Melo would probably have never come if not for Stoudemire.
Leave a Comment
About the Contributor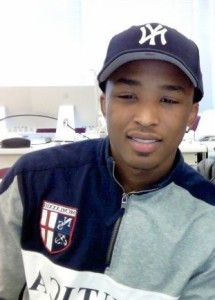 Trifton Rose, Impact Staff
Trifton Rose is a Yonkers native who is a senior at Mercy College and majors in
broadcast Journalism. He is a member of the men's basketball team. Trifton ...