Final Four Review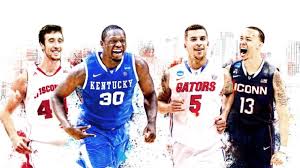 What a journey it has been for the college basketball universe during this years 2014 March Madness! Teams that I did not believe were making it to or out of the sweet 16 made it to the final four and I have got to admit I am both shocked and impressed. But this is what the division 1 NCAA tournament is all about, proving the world wrong.
The four teams in the final four are the number 1 seed Florida Gators,  the #2 seed Wiconsin Badgers, #7 Connecticut Huskies, and #8  Kentucky Wildcats.
The Florida Gators are the favorite to win it. They are the overall most complete team in the tournament. Their guards play pressure defense and just create havoc against opposing guards. Almost all of the Gators starting 5 averages double digits and emphasis the meaning of team basketball.
The Florida Gators will be pushed to their limits Friday, April 5th against their opposition the Connecticut Huskies. The huskies have been one of the biggest surprises in the tournament. The play of both Shabazz Napier and Ryan Boatright have been tremendous! They put constant pressure on and off the basketball on both offense and defense. They make it hard for teams to get into their sets and force teams to take quick shots because of their pressure. No matter how much pressure and what other teams throw at the Huskies they always seem to remain poised and handle anything that is thrown their way.
I initially picked either Michingan St. who lost to Connecticut in the elite 8 or Florida to win the whole thing. It is hard for me to pick a winner of this game because Florida is the team I been going for but Connecticut has been proving me wrong round after round and is starting to become my favorite team in the tournament because of their resiliency.
The Wisconsin Badgers despite their high rank is another shocker. They're slow in tempo. They're not trying to play fast, but they can.They can contrast styles because of their ability to shoot. They're never out of it. They have guys in Ben Brust and Josh Gasser, they can really shoot. They're 12th in the country in defensive rebounding, and that will be tested by Kentucky. They also don't turn it over. You don't get to the foul line against them. One of the best teams at playing defense without fouling. They also have a lot of versatility with their main man and 7 footer Frank Kaminsky. He's shooting 52% from the field and is shooting about 36% from 3. He is a big cover and a huge reason for Wisconsin's success thus far.
The Wildcats of Kentucky is not a real fast team, but they have fast guys. They don't push it every play, is what I'm saying. Offensively in the half-court, they play through Julius Randle and attack the boards. And they've certainly had some timely shooting lately. From a defensive standpoint, it's guarding the 3-point line and in. They challenge shots around the rim. They ignite off blocks, deflections, long rebounds and they go. Julius Randle is a guarantee double double and will need for some of his guys to step up big this game.
This is another tough game to decide who wins. I believe the team that gets the most boards will be the team to pull this one out. If I had to make a decision I believe that the Badgers will win this game because they shoot with such an amazing consistency and are just smarter with the ball.
My overall prediction for the championship game is going to be the Florida Gators vs. the Wisconsin Badgers. I can definitely be wrong the way that the tournament has been going so far.