UCONN HUSKIES NATIONAL CHAMPS!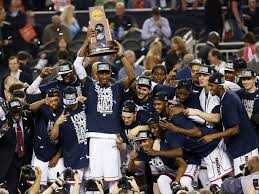 The UConn Huskies are once again on top of the college basketball world. After being banned to play in the NCAA men's basketball tournament, the men and women's basketball teams manage to both win the national championship.
The men played against the University of Connecticut who has a dominant front line. Although Kentucky's front line is strong, the backcourt of the UConn Huskies were too much for the Wildcats to deal with.
The play of the senior guards Shabazz Napier, Ryan Boatright, and junior forward Deandre Daniels is what got the Huskies the win. Napier and Boatright constantly put pressure on the ball defensively and offensively.
Defensively they took the Kentucky guards out of their game by making them uncomfortable and pressuring them full court all 40 minutes of the game.  They caused countless amount of careless turnovers and those turnovers turned into easy buckets on offense.
Offensively, the Napier and Boatright pushed the ball and made the extra pass when needed. At times Napier took over the scoring load.
UConn never trailed in the final. The Huskies led by as many as 15 in the first half and watched the Wildcats trim the deficit to one with 8:13 left. But Aaron Harrison, who pulled out wins with clutch 3-pointers in Kentucky's previous three games, missed a 3 from the left corner that would have given the Cats the lead. Kentucky never got that close again.
One key difference in a six-point loss was that missed 11 free throws. This was a flashback of sorts for coach John Calipari, whose Memphis team blew a late lead against Kansas after missing multiple free throws in the 2008 final. The Wildcats went 13-for-24. UConn went 10-for-10, including Lason Kromah's two to seal the game with 25.1 seconds left.
"We had our chances to win," Calipari said. "We're missing shots, we're missing free throws. We just didn't have enough."
Calipari said he decided not to foul at the end "because they're not missing."
Coach Ollie did a phenomenal job with this group of players that he had. He said that they were a special group of guys and had 100% confidence in them. Kevin Ollie is a rare group of coaches who have won a national championship in his first year as head coach. Coach Ollie was a former NBA point guard and was an assistant to legendary coach Jim Calhoun for some time. The experience that he's had from coaching under coach Cal had to have help him tremendously in this win.
"Somebody told me we were Cinderellas, and I was like, no, we're UConn," coach Kevin Ollie said. "This is what we do. We are born for this. We're bred to cut down nets. We're not chasing championships. Championships are chasing us."
How about the comments that the star Huskie Shabazz Napier said after the game.
"You're looking at the hungry Huskies," Napier told the crowd and TV audience as confetti rained down. "Ladies and gentlemen, this is what happens when you banned us."
You can't be mad at the kid when every year he has been in the NCAA championship game he's won it. Especially when your are putting up numbers that were compared to Kemba Walker who had a tremendous career in Connecticut as well.