The Future is Now in NY. Jones in, Manning Out
Head Coach Pat Shurmur came out early Tuesday morning to announce that Daniel Jones will take over the reins as quarterback for the New York Football Giants. He replaces the future Hall of Fame hopeful Eli Manning.
The move from Eli Manning to Daniel Jones ends Manning's almost 15-year run as the starter. Coach Pat Shurmur said in a statement that "ultimately this is a move that I felt was best for this team at this time." The Giants have been 8-26 since the start of 2017. Something needed to change. They're rebuilding with a rookie quarterback.
The New York football Giants have started another season 0-2 and are looking like they will miss the playoffs for the eighth time in ten years. He's had great success in the playoffs (when he's able to get there) winning two Super bowls and two Super Bowl MVPs. So, with nothing looking bright for the rest of the season, the Giants have made the change.
This past offseason the Giants used their sixth overall pick and the 2019 draft, selecting quarterback Daniel Jones out of Duke. This came to no surprise, as the Giants have
been looking for Eli's heir for years. But they might have found their guy.
Jones, this pre-season, went 29-34 (85%) for 416 yards and two passing touchdowns. After a full summer of a whole fanbase demonizing this guy for just being drafted, the mood has changed. Now, people can't wait for Jones to get his start for the Giants.
We know the coach Pat Shurmur likes him. "Like I said, you can ask me all you want about why I like him,'' Shurmur said. "I think it's time to start asking the people that didn't like him what they think, quite frankly". Shurmur already saying everyone was wrong about Jones.
Let's get one thing straight though, Eli's benching is not to be looked at as a performance decision on his part. "I have said it since I got here, I am very fond of Eli. His work ethic, his preparation, his football intelligence. All those attributes are as good as I have ever seen in a player. And Eli worked as hard as you could ask of anybody to get ready for this season. This move is more about Daniel moving forward than about Eli." Shurmur said.
This is a move to bring life back to a team that is looking towards the future in Jones and running back Saquon Barkley. Manning started the year throwing for 556 yards, 2 TDs and 2 INTs the Big Blue turn to Jones.
Are the Giants starting the season 0-2 Eli's fault? No. But Eli Manning being in the game for the Giants week in and out won't help the future, which the Giants are hoping is bright. The Giants' problems go well beyond their quarterback. They're short on wide receivers and their defense has struggled.
It has created a situation where they appear to be in a rebuild rather than serious playoff contention. Keeping Eli in is just hurting his career record, which is now .500 At 116-116 and even his chances at a Hall of Fame bid. There is no upside to continuing to march Eli out there when you just took a guy sixth overall.
This is the time to put Daniel Jones in. Let him get 14 games under his belt this season and get acclimated to the NFL in its entirety. Because what is the point in letting Daniel Jones be on the sidelines while going just 4-12 this season?
These next 14 games could be the key to his development for the next few seasons, and ultimately, his future career in the NFL. This good stretch of games will allow Jones to develop chemistry with Barkley and the rest of the Giant's receiving core.
By staring Jones the rest of the way and not sitting him on the sideline, it will allow upper management to see if he is the guy for their future.
Jones's first start comes up against a Tampa Bay Buccaneers defense, which has started the season well under their new Defensive Coordinator, Todd Bowles. Jones now has a full week to prepare with the first team and try to mustard something out of this offense.
What can I say? It's only up from here on out. You never know we could be at the start of a new dynasty. Only time will tell. But for now, it's Daniel Jones' time.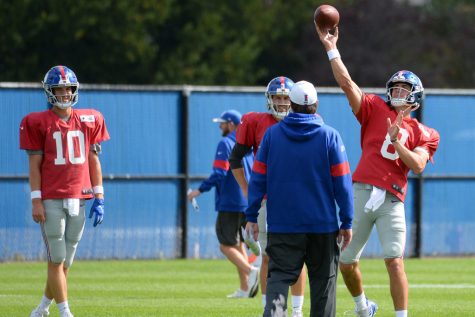 Leave a Comment
About the Contributor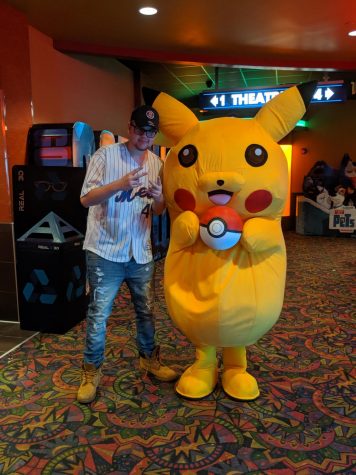 Dan Rebain, Impact Staff
Dan is a VERY TALL person, a sports enthusiast that can't stop talking about FOOTBALL, HOCKEY, BASKETBALL, SOCCER, and MMA. Also, he's making jokes on...