The Influence of Black Women
As Beyonce said, "Your skin is not only dark, it shines and it tells your story." For many centuries, black women have been a pillar of strength to society. They fought, sacrificed, and bled for the rights of others even when they had no one to support or uplift them. Legends like Harriet Tubman who fought for our equality and freedom to now, role models like Stacy Abrams who worked to preserve our democracy, are a testament to the strength and perseverance of black women. Black women are often overlooked, unappreciated, and misunderstood but they have proven time and time again that they are warriors for social justice and change.
I wanted to write this piece so that the young black woman who will read it can understand just how extraordinary she is not only because of her roots but because of the strength that she possesses within. In this Black History Month, I want to say, Black women, you are beautifully and wonderfully made and there is no limit to your purpose. Your skin is flawless so be proud of the melanin that runs underneath it, embrace your beautiful curly hair, and love every curve on your body because it is a part of the DNA of your ancestry and these features are a representation of your physical beauty. Be your own cheerleader, always remind yourself of how special you are.
Mom,
Growing up, my mother was my main role model. She worked hard so that I could get a good education and would jump through any hoop to ensure that I was happy. She worked minimum wage jobs to send me to one of the best private schools in our Hometown and after she returned home from a long day of work, she would teach me to ensure that I was always excelling in my studies. She was brilliant in English, and she invested a lot of time to ensure that I developed an appreciation for the English Language as well. I am so grateful for everything that she has done for me and the instrumental role that she played in raising me to be a strong, black woman just like her. I have witnessed her selflessness throughout my entire childhood, and it is black women like her that makes this world a better place for their children because, despite all the material things that I lacked, her love sufficed.
Grandma,
My grandmother is an extraordinary woman in every possible way, and I wish everyone in the world could interact with her. There has never been a moment where my grandmother has never thought about my happiness or the happiness of others around her. She opened her home to not only my mom and me but to friends that needed a place to stay because they have fallen on hard times. She treats everyone with love and tenderness and will always give you a warm meal and a bible scripture to uplift you if you are depressed or having a bad day. She was a confidant and a friend to many people in the community that needed guidance and I watched over the years how she showed unconditional love to her loved ones and strangers that she meets. My grandmother is the matriarch of her family and a black woman with a beautiful mind and soul. I am so happy to have her as an example of how I should treat others. She taught me the value of friendship, kindness, and love and that is the best gift that she has ever given me. I will always treasure her for the woman that she is.
I was raised by two wonderful black women who shaped the beautiful memories of my life and there is no greater joy in the world than honoring them for the impact that they had on my life. I do not even know who I am outside of their influence because I would be lost. If you look around, you can find women in your life who are just as inspirational. There are many more black women who have supported me throughout my life, and I am thankful to them as well. It truly took a village to raise a young black girl like me.
Leave a Comment
About the Contributor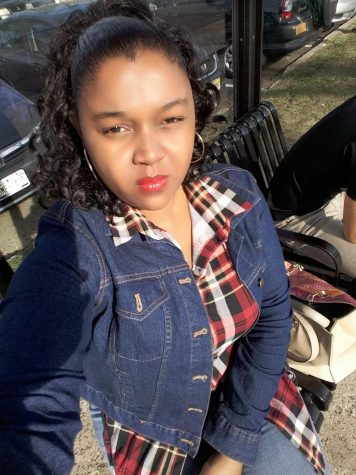 Renae Morgan, Impact Staff
Renae is a Jamaican student at Mercy College that is currently in her senior year of studies. She enjoys writing poetry, sleeping, watching King of Queens,...